Gold 1.725,31 Eur
Silber 23,95 Eur
Platin 816,78 Eur
Palladium 1.846,92 Eur
(49) 2935 - 3 390 375
Europaweite Lieferung
Europaweite Lieferung
Gold 1.725,31 Eur
Silber 23,95 Eur
Platin 816,78 Eur
Palladium 1.846,92 Eur
SILBER 15,39 EUR
PLATIN 853,48 EUR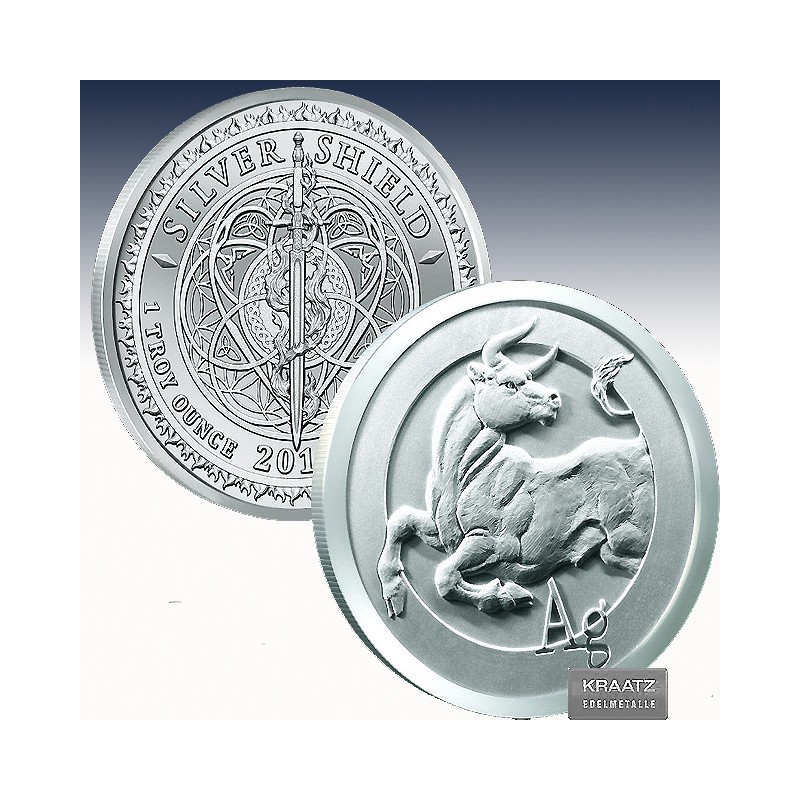  
1 x 1 oz Silverround Silver Shield "BULLION 2018" -BU-
| | | |
| --- | --- | --- |
| Hersteller: |   | Silver Shield |
| Steuersatz: |   | 19% |
| Prägung: |   | Stempelglanz |
| Stückelung: |   | 1 x 1 Unze |
| Material: |   | Silber |
| Feinheit: |   | 999/1000 |
| Gewicht: |   | 31,103 Gramm |
| Verpackung: |   | zip-Tüte |
| Durchmesser: |   | 39 mm |

Lieferbedingungen (bearbeiten im Modul "Kundenvorteile")

Rücksendebedingungen (bearbeiten im Modul "Kundenvorteile")
1 x 1 Unze (oz) Silverround Silver Shield "Silver BULLion 2018"
Dies Silverround ist mit einer der außergewöhnlichen von "Silver Bullet Silver Shield" und dem Design von Heidi Wastweet.
This powerfully sculpted bull serves as reminder of the generational bull market in silver. The end of this bull market will only happen when the currencies and the debts of the world are defaulted upon. There the true historical value of real, tangible wealth in your hands will be truly appreciated.
The Silver BULLion strike is the most cost effective way to create generational wealth.
Einzigartig in ihrer Art und bereits jetzt schon Kult in den Vereinigten Staaten.
Jede dieser wunderschönen Silverround enthält 999/1000 Feinsilber und wurde im feinsten "Brilliant uncirculated" geprägt.
Pro Einheit mit 20 Münzen erfolgt
die Lieferung im Original - Münztube!
Technische Daten
Gewicht

31.103

Material

Silber

Jahreszahl

2018

Preis-Addition

5.8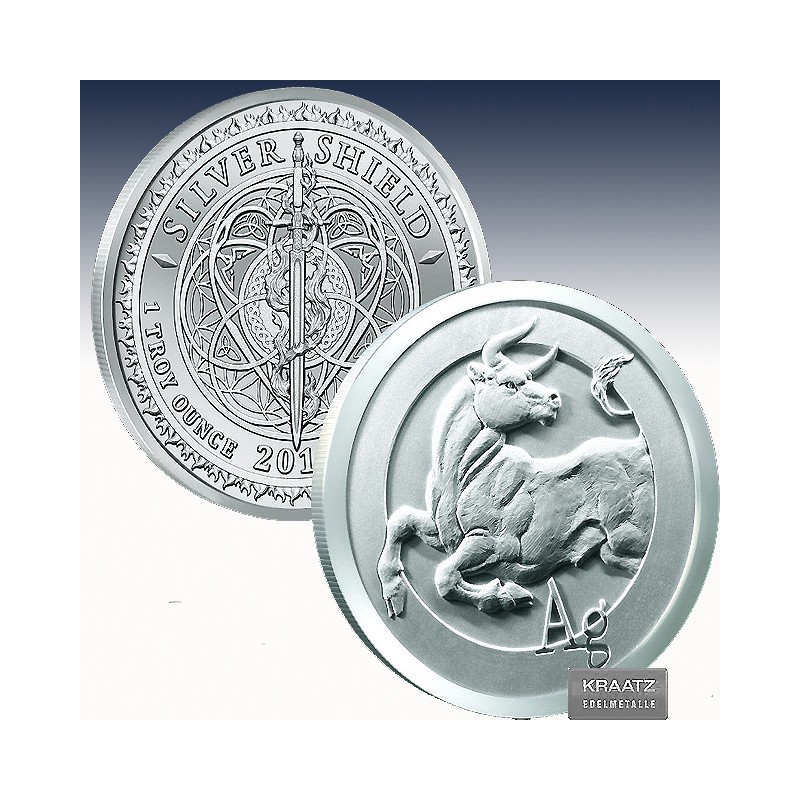 | | | |
| --- | --- | --- |
| Hersteller: |   | Silver Shield |
| Steuersatz: |   | 19% |
| Prägung: |   | Stempelglanz |
| Stückelung: |   | 1 x 1 Unze |
| Material: |   | Silber |
| Feinheit: |   | 999/1000 |
| Gewicht: |   | 31,103 Gramm |
| Verpackung: |   | zip-Tüte |
| Durchmesser: |   | 39 mm |