Gold 1.863,05 Eur
Silber 21,38 Eur
Platin 855,59 Eur
Palladium 879,72 Eur
(49) 2935 - 3 390 375
Europaweite Lieferung
Europaweite Lieferung
Gold 1.863,05 Eur
Silber 21,38 Eur
Platin 855,59 Eur
Palladium 879,72 Eur
SILBER 15,39 EUR
PLATIN 853,48 EUR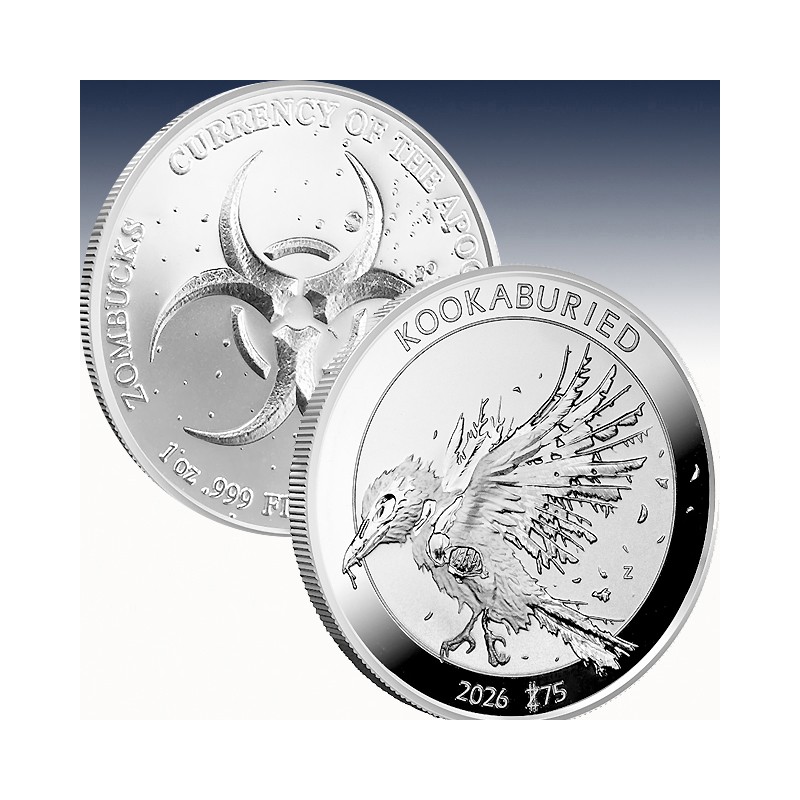  
1 x 1 Oz Silver Round "Zombucks World Kookaburied 2023" -BU- (Kapsel)
| | | |
| --- | --- | --- |
| Hersteller: |   | Privates Unternehmen |
| Präejahr: |   | 2023 |
| Stückelung: |   | 1 x 1 Unze |
| Material: |   | Ruthenium/teilvergoldet |
| Feinheit: |   | 999/1000 |
| Gewicht: |   | 31,103 Gramm |
| Verpackung: |   | in Box mit Kapsel |
| Durchmesser: |   | 37,00mm |
| Auflage: |   | 500 Stück |
1 x 1 Unze (oz) Silver Round "Zombucks World 2# Kookaburied"

The new Zombucks World Collection is out with its second design, and we can see that the zombie apocalypse is even taking down the winged animals of the world. In the second release of the collection, even Australia's native kookaburra birds can't avoid death and decay in the apocalypse. Right now, the new 1 oz Zombucks World Kookaburied Silver Round is available to purchase online from JM Bullion.
Round Highlights:
Arrives in protective flips, plastic tubes of 20, or boxes of 500 rounds!
2nd issue of the Zombucks World Series Series!
Contains 1 Troy oz of .999 pure silver.
Bears an apocalyptic value of 75 Zombucks.
The obverse features the image of an undead kookaburra known as Kookaburied.
On the reverse side is the common design from the original Zombucks Series.
Minting conducted on a limited timeframe!
Each of the 1 oz Zombucks World Kookaburied Silver Rounds available in this listing come with individual protective flips. Multiples of the Zombucks Kookaburied Rounds come with plastic tubes of 20 rounds or boxes of 500 rounds. Each box can hold 25 individual tubes of 20 rounds each.
The zombie apocalypse has gone global in the new Zombucks World Series. In the second design of the collection, the kookaburra appears as a dying bird of flight. This image is proof that the zombie apocalypse knows no bounds.
The obverse design of the Zombucks World Kookaburied Silver Round comes with a depiction of a zombie kookaburra in left-profile relief. The bird's body is in full decay as its eyes have fallen out of its skull, its flesh is rotting off its body, and most of the feathers from its wings have fallen away, leaving only its bony structure to try and keep the bird aloft.
On the reverse side of 1 oz Kookaburied Silver Rounds, you'll find the common design element that has been used throughout the Zombucks collections. This image features the well-known biohazard design with particles floating around in the background field. The theme of the series is engraved along the top edge, ZOMBUCKS CURRENCY OF THE APOCALYPSE. The identifying hallmarks are also on this side of the round.
Jede dieser wunderschönen Silverround enthält 999/1000 Feinsilber und wurde in einem wunderschönem "Brilliant uncirculated" geprägt.
Technische Daten
Gewicht

31.103

Material

Silber

Jahreszahl

2023

Preis-Addition

9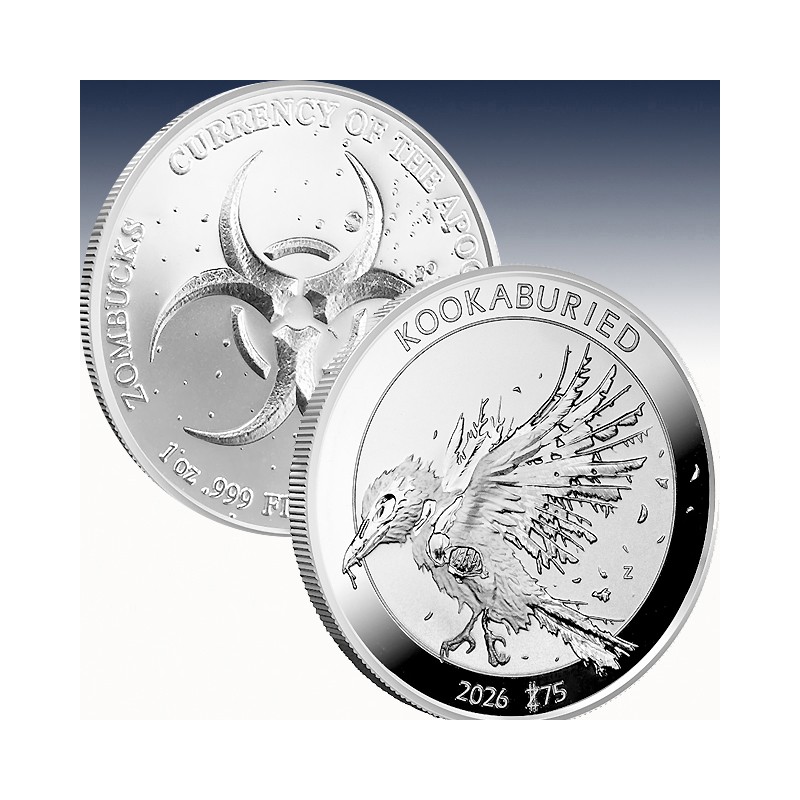 | | | |
| --- | --- | --- |
| Hersteller: |   | Privates Unternehmen |
| Präejahr: |   | 2023 |
| Stückelung: |   | 1 x 1 Unze |
| Material: |   | Ruthenium/teilvergoldet |
| Feinheit: |   | 999/1000 |
| Gewicht: |   | 31,103 Gramm |
| Verpackung: |   | in Box mit Kapsel |
| Durchmesser: |   | 37,00mm |
| Auflage: |   | 500 Stück |