Gold 1.520,03 Eur
Silber 20,53 Eur
Platin 894,54 Eur
Palladium 0,00 Eur
(49) 2935 - 3 390 375
Europaweite Lieferung
Europaweite Lieferung
Gold 1.520,03 Eur
Silber 20,53 Eur
Platin 894,54 Eur
Palladium 0,00 Eur
SILBER 15,39 EUR
PLATIN 853,48 EUR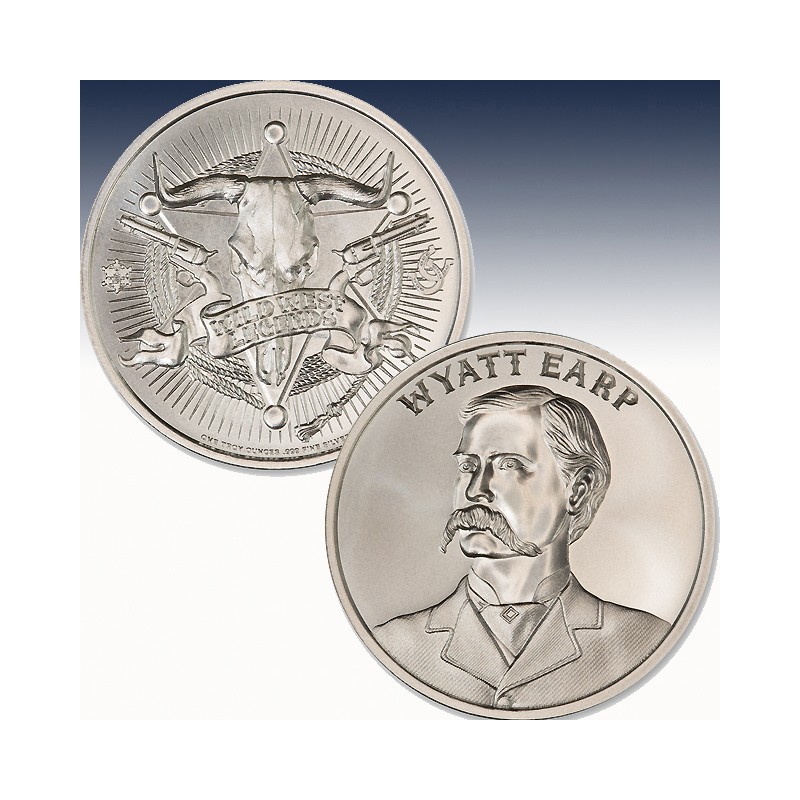  
1 x 1 Oz Silverround Intaglio Mint "Wyatt Earp" -BU-
| | | |
| --- | --- | --- |
| Hersteller: |   | Intaglio Mint |
| Steuersatz: |   | 19% |
| Prägung: |   | Stempelglanz |
| Stückelung: |   | 1 x 1 Unze |
| Material: |   | Silber |
| Feinheit: |   | 999/1000 |
| Gewicht: |   | 31,103 Gramm |
| Verpackung: |   | zip-Tüte |
| Durchmesser: |   | 39x3,10mm |

Lieferbedingungen (bearbeiten im Modul "Kundenvorteile")

Rücksendebedingungen (bearbeiten im Modul "Kundenvorteile")
1 x 1 Unze (oz) Silverround Intaglio Mint
"Wild West Legends -4# Wyatt Earp"

Wyatt Berry Stapp Earp (March 19, 1848 – January 13, 1929) was an Old West lawman and gambler in Cochise County, Arizona Territory, and a deputy marshal in Tombstone. He worked in a wide variety of trades throughout his life and took part in the famous gunfight at the O.K. Corral.
Contains 1 Troy Ounce .999 Fine Silver
Obverse:  A depiction of Wyatt Earp based on one of the most famous photos known.  "WYATT EARP" above the portrait curved along the circumference.
Reverse: The common reverse for the series, it includes many iconic images of the old west.  Centered, a blank badge wrapped with a cowboy's rope, a horned bull skull centered, with opposing six-shooters at 10 and 2 o'clock, and finally, two horseshoes at three o'clock, and a small badge at nine o'clock with the Intaglio mint mark.  Hallmark at 6 o'clock curved on the lower circumference.
Einzigartig in ihrer Art und bereits jetzt schon Kult in den Vereinigten Staaten.
Jede dieser wunderschönen Silverround enthält 999/1000 Feinsilber und wurde im wunderschönem "Brilliant uncirculated" geprägt.
Technische Daten
Gewicht

31.103

Material

Silber

Preis-Addition

6.3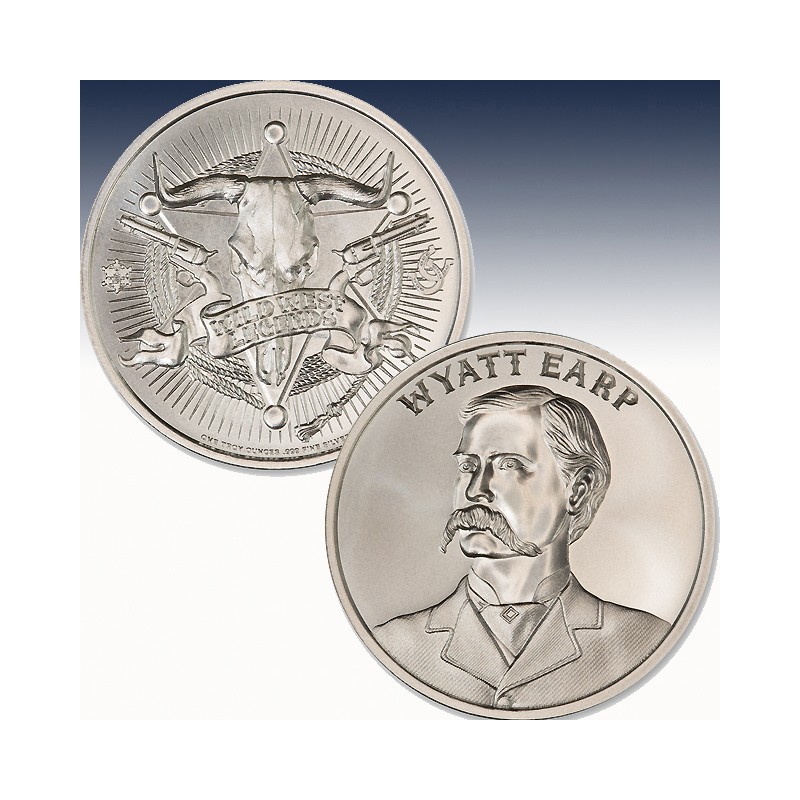 | | | |
| --- | --- | --- |
| Hersteller: |   | Intaglio Mint |
| Steuersatz: |   | 19% |
| Prägung: |   | Stempelglanz |
| Stückelung: |   | 1 x 1 Unze |
| Material: |   | Silber |
| Feinheit: |   | 999/1000 |
| Gewicht: |   | 31,103 Gramm |
| Verpackung: |   | zip-Tüte |
| Durchmesser: |   | 39x3,10mm |