Gold 1.863,05 Eur
Silber 21,38 Eur
Platin 855,59 Eur
Palladium 879,72 Eur
(49) 2935 - 3 390 375
Europaweite Lieferung
Europaweite Lieferung
Gold 1.863,05 Eur
Silber 21,38 Eur
Platin 855,59 Eur
Palladium 879,72 Eur
SILBER 15,39 EUR
PLATIN 853,48 EUR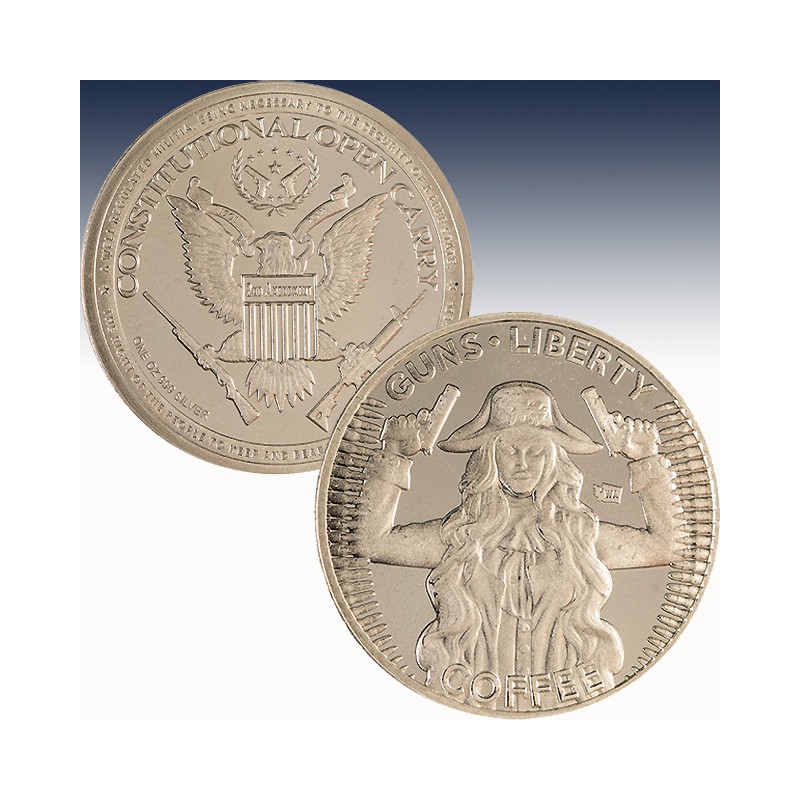  
1 x 1 oz Silverround Patriot Coins "Washington - Open Carry" -BU-
| | | |
| --- | --- | --- |
| Hersteller: |   | Patriot Coins |
| Steuersatz: |   | 19% |
| Erhaltung: |   | Stempelglanz |
| Stückelung: |   | 1 x 1 |
| Material: |   | Silber |
| Feinheit: |   | 999/1000 |
| Feingewicht: |   | 31,103 Gramm |
| Durchmesser: |   | 39,0 mm |
| Auflage: |   | 100.000 Stück |
1 x 1 Unze (oz) Silverround Patriot Coins "3# Washington - Open Carry"
The Constitutional Open Carry Series is produced by Patriot Coins and pays tribute to those states that allow for permitless open carry. Using the Second Amendment in the Bill of Rights for support, gun rights activists remain steadfast in their commitment to seeing that all citizens possess the right to bear arms. Today, 1 oz Constitutional Open Carry Washington Silver Rounds are available to you online from JM Bullion.
Round Highlights:
Delivered in a protective flip, a tube of 20, or box of 500 rounds!
All-new round in the Constitutional Open Carry Series!
Contains 1 Troy oz of .999 pure silver.
The obverse depicts a woman holding a pair of firearms.
On the reverse face is the official series emblem.
Made in the USA.
Each 1 oz Constitutional Open Carry Washington Round in this online JM Bullion listing was produced in the United States by Patriot Coins. These rounds consist of .999 pure silver and will arrive to you in new condition. Upon delivery, you will find individual rounds housed in flips and multiples of 20 inside a tube. Alternately, an order of 500 rounds will arrive in a box.
The obverse of Constitutional Open Carry Washington Silver Rounds features a woman wearing traditional Revolutionary War garments and holding two firearms. The design is augmented by a series of bullets lined up along the rim. Included on the obverse are inscriptions reading Guns, Liberty, and Coffee. There is also an outline of the state of Washington in the background.
On the reverse side of 1 oz Washington Silver Rounds you will find the official series emblem. This consists of a heraldic eagle with a pair of firearms in its talons. This differs from the traditional heraldic eagle design that depicts an olive branch and arrows in the talons. Along the upper rim, there is an inscription reading Constitutional Open Carry. The weight, purity, and metal type are also inscribed along the lower edge.
One of the most pressing issues in American society today is to what extent should the Federal and local governments regulate the use of firearms. The debate has no clear resolution, in part because the Second Amendment itself remains open to interpretation. While some see it as an outdated measure to ensure the government cannot disarm militias, others see it as definitive evidence enshrined in law that ensures all citizens have the right to keep and bear arms.
Technische Daten
Gewicht

31.103

Material

Silber

Preis-Addition

9.8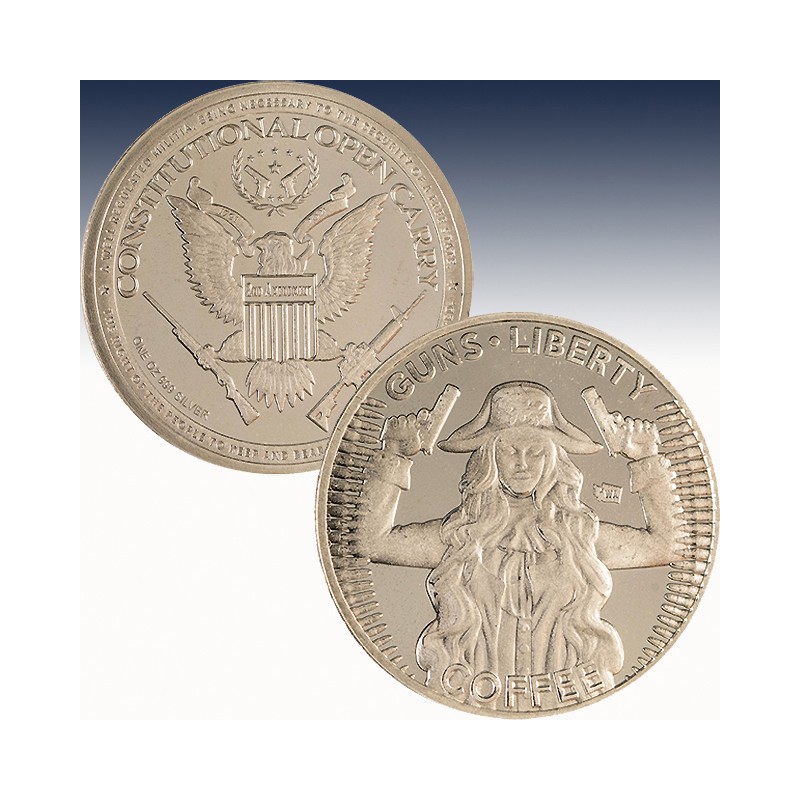 | | | |
| --- | --- | --- |
| Hersteller: |   | Patriot Coins |
| Steuersatz: |   | 19% |
| Erhaltung: |   | Stempelglanz |
| Stückelung: |   | 1 x 1 |
| Material: |   | Silber |
| Feinheit: |   | 999/1000 |
| Feingewicht: |   | 31,103 Gramm |
| Durchmesser: |   | 39,0 mm |
| Auflage: |   | 100.000 Stück |