Gold 1.863,05 Eur
Silber 21,38 Eur
Platin 855,59 Eur
Palladium 879,72 Eur
(49) 2935 - 3 390 375
Europaweite Lieferung
Europaweite Lieferung
Gold 1.863,05 Eur
Silber 21,38 Eur
Platin 855,59 Eur
Palladium 879,72 Eur
SILBER 15,39 EUR
PLATIN 853,48 EUR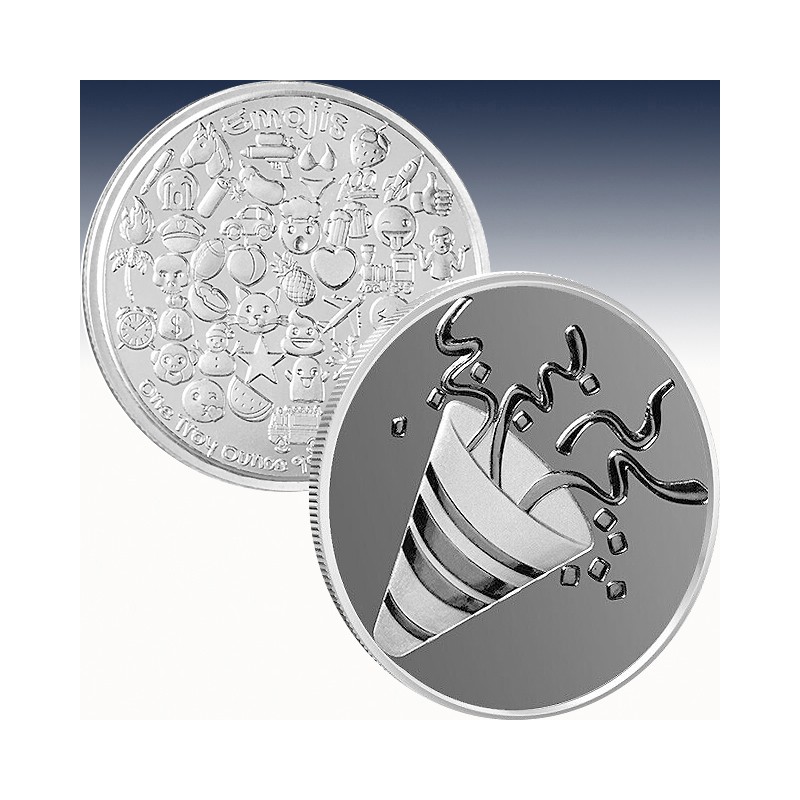  
1 x 1 Oz Silver Round Silvertowne "Emoji Party 2023" -BU-
| | | |
| --- | --- | --- |
| Hersteller: |   | Silvertowne |
| Steuersatz: |   | 19% |
| Prägung: |   | Stempelglanz |
| Stückelung: |   | 1 x 1 Unze |
| Material: |   | Silber |
| Feinheit: |   | 999/1000 |
| Gewicht: |   | 3,103 Gramm |
| Verpackung: |   | zip-Tüte |
| Durchmesser: |   | 39.3 mm |
| Ausgabe: |   | -,- Stück |
1 x 1 Unze (Oz) Silver Round Silvertowne "3# Emoji Party 2023"
When it's time to celebrate with silver, JM Bullion has the perfect option with the latest release of the Emoji Series. The third design to feature in the series is the ever-popular and flexible Party Emoji. Whether it's a birthday or anniversary, retirement party or graduation, you can celebrate in style with the Party Silver Round. Right now, 1 oz Emoji Party Silver Rounds are available to purchase online from JM Bullion.
Round Highlights:
Arrives inside plastic flips or protective tubes of 20 rounds!
3rd design in the Emoji Series!
Proof visuals!
Contains 1 Troy oz of .999 pure silver.
The Party emoji is on the obverse.
Various additional emojis feature on the reverse.
Each of the 1 oz Emoji Party Silver Rounds is available here with individual and bulk packaging. Individual Silver Rounds for sale in this listing come with plastic flips, while multiples of 20 silver rounds will ship together in a protective tube. These rounds have beautiful, proof-like visuals delivering combinations of contrasting frosted and mirror-like elements.
Our mobile phones are full of an ever-growing library of emojis that allow us to express a wide range of emotions via text. Emojis have grown immensely in popularity and use since the first emoticons were introduced on mobile devices in 1999. Today, emojis are so popular that an animated film was made entirely focused on emojis.
The Party design is featured in the obverse of the Emoji Party Silver Round. The typical celebratory emoji, this design shows an upside-down conical shape with its opening releasing confetti and streamers. This design is the perfect expression of joy and celebration and will make a great gift for birthdays, graduations, anniversaries, or any other special occasion.
Various additional emojis are depicted in the reverse design of 1 oz Emoji Silver Rounds. This design is common to the series and includes more emojis than we can name here. Everything from the Alien Head to Shrugging Man, Rocket, and Ray Gun features on this side.
Technische Daten
Gewicht

31.103

Material

Silber

Jahreszahl

2023

Preis-Addition

8.8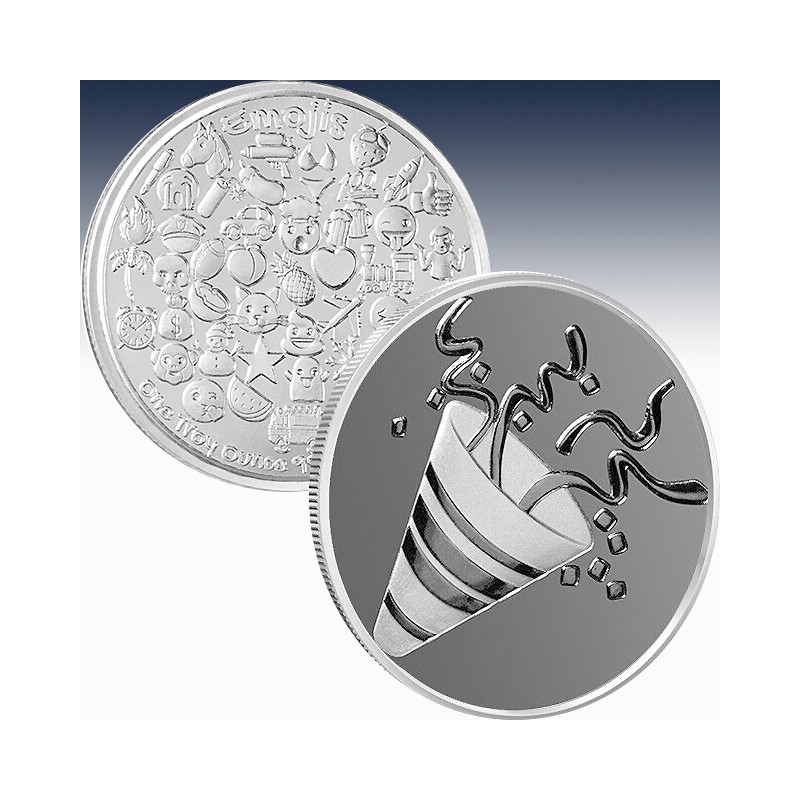 | | | |
| --- | --- | --- |
| Hersteller: |   | Silvertowne |
| Steuersatz: |   | 19% |
| Prägung: |   | Stempelglanz |
| Stückelung: |   | 1 x 1 Unze |
| Material: |   | Silber |
| Feinheit: |   | 999/1000 |
| Gewicht: |   | 3,103 Gramm |
| Verpackung: |   | zip-Tüte |
| Durchmesser: |   | 39.3 mm |
| Ausgabe: |   | -,- Stück |