Gold 1.863,05 Eur
Silber 21,38 Eur
Platin 855,59 Eur
Palladium 879,72 Eur
(49) 2935 - 3 390 375
Europaweite Lieferung
Europaweite Lieferung
Gold 1.863,05 Eur
Silber 21,38 Eur
Platin 855,59 Eur
Palladium 879,72 Eur
SILBER 15,39 EUR
PLATIN 853,48 EUR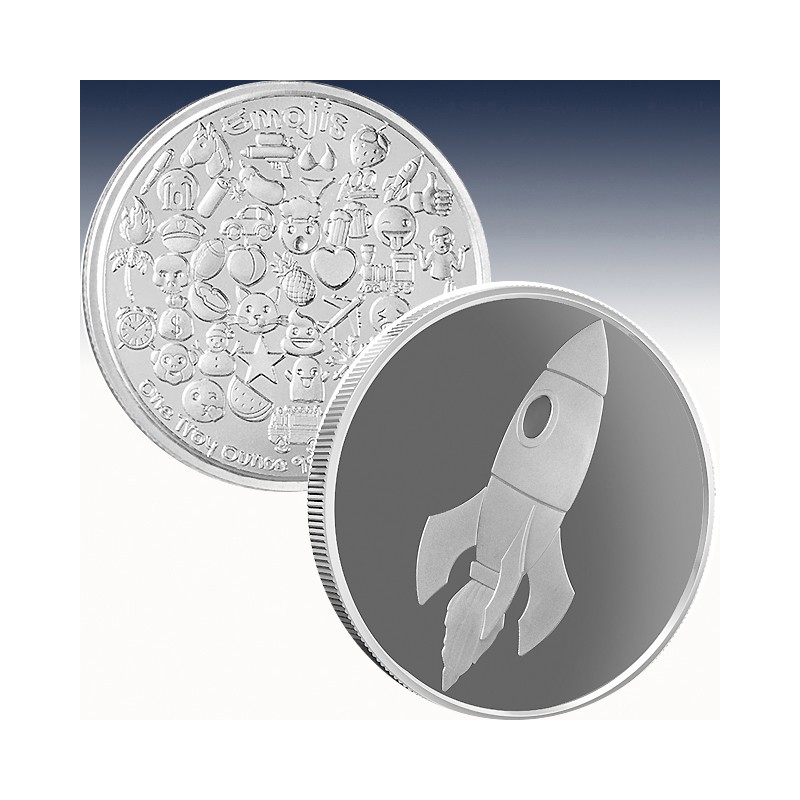  
1 x 1 Oz Silver Round Silvertowne "Emoji Rocket 2023" -BU-
| | | |
| --- | --- | --- |
| Hersteller: |   | Silvertowne |
| Steuersatz: |   | 19% |
| Prägung: |   | Stempelglanz |
| Stückelung: |   | 1 x 1 Unze |
| Material: |   | Silber |
| Feinheit: |   | 999/1000 |
| Gewicht: |   | 3,103 Gramm |
| Verpackung: |   | zip-Tüte |
| Durchmesser: |   | 39.3 mm |
| Ausgabe: |   | -,- Stück |
1 x 1 Unze (Oz) Silver Round Silvertowne "5# Emoji Rocket 2023"
The Emoji Series of custom silver rounds has already proven quite popular with collectors, and you can bet it will blast off to new heights with the release of the seventh round in the series. As the heat of summer sends temperatures soaring, the new Emoji Rocket Silver Round is set to soar as well. Right now, 1 oz Emoji Rocket Silver Rounds are available to purchase online from JM Bullion.
Round Highlights:
Arrives in plastic flips or protective tubes of 20 rounds!
5th design in the Emoji Series of rounds!
Contains 1 Troy oz of .999 pure silver.
On the obverse is the popular Rocket emoji.
The reverse features a variety of emojis.
Proof-like visuals.
Each 1 oz Emoji Rocket Silver Round is available to you for purchase with either individual plastic flips or protective tubes for multiples of 20 rounds. The rounds in this series come with proof-like visuals that include varying frosted and mirror-like fields. These help create a sense of visual contrast for the design.
The Rocket emoji, ????, is often used to symbolize speed and excitement. It represents the concept of blasting off or taking off quickly, making it a popular choice in various contexts, such as expressing enthusiasm, progress, or success.
On the obverse side of Emoji Rocket Silver Rounds, you will find the aforementioned rocket. There is seemingly not shortage of possible uses for this emoji in digital conversations. The visual design of the rocket is cartoon-like in nature and reflects the common impression of a rocket in the minds of many.
The reverse face of 1 oz Rocket Silver Rounds comes with the common depiction for the series. In the design element, you will find a number of popular emojis that get used in the course of billions of digital conversations on a daily basis. Collectors with a keen eye will notice that several of the designs already featured on the obverse in this series make an appearance in the cluster of emojis on the reverse, including the new Emoji Rocket release!
Technische Daten
Gewicht

31.103

Material

Silber

Jahreszahl

2023

Preis-Addition

8.8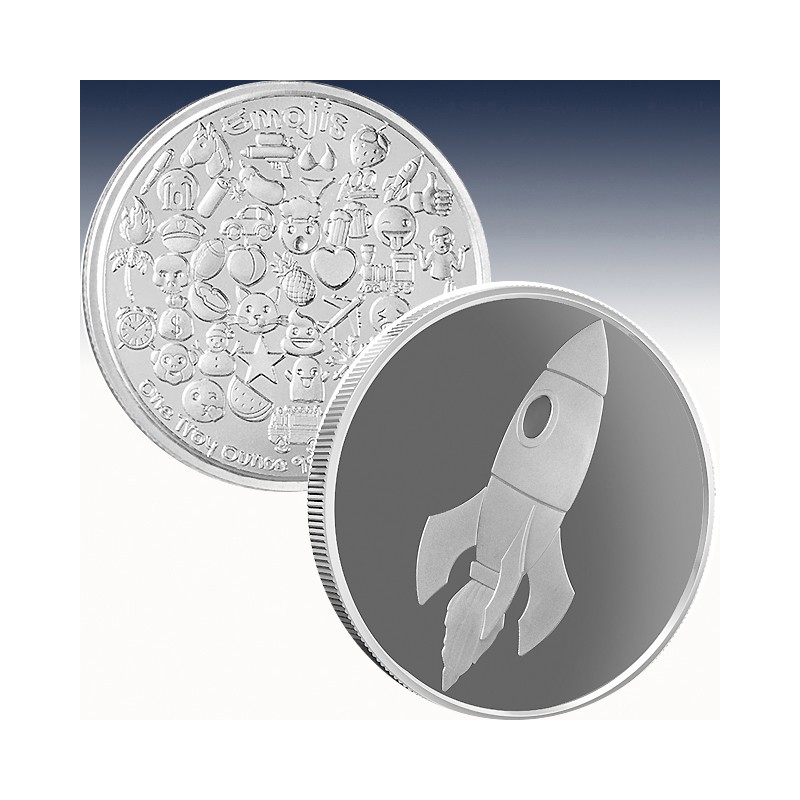 | | | |
| --- | --- | --- |
| Hersteller: |   | Silvertowne |
| Steuersatz: |   | 19% |
| Prägung: |   | Stempelglanz |
| Stückelung: |   | 1 x 1 Unze |
| Material: |   | Silber |
| Feinheit: |   | 999/1000 |
| Gewicht: |   | 3,103 Gramm |
| Verpackung: |   | zip-Tüte |
| Durchmesser: |   | 39.3 mm |
| Ausgabe: |   | -,- Stück |