Gold 1.814,39 Eur
Silber 22,03 Eur
Platin 957,56 Eur
Palladium 1.301,24 Eur
(49) 2935 - 3 390 375
Europaweite Lieferung
Europaweite Lieferung
Gold 1.814,39 Eur
Silber 22,03 Eur
Platin 957,56 Eur
Palladium 1.301,24 Eur
SILBER 15,39 EUR
PLATIN 853,48 EUR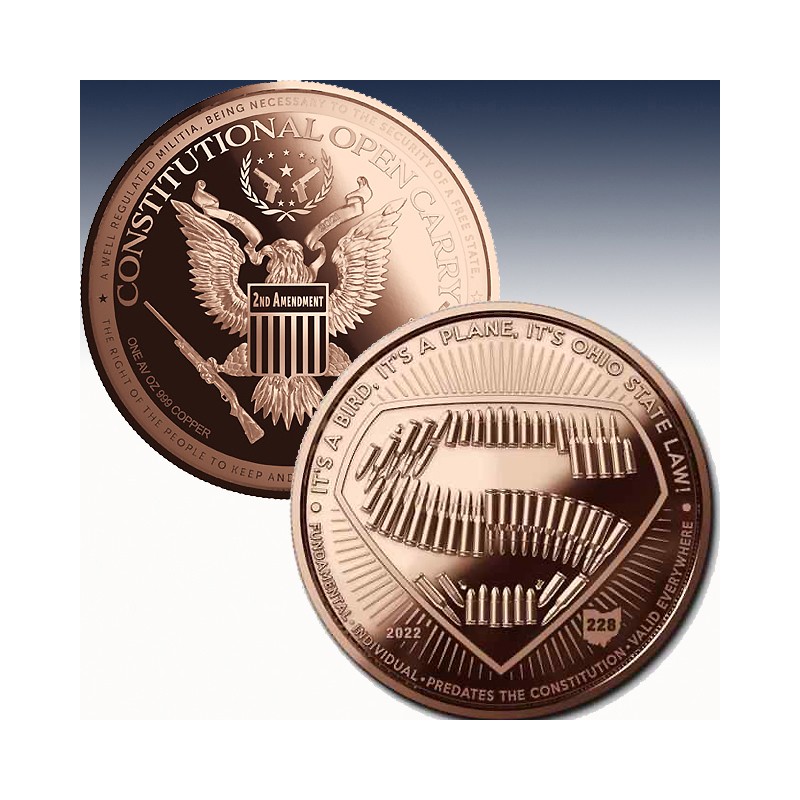  
1 x 1 oz Copper Round "Ohio Open Carry" -BU-
| | | |
| --- | --- | --- |
| Hersteller: |   | Patriot Coins |
| Steuersatz: |   | 19% |
| Erhaltung: |   | Stempelglanz |
| Stückelung: |   | 1 x 1 oz |
| Material: |   | Kupfer |
| Feinheit: |   | 999/1000 |
| Feingewicht: |   | 28,349 Gramm |
| Durchmesser: |   | 39,0 mm |
| Auflage: |   | -,- Stück |
1 x 1 Unze (oz) Copper Round "Constitutional Open Carry"
The latest copper round in the Constitutional Open Carry Series features the state of Ohio. This collection is produced by Patriot Coins and pays tribute to those states in the US that allow for open carry. An important issue driving much of the discourse in the country, this collection contributes to the conversation while offering collectors the chance to build an exciting new set of copper rounds. Right now, 1 oz Constitutional Open Carry Ohio Copper Rounds are available to purchase online from JM Bullion.
Round Highlights:
Available to you in a flip, tube of 20, or box of 500!
All-new round in the Constitutional Open Carry Series!
Contains 1 AVDP oz of .999 pure copper.
A Superman bullet design is depicted on the obverse.
A heraldic eagle motif features the reverse design.
Made in the USA.
Each 1 oz Constitutional Open Carry Ohio Round was produced by Patriot Coins and will arrive to you in new condition. Please note that these rounds are weighed in AVDP rather than Troy ounces. AVDP stands for Avoirdupois and is the standard unit of measure across all copper products. These rounds will arrive to you in flips, tubes of 20, or a box of 500.
The obverse of 1 oz Constitutional Open Carry Copper Rounds features the iconic Superman logo. However, to correspond with the theme of the series, the logo is arranged through a series of bullets. The presence of the Superman logo in the first place is due to the fact that this iconic superhero was created in Cleveland, Ohio by Jerry Siegel and Joe Shuster.
On the reverse side of 1 oz Ohio Copper Rounds is the Constitutional Open Carry series design. This image features a heraldic eagle, but instead of arrows and an olive branch in its talons, it holds a pair of firearms. Also, the shield on its chest reads 2nd Amendment. Inscriptions on the reverse read Constitutional Open Carry, One Av oz .999 Copper. You will also find words from the actual 2nd Amendment text inscribed around the rim.
Currently, the state of Ohio allows individuals 18 and older to open carry without a permit. However, open carry inside of a vehicle does require a permit. Also of note is that open carry is prohibited in areas serving alcohol unless the carrier is not consuming it. In terms of magazine capacity and suppressor ownership, Ohio has no state restrictions.
Technische Daten
Gewicht

KFIXRSZBQ

Material

Kupfer

Jahreszahl

2023

Preis-Addition

4.5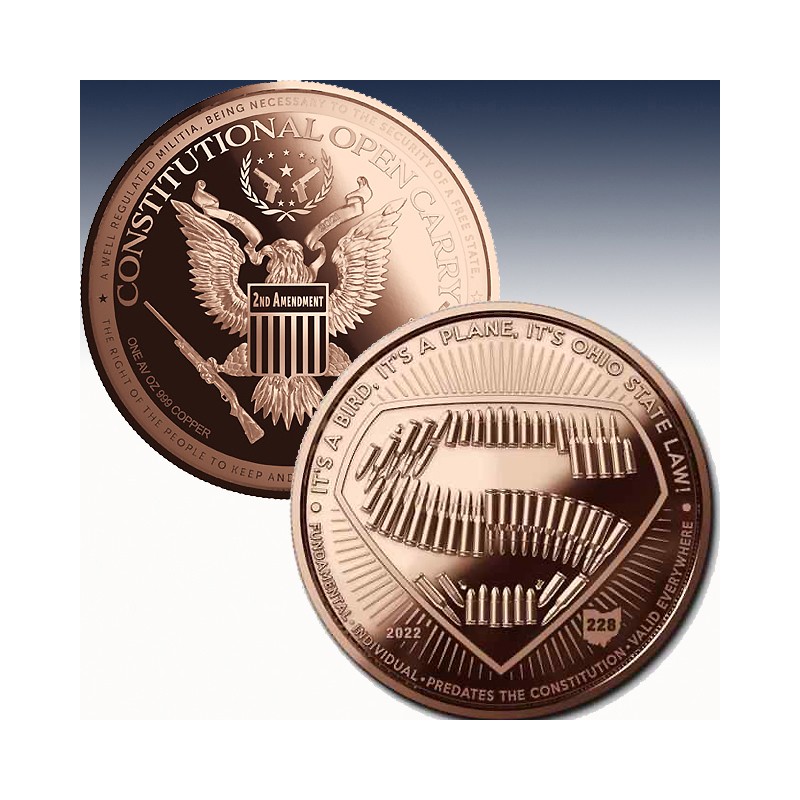 | | | |
| --- | --- | --- |
| Hersteller: |   | Patriot Coins |
| Steuersatz: |   | 19% |
| Erhaltung: |   | Stempelglanz |
| Stückelung: |   | 1 x 1 oz |
| Material: |   | Kupfer |
| Feinheit: |   | 999/1000 |
| Feingewicht: |   | 28,349 Gramm |
| Durchmesser: |   | 39,0 mm |
| Auflage: |   | -,- Stück |