Gold 1.856,53 Eur
Silber 22,77 Eur
Platin 859,35 Eur
Palladium 961,93 Eur
(49) 2935 - 3 390 375
Europaweite Lieferung
Europaweite Lieferung
Gold 1.856,53 Eur
Silber 22,77 Eur
Platin 859,35 Eur
Palladium 961,93 Eur
SILBER 15,39 EUR
PLATIN 853,48 EUR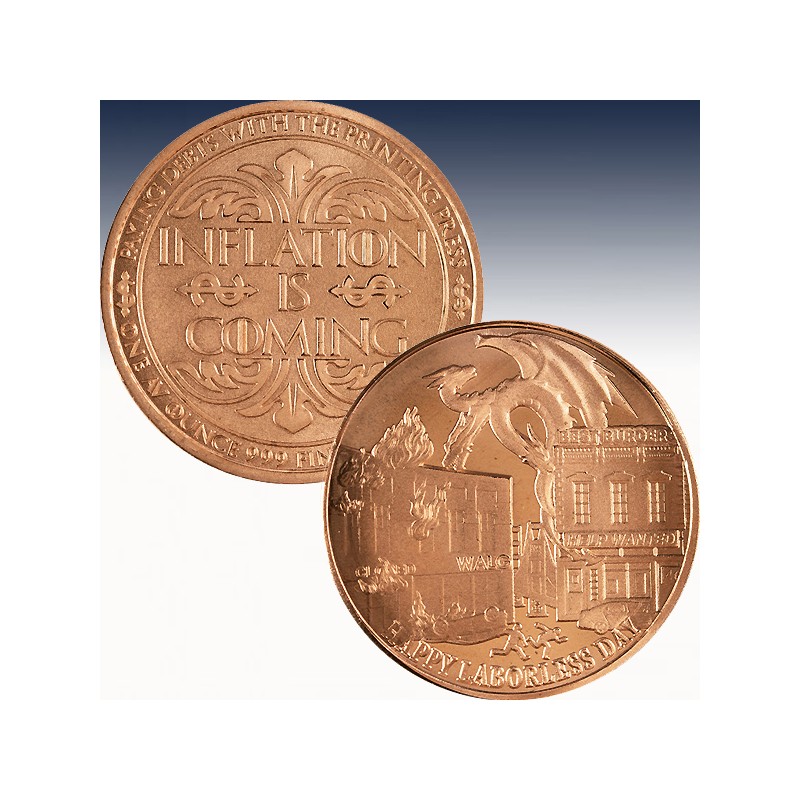  
1 x 1 oz Copperround Patriot Coins "Inflation is Coming Series - Happy Laborless Day" -BU-
| | | |
| --- | --- | --- |
| Hersteller: |   | Patriot Coins |
| Steuersatz: |   | 19% |
| Erhaltung: |   | Stempelglanz |
| Stückelung: |   | 1 x 1 |
| Material: |   | Kupfer |
| Feinheit: |   | 999/1000 |
| Feingewicht: |   | 28,349 Gramm |
| Durchmesser: |   | 39,0 mm |
| Auflage: |   | 100.000 Stück |
1 x 1 Unze (oz) Copper Round Patriot Coins
"Inflation is Coming Series - Happy Laborless Day"

In 2022, one headline that will not go away is inflation. The topic has been on the minds of many, and as prices continue to rise, so do also the concerns of everyday citizens. As such, it is the perfect time to build your Inflation is Coming series, which has been produced Patriot Coins as a direct commentary on today's economy.
Round Highlights:
Arrives in a plastic flip, a tube of 20, or box of 500 rounds!
Stunning new design from Patriot Coins!
Contains 1 AVDP oz of .999 pure copper.
The obverse field depicts the Dragon of Inflation in attack mode.
On the reverse is the Inflation is Coming logo.
Inflation happens when the rates of goods and services rise, resulting in a decrease of the value of the country's currency. Historically, the highest US rate of inflation occurred in 1778, which saw a year-over-year increase of 29.78%. Since the advent of the Consumer Price Index, the highest inflation rate came in 1917 with an increase of 20.49%. Generally, these economic shifts occur during times of conflict, and we can look to many of the major wars the country has fought for other instances of high inflation.
Each of these 1 oz Inflation is Coming Series Happy Laborless Day Rounds will arrive in a protective plastic flip. Alternately, multiples of 20 will ship in tubes, and a quantity of 500 will arrive in a box. These rounds were produced by Patriot Coins and will arrive in brand-new condition.
The obverse of these 1 oz Happy Laborless Day Copper Rounds features the Dragon of Inflation swooping down on small businesses. The fire-breathing beast is depicted with three heads and has already caught some of the buildings on fire. On the ground, we see a flipped car and several citizens fleeing for their lives. The words Happy Laborless Day are inscribed along the lower edge.
On the reverse side of 1 oz Inflation is Coming Series Copper Rounds you will find the Inflation is Coming logo. This includes the words Inflation is Coming in the center with sideways dollar signs on either side. Around the edge, there are inscriptions reading Paying Debts with the Printing Press, One Av oz .999 Fine Copper, 2021.
Technische Daten
Gewicht

KFIXRSZBQ

Material

Kupfer

Jahreszahl

2022

Preis-Addition

5.5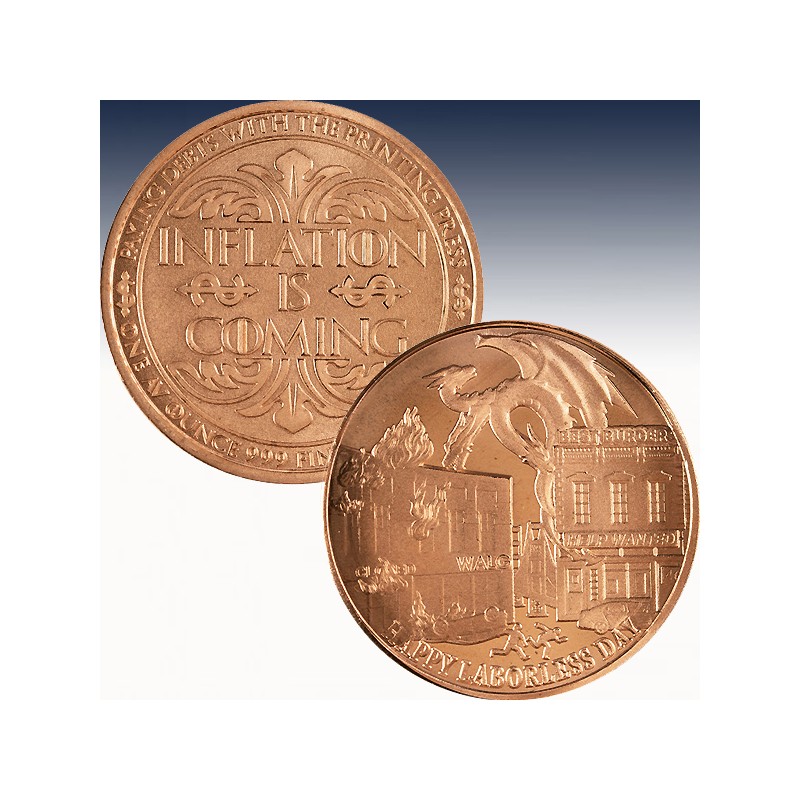 | | | |
| --- | --- | --- |
| Hersteller: |   | Patriot Coins |
| Steuersatz: |   | 19% |
| Erhaltung: |   | Stempelglanz |
| Stückelung: |   | 1 x 1 |
| Material: |   | Kupfer |
| Feinheit: |   | 999/1000 |
| Feingewicht: |   | 28,349 Gramm |
| Durchmesser: |   | 39,0 mm |
| Auflage: |   | 100.000 Stück |