Gold 1.765,95 Eur
Silber 21,37 Eur
Platin 862,44 Eur
Palladium 1.204,71 Eur
(49) 2935 - 3 390 375
Europaweite Lieferung
Europaweite Lieferung
Gold 1.765,95 Eur
Silber 21,37 Eur
Platin 862,44 Eur
Palladium 1.204,71 Eur
SILBER 15,39 EUR
PLATIN 853,48 EUR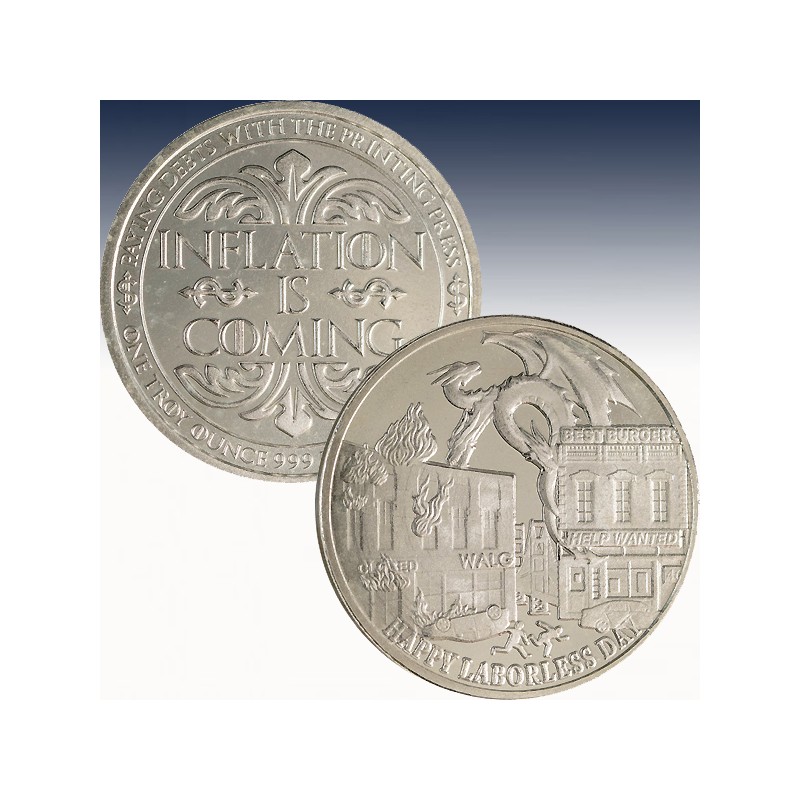  
1 x 1 oz Silverround Patriot Coins "Inflation is Coming Series - Happy Laborless Day" -BU-
| | | |
| --- | --- | --- |
| Hersteller: |   | Patriot Coins |
| Steuersatz: |   | 19% |
| Erhaltung: |   | Stempelglanz |
| Stückelung: |   | 1 x 1 |
| Material: |   | Silber |
| Feinheit: |   | 999/1000 |
| Feingewicht: |   | 31,103 Gramm |
| Durchmesser: |   | 39,0 mm |
| Auflage: |   | 100.000 Stück |
1 x 1 oz Silverround Patriot Coins
"2# Inflation is Coming Series - Happy Laborless Day"

The Inflation is Coming Series is a thought-provoking collection of silver rounds produced by Patriot Coins. The series creates its own narrative about a country called Usasteros dealing with an inflation crisis that bears many parallels to the current situation in the United States. In this listing, you will find the standard version of the Laborless Day design, which will make for quite the conversation piece in your collection.
Round Highlights:
Ships in a flip, a tube of 20, or box of 500 rounds!
2nd design in the Inflation is Coming series!
Contains 1 Troy oz of .999 pure silver.
A dragon attacking small businesses is shown on the obverse.
The Inflation is Coming design appears in the reverse field.
Made in the USA.
All 1 oz Inflation is Coming Series Laborless Day Rounds in this online JM Bullion listing will arrive to you in new condition. Produced by Patriot Metals, these rounds consist of .999 pure silver and will arrive to you housed inside an individual plastic flip. Alternately, multiples of 20 will come in a tube, and orders of 500 in a box.
The obverse of Inflation is Coming Series Laborless Day Silver Rounds features the Dragon of Inflation preying on local businesses. The dragon has three heads and has already caught several of the buildings on fire. Below we see citizens running for safety as cars are overturned and in flames. Inscribed along the lower rim are the words Happy Laborless Day.
On the reverse of 1 oz Inflation is Coming Series Silver Rounds you will see the official series logo design. This consists of the words Inflation is Coming inscribed in large lettering across the center of the field. Along the edge are additional inscriptions reading Paying Debts with the Printing Press, One Troy Ounce .999 Fine Silver, 2021.
In economics class, many of us learned about inflation. This phenomenon occurs when the prices of goods and services rises, rendering units of currency less valuable than they were prior. Now many of us are experiencing this first-hand. As costs of rent, groceries, and gasoline remain high, many are scrambling to access funds to afford this new high cost of living. The Inflation is Coming Series taps into these anxieties by creating an alternate world inspired by Game of Thrones that closely maps onto the world we live in today.
Technische Daten
Gewicht

31.103

Material

Silber

Jahreszahl

2022

Preis-Addition

12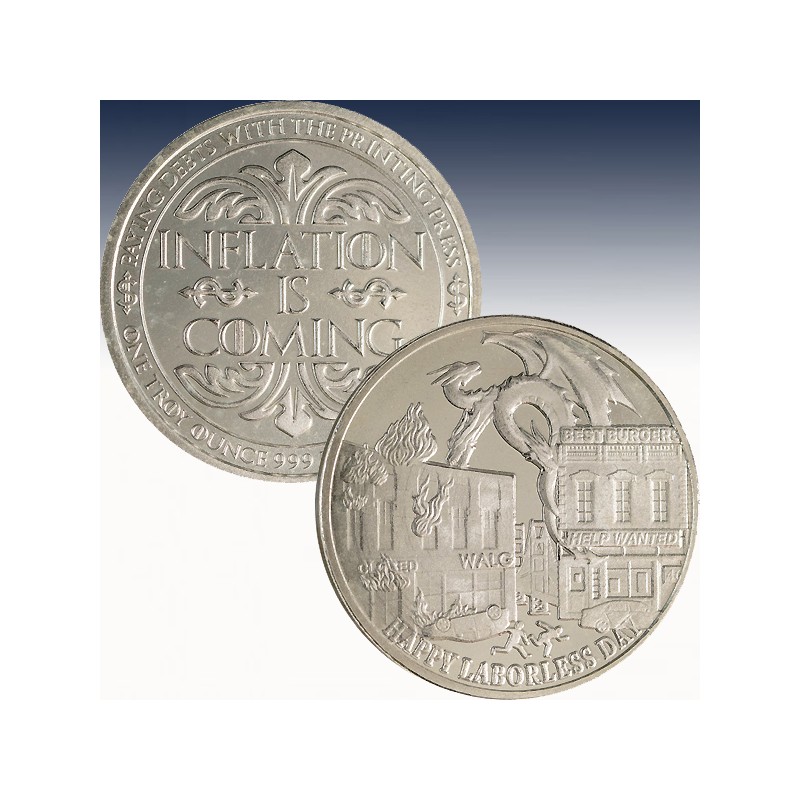 | | | |
| --- | --- | --- |
| Hersteller: |   | Patriot Coins |
| Steuersatz: |   | 19% |
| Erhaltung: |   | Stempelglanz |
| Stückelung: |   | 1 x 1 |
| Material: |   | Silber |
| Feinheit: |   | 999/1000 |
| Feingewicht: |   | 31,103 Gramm |
| Durchmesser: |   | 39,0 mm |
| Auflage: |   | 100.000 Stück |