Gold 1.863,05 Eur
Silber 21,38 Eur
Platin 855,59 Eur
Palladium 879,72 Eur
(49) 2935 - 3 390 375
Europaweite Lieferung
Europaweite Lieferung
Gold 1.863,05 Eur
Silber 21,38 Eur
Platin 855,59 Eur
Palladium 879,72 Eur
SILBER 15,39 EUR
PLATIN 853,48 EUR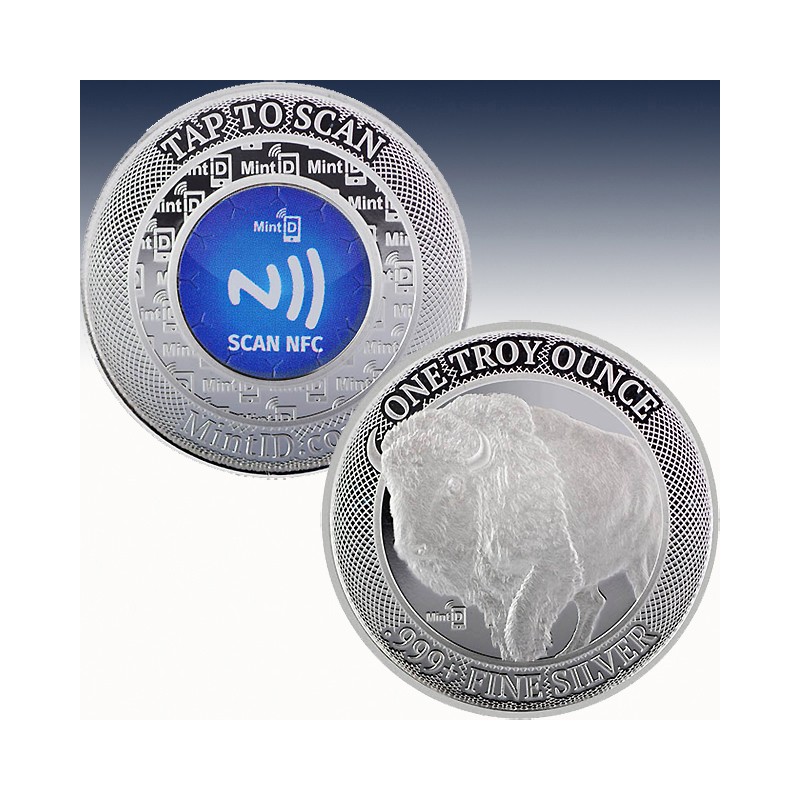  
1 x 1 Oz Silver Round Mint ID "Buffalo" -BU-
| | | |
| --- | --- | --- |
| Hersteller: |   | Mint ID |
| Steuersatz: |   | 19% |
| Prägung: |   | Stempelglanz |
| Stückelung: |   | 1 x 1 Unze |
| Material: |   | Silber |
| Feinheit: |   | 999/1000 |
| Gewicht: |   | 31,103 Gramm |
| Verpackung: |   | zip-Tüte |
| Durchmesser: |   | 39x2,47 mm |
1 x 1 Unze (oz) Silver Round Mint ID "Buffalo"

One of the greatest concerns of modern investors is counterfeit silver and gold bullion. Mints around the globe have been working to introduce new security features to bullion products to help counteract this. MintID has come up with a new technology that takes bullion security to new heights on the formats of silver you already love to purchase. Today, 1 oz MintID Buffalo Silver Rounds are available to you online from JM Bullion.
Round Highlights:
Available to you inside of a plastic flip, tube of 20, or box of 500!
All-new MintID product lineup!
Contains 1 Troy oz of .999 pure silver.
On the obverse is the image of an American bison.
The reverse includes the MintID logo and Scan NFC chip.
One-of-a-kind anti-counterfeiting technology!
Each of the 1 oz Mint ID Buffalo Silver Rounds in this product listing come with an individual protective plastic flip when purchasing individual rounds. Multiples are available with mint tubes or a box.
MintID has developed a brand-new means of tracking silver bullion specimens using the technology that everyone already has in their pocket. Smartphone apps already allow precious metals enthusiasts to scan a QR code to authenticate a purchase. MintID takes that technology one step further.
MintID works directly with highly-rated ISO:9001 mint facilities to adhere their encrypted, tamper-proof microchips onto the surface of silver and gold bullion products. Each of these 1 oz MintID Buffalo Silver Rounds has one of those microchips on its reverse face. These microchips give each individual silver round a unique digital identity that cannot be duplicated. After investing in MintID-brand products, you can download the MintID mobile app and instantly authenticate your bullion.
On the obverse face of the 1 oz MintID Buffalo Silver Round is a depiction of the powerful American bison. The largest land mammal in North America, you can find the bison stilling roaming the continent today. Though it exists in much smaller numbers than it once did, the mighty buffalo roams throughout Canada and the Western United States. Other markings on this face include the MintID name and logo, as well as the weight, purity, and metal content of the silver rounds.
The reverse of each 1 oz MintID Buffalo Silver Round includes the MintID name and logo, as well as the blue NFC microchip adhered to the silver round for authentication. The blue field includes the mint logo, which uses the word Mint with a mobile device signifying the ability to scan its bullion with ease. The background field behind this has repeating images of the MintID logo and the words Tap to Scan are inscribed above.
Einzigartig in ihrer Art und bereits jetzt schon Kult in den Vereinigten Staaten.
Jede dieser wunderschönen Silverround enthält 999/1000 Feinsilber und wurde im wunderschönem "Brilliant uncirculated" geprägt.
Technische Daten
Gewicht

31.103

Material

Silber

Preis-Addition

9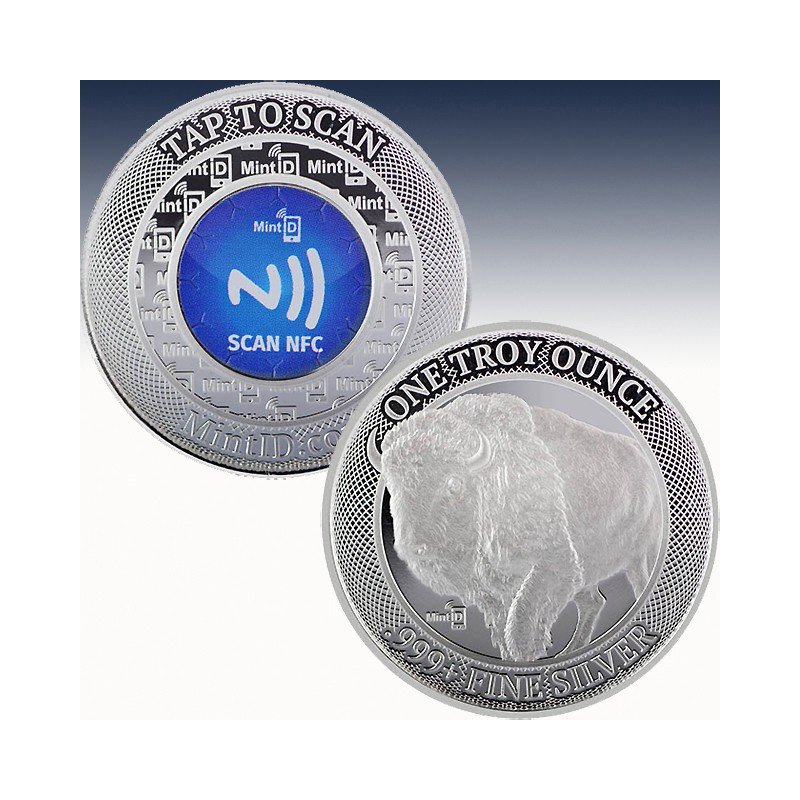 | | | |
| --- | --- | --- |
| Hersteller: |   | Mint ID |
| Steuersatz: |   | 19% |
| Prägung: |   | Stempelglanz |
| Stückelung: |   | 1 x 1 Unze |
| Material: |   | Silber |
| Feinheit: |   | 999/1000 |
| Gewicht: |   | 31,103 Gramm |
| Verpackung: |   | zip-Tüte |
| Durchmesser: |   | 39x2,47 mm |