Gold 1.599,65 Eur
Silber 19,60 Eur
Platin 730,62 Eur
Palladium 1.907,89 Eur
(49) 2935 - 3 390 375
Europaweite Lieferung
Europaweite Lieferung
Gold 1.599,65 Eur
Silber 19,60 Eur
Platin 730,62 Eur
Palladium 1.907,89 Eur
SILBER 15,39 EUR
PLATIN 853,48 EUR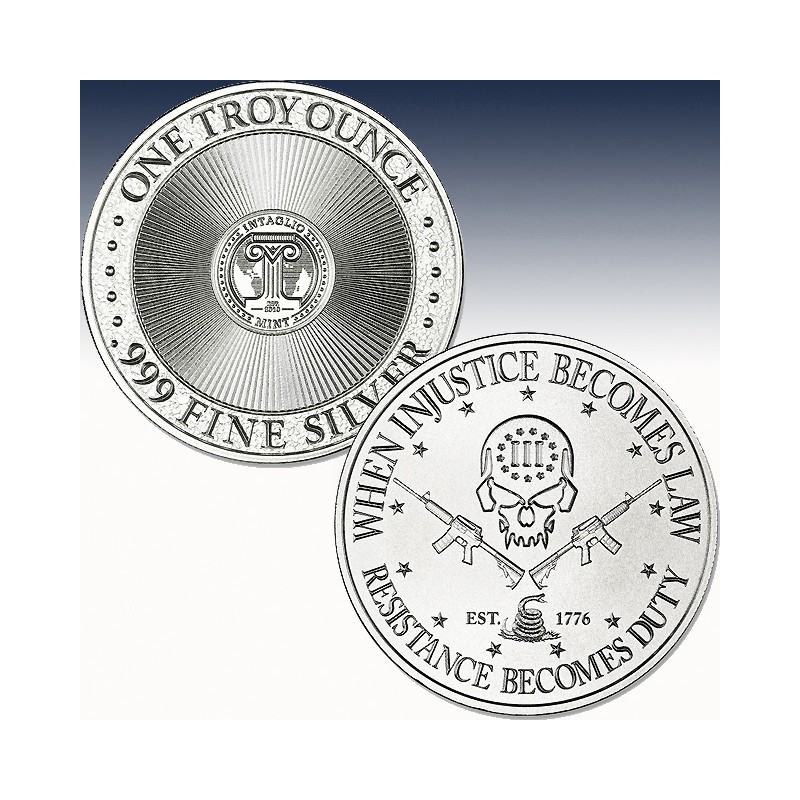  
1 x 1 Oz Silverround Intaglio Mint "DEUCE FOUR SKULL - TYPE II" -BU-
| | | |
| --- | --- | --- |
| Hersteller: |   | Intaglio Mint |
| Steuersatz: |   | 19% |
| Prägung: |   | Stempelglanz |
| Stückelung: |   | 1 x 1 Unze |
| Material: |   | Silber |
| Feinheit: |   | 999/1000 |
| Gewicht: |   | 31,103 Gramm |
| Verpackung: |   | zip-Tüte |
| Durchmesser: |   | 39x3,10mm |

Lieferbedingungen (bearbeiten im Modul "Kundenvorteile")

Rücksendebedingungen (bearbeiten im Modul "Kundenvorteile")
1 x 1 Unze (oz) Silverround Intaglio Mint
"Patriotic / Militär Theme -DEUCE FOUR SKULL - TYPE II"

The deuce head skull as a symbol is often used for intimidation and as a means to strike fear in those who may face this image.  This is especially true when paired with the iconography representing the 3 Percent, a claim that the historical American Revolution armed resistance constituted only three percent of the population. This skull is commemorated in this Silver bullion series.
Contains 1 oz. Troy of .999 Fine Silver
Obverse: Stylized Skull incused with Roman numeral III representing the relative size of the population who acted as armed resistance in the American Revolution. Encircled by thirteen stars and the motto WHEN INJUSTICE BECOMES LAW, RESISTANCE BECOMES DUTY Accented by opposing AR-15s, a Coiled Rattlesnake centered between EST. 1776.
Reverse: Intaglio Mint logo set on radial burst surrounded by stippled border reading ONE TROY OUNCE above and .999 FINE SILVER below on textured background, flanked by 4 bullet points on each side.
Einzigartig in ihrer Art und bereits jetzt schon Kult in den Vereinigten Staaten.
Jede dieser wunderschönen Silverround enthält 999/1000 Feinsilber und wurde im wunderschönem "Brilliant uncirculated" geprägt.
Technische Daten
Gewicht

31.103

Material

Silber

Preis-Addition

5.8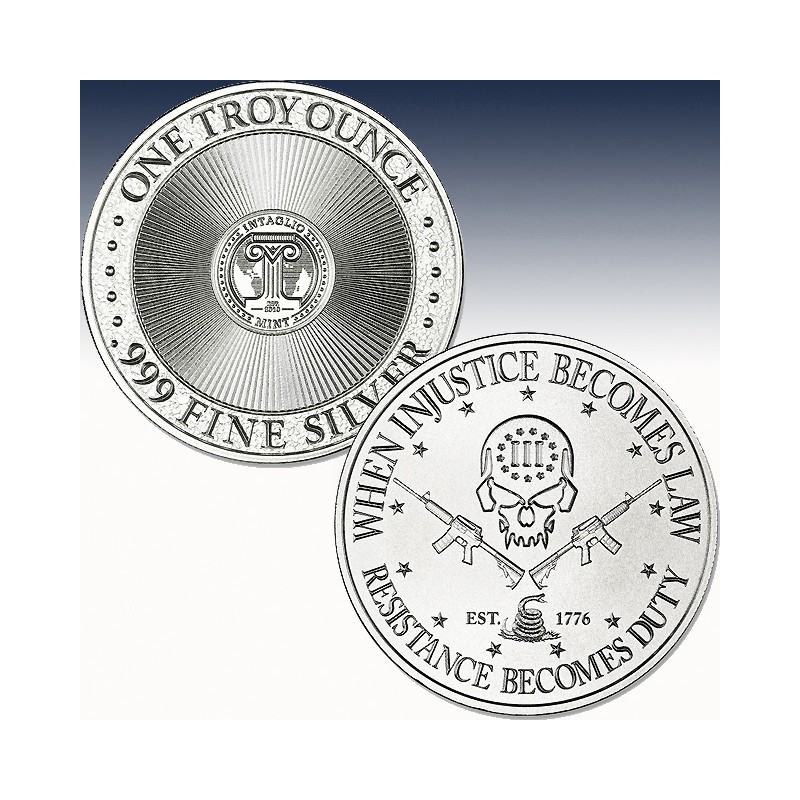 | | | |
| --- | --- | --- |
| Hersteller: |   | Intaglio Mint |
| Steuersatz: |   | 19% |
| Prägung: |   | Stempelglanz |
| Stückelung: |   | 1 x 1 Unze |
| Material: |   | Silber |
| Feinheit: |   | 999/1000 |
| Gewicht: |   | 31,103 Gramm |
| Verpackung: |   | zip-Tüte |
| Durchmesser: |   | 39x3,10mm |