Gold 1.863,05 Eur
Silber 21,38 Eur
Platin 855,59 Eur
Palladium 879,72 Eur
(49) 2935 - 3 390 375
Europaweite Lieferung
Europaweite Lieferung
Gold 1.863,05 Eur
Silber 21,38 Eur
Platin 855,59 Eur
Palladium 879,72 Eur
SILBER 15,39 EUR
PLATIN 853,48 EUR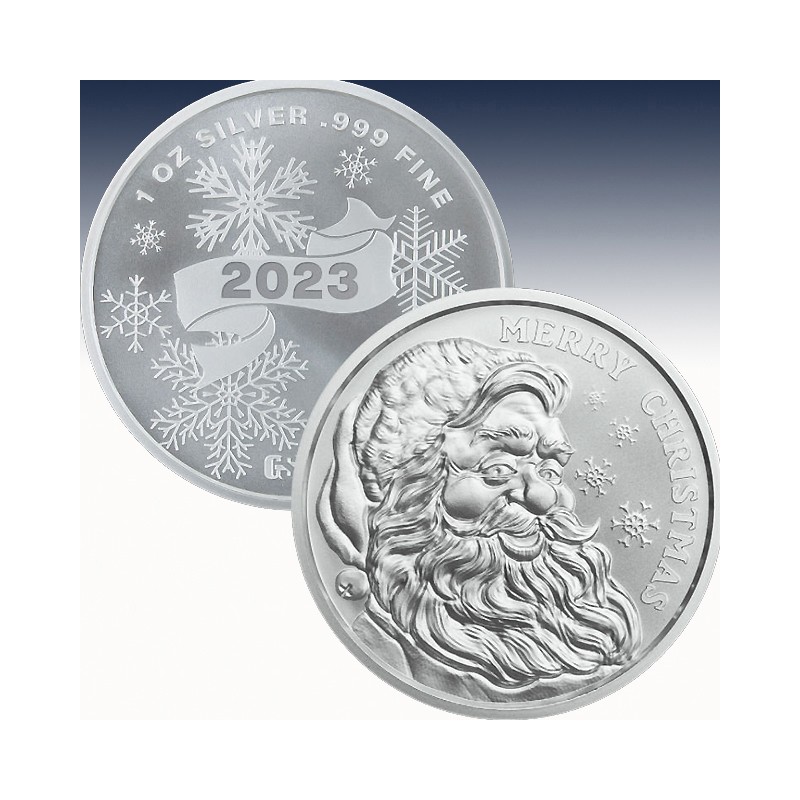  
1 x 1 oz Silver Golden State Mint "Merry Christmas Santa 2023" -BU- (kapsel)
| | | | |
| --- | --- | --- | --- |
|   | Hersteller: |   | GSM |
|   | Steuersatz: |   | 19% |
|   | Prägung: |   | Stempelglanz |
|   | Stückelung: |   | 1 x 1 Unze |
|   | Material: |   | Silber |
|   | Feinheit: |   | 999/1000 |
|   | Gewicht: |   | 31,103 Gramm |
|   | Verpackung: |   | gekapselt |
|   | Durchmesser: |   | 38,6mm |
1 x 1 Unze (oz) Silverround Golden State Mint "Merry Christmas Santa 2023" 
The Christmas season isnt just one for religious celebrations and time with family, but also a time of gift-giving. For those fans of silver and other precious metals, there are collectible silver items available each year that celebrate the spirit of the season with unique designs.
Highlights:
Arrives inside of protective flips or sheets of 20!
Design includes the image of Santa Claus!
Contains 1 Troy oz of .999 pure silver.
The obverse depicts Santa Claus preparing to slide down the chimney.
On the reverse is a collection of snowflakes framed by holly.
The Merry Christmas Santa 1 oz Silver Rounds available to you here today can be purchased individually or in multiples. Each individual silver round ships to you with a protective plastic flip, while multiples are available in sheets. The individual sheets contain 20 rounds. All specimens are in brand-new condition.
For a gift, stocking stuffer or just treating yourself, celebrate Christmas with Golden State Mint with this original and classic design. Each beautiful Proof Santa silver round will come in a capsule to protect and preserve your 2021 holiday keepsake for years to come.
Merry Christmas Santa BU 1 oz Silver round .999 Fine.
Jede dieser wunderschönen Silverround enthält 999/1000 Feinsilber und wurde im wunderschönem Brilliant uncirculated geprägt.
Technische Daten
Gewicht

31.103

Material

Silber

Jahreszahl

2023

Preis-Addition

5.40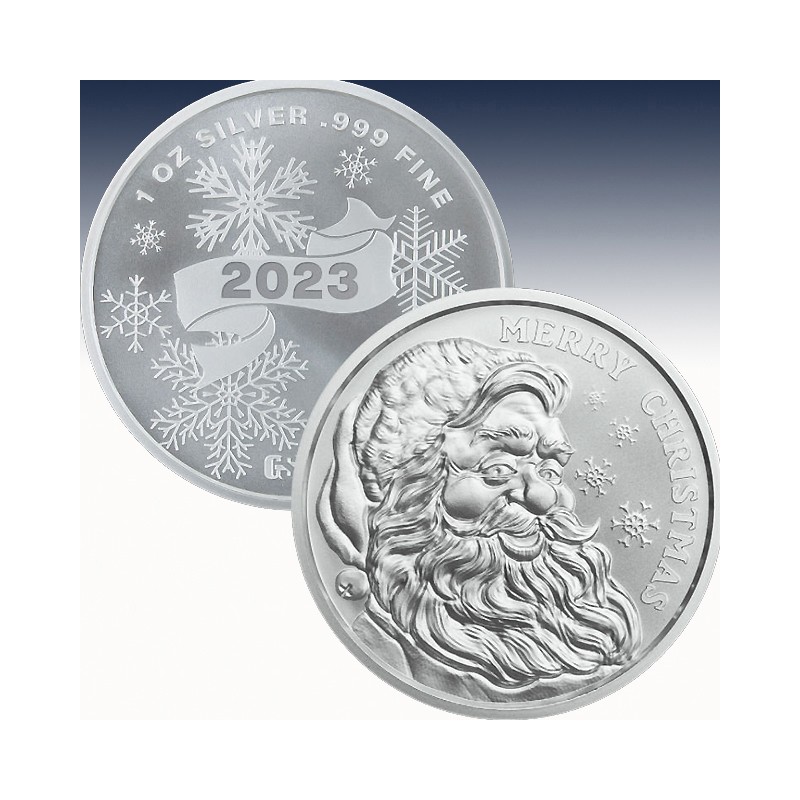 | | | | |
| --- | --- | --- | --- |
|   | Hersteller: |   | GSM |
|   | Steuersatz: |   | 19% |
|   | Prägung: |   | Stempelglanz |
|   | Stückelung: |   | 1 x 1 Unze |
|   | Material: |   | Silber |
|   | Feinheit: |   | 999/1000 |
|   | Gewicht: |   | 31,103 Gramm |
|   | Verpackung: |   | gekapselt |
|   | Durchmesser: |   | 38,6mm |