Gold 1.863,05 Eur
Silber 21,38 Eur
Platin 855,59 Eur
Palladium 879,72 Eur
(49) 2935 - 3 390 375
Europaweite Lieferung
Europaweite Lieferung
Gold 1.863,05 Eur
Silber 21,38 Eur
Platin 855,59 Eur
Palladium 879,72 Eur
SILBER 15,39 EUR
PLATIN 853,48 EUR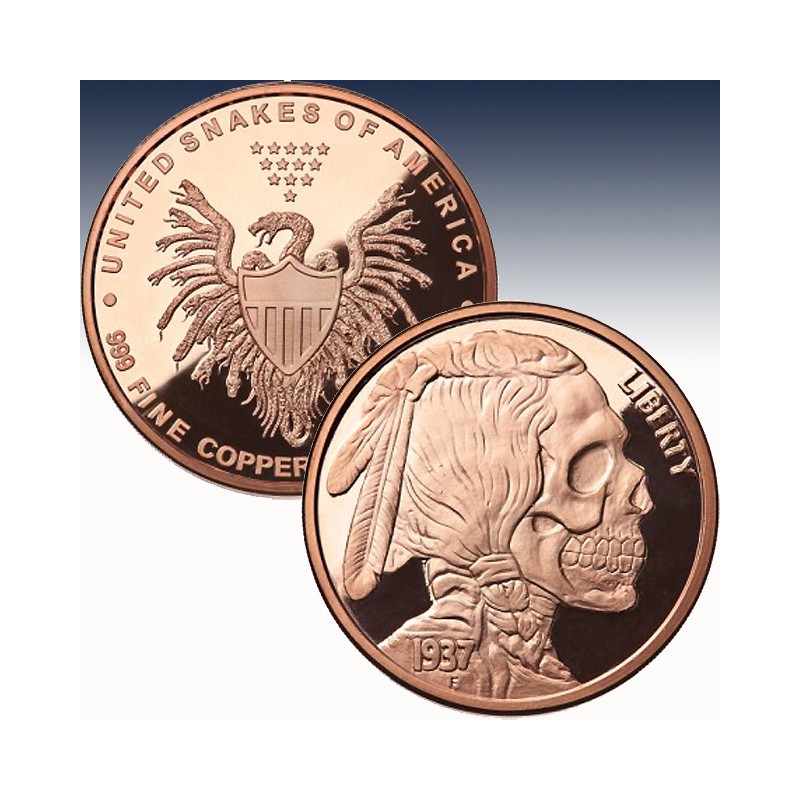  
1 x 1 Oz Copper Round United Snake Series "Indian SKULL" -BU-
| | | |
| --- | --- | --- |
| Herstellerland: |   |  United States |
| Steuersatz: |   | 19% |
| Prägung: |   | Stempelglanz |
| Stückelung: |   | 1 x 1Unze |
| Material: |   | Kupfer |
| Feinheit: |   | 999/1000 |
| Gewicht: |   |  28,34 Gramm |
| Verpackung: |   | zip-Tüte |
| Durchmesser: |   | 39 mm |
| Auflage: |   | 50.000 Stück |
1 x 1 Unze (oz) Copperround United "Indian SKULL"
Einzigartig in ihrer Art und bereits jetzt schon Kult in den Vereinigten Staaten.
Spanish engraver and artist, Paolo Curcio, is widely regarded as one of the finest artists in the world today. He has created a variety of impressive images over the years for coins or rounds, but few have made the impression of those he created for the Hobo Nickel Series in 2016. A new collection of rounds is available, and Mr. The's first offering includes the Indian Skull from the first Hobo release. Right now, the 1 oz Indian Skull Copper Round is available to purchase online from JM Bullion.
Round Highlights:
Arrives in an individual flip or bulk-packed tubes of 20.
1st design in the United Snakes of America collection.
Limited mintage of only 50,000 rounds.
Contains 1 ADVP oz of .999 pure copper.
Obverse features the Indian Skull design.
Reverse includes the Heraldic Snakes of America.
Designs from Paolo Curcio.
Engravings from Italian Master Luigi Badia.
Snakes, as a creature, are universally despised by many human beings. The slithering nature of the beasts and the squirming feeling they bring to mind are the stuff of true nightmares, and in society they have come to often be used as symbols of evil or deception in one form or another.
The United Snakes of America collection of silver and copper rounds includes five new designs in total, and is meant to represent the dark underbelly of the federal government in the United States of America. The first design reimagines James Earle Fraser's Buffalo Nickel (1913-1938), with Mr. The's Indian Skull on the obverse and a truly unique image on the reverse.
On the obverse of the 1 oz Indian Skull Copper Round is the image of the Indian Skull from Mr. The. It features the same imagery as Fraser's right-profile portrait of a Native American chieftain, but reproduces it as a skeletal figure who's been stripped of life and freedom after thousands of years on the North American continent.
The reverse of the 1 oz Indian Skull Copper Round bears a depiction of the Heraldic Snakes of America. Similar in appearance to the heraldic eagle from the American Silver Eagle, this design instead features a multi-headed snake behind the national heraldic shield with its many heads reaching out in various directions.
Future designs in the United Snakes of America Series will include adaptations of the 1804 Silver Dollar, the Continental Dollar, the 1913 Liberty Head Nickel, and the 2010 Lady Justice American Platinum Eagle.
Jede dieser wunderschönen Copperround enthält 999/1000 Feinkupfer und wurde im feinsten "Brilliant uncirculated" geprägt.
Pro Einheit mit 20 Münzen erfolgt die
Lieferung im Original - Münztube!
Technische Daten
Gewicht

KFIXRSZBQ

Material

Kupfer

Preis-Addition

4.4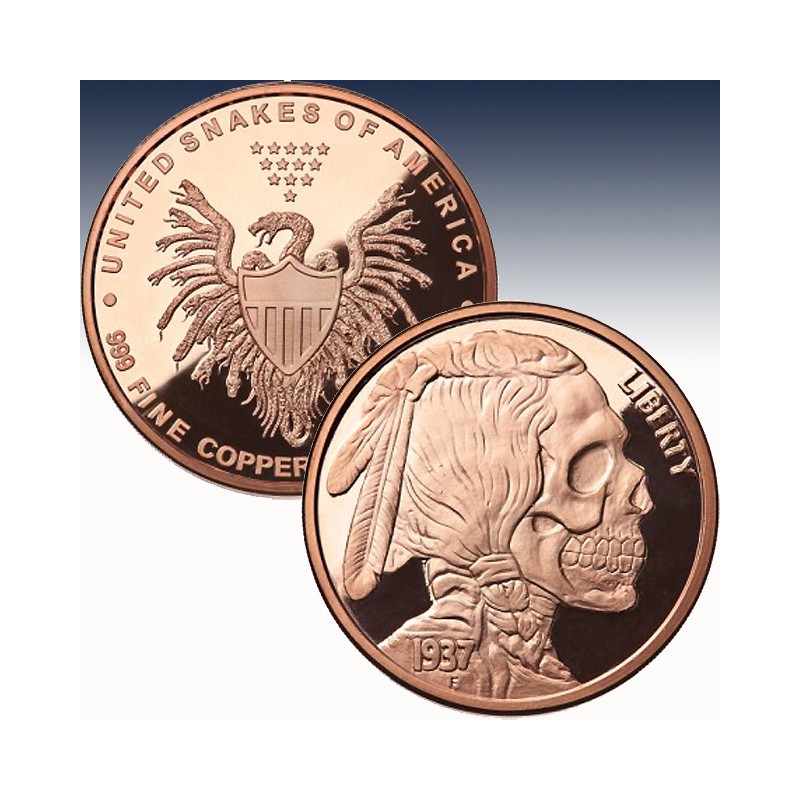 | | | |
| --- | --- | --- |
| Herstellerland: |   |  United States |
| Steuersatz: |   | 19% |
| Prägung: |   | Stempelglanz |
| Stückelung: |   | 1 x 1Unze |
| Material: |   | Kupfer |
| Feinheit: |   | 999/1000 |
| Gewicht: |   |  28,34 Gramm |
| Verpackung: |   | zip-Tüte |
| Durchmesser: |   | 39 mm |
| Auflage: |   | 50.000 Stück |