Gold 1.732,45 Eur
Silber 20,26 Eur
Platin 862,96 Eur
Palladium 1.826,00 Eur
(49) 2935 - 3 390 375
Europaweite Lieferung
Europaweite Lieferung
Gold 1.732,45 Eur
Silber 20,26 Eur
Platin 862,96 Eur
Palladium 1.826,00 Eur
SILBER 15,39 EUR
PLATIN 853,48 EUR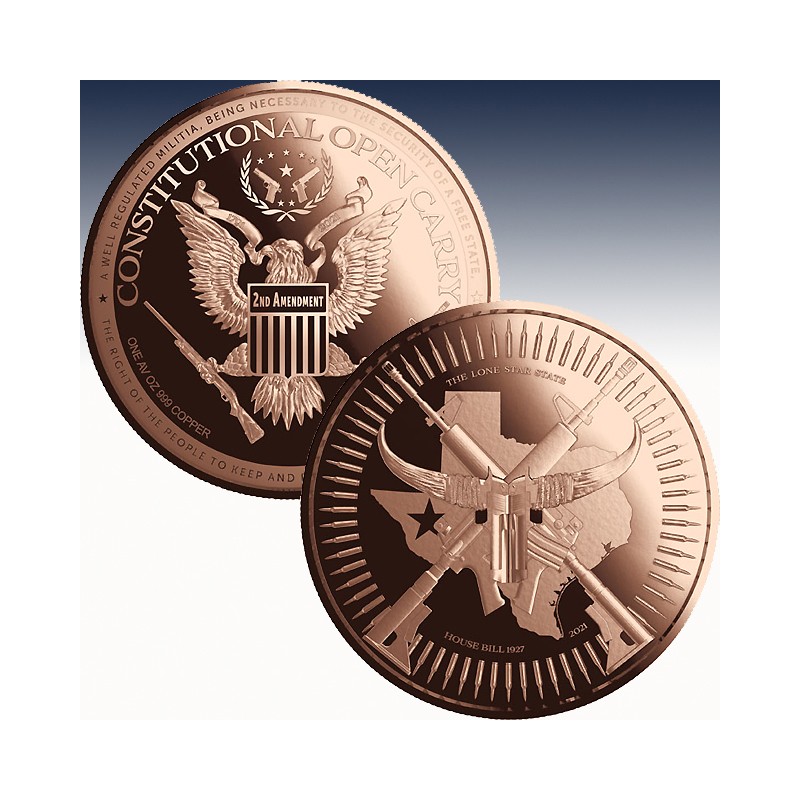  
1 x 1 oz Copper Round "Constitutional Open Carry" -BU-
| | | |
| --- | --- | --- |
| Hersteller: |   | Patriot Coins |
| Steuersatz: |   | 19% |
| Erhaltung: |   | Stempelglanz |
| Stückelung: |   | 1 x 1 oz |
| Material: |   | Kupfer |
| Feinheit: |   | 999/1000 |
| Feingewicht: |   | 28,349 Gramm |
| Durchmesser: |   | 39,0 mm |
| Auflage: |   | -,- Stück |
1 x 1 Unze (oz) Copper Round "Constitutional Open Carry"
After the events of the Revolutionary War, the Founding Fathers realized there were certain key principles and rights necessary for a flourishing society. These were laid down in the US Constitution of 1787, and the Bill of Rights in 1789. In 1791, the Bill of Rights was ratified and declared, among other things, that citizens of the United States had the right to bear arms. Now, 1 oz Constitutional Open Carry Copper Rounds are available to you for purchase online at JM Bullion.
Round Highlights:
Arrives in a plastic flip, tube of 20, or box of 500 rounds!
All new 2nd Amendment copper round!
Contains 1 AVDP oz of .999 pure copper.
A Texas firearm design features on the obverse field.
A heraldic eagle motif design is on the reverse.
The Bill of Rights is a list of 10 amendments to the United States Constitution. It was introduced by James Madison on June 8th, 1789, and later ratified on December 15th, 1791. These amendments list various rights citizens of the United States possess. Among these is the right to bear arms. In the wake of the Revolutionary War, this right seemed essential, as the country had just overthrown a tyrannical government through military force. Today, many feel this right is still important, both in terms of self-defense in daily life, and as a safeguard against tyranny.
Each Constitutional Open Carry Copper Round is delivered to you inside a protective plastic flip. Multiples come in tubes of 20 rounds or boxes of 500 rounds. These rounds consist of 1 oz of copper. Rather than a Troy oz, this is an AVDP, or Avoirdupois, ounce. These rounds are fully insured in transit and will arrive in brand-new condition.
The obverse of 1 oz Open Carry Copper Round features a Texas firearm design. This emblem consists of the state of Texas, a pair of longhorns, and two firearms crossing over each other. The rim of the round is decorated with bullets, and there are also inscriptions that read The Lone Star State, House Bill 1927, 2021.
On the reverse side of 1 oz Constitutional Open Carry Copper Round is a Presidential Seal motif. In this design we see the classic American bald eagle with updated design elements. This includes a pair of firearms in the birds talons and a 2nd amendment shield on its chest. Inscriptions include Constitutional Open Carry, 1 Av oz .999 Copper, as well as the entirety of the second amendment along the rim.
Einzigartig in ihrer Art und bereits jetzt schon ein Kult in den Vereinigten Staaten.


Jede dieser wunderschönen Copperround enthält 999/1000 Feinkupfer und wurde im feinsten "Brilliant uncirculated" geprägt.
Pro Einheit mit 20 Münzen erfolgt die
Lieferung im Original - Münztube!
Technische Daten
Gewicht

28.349

Material

Kupfer

Preis-Addition

4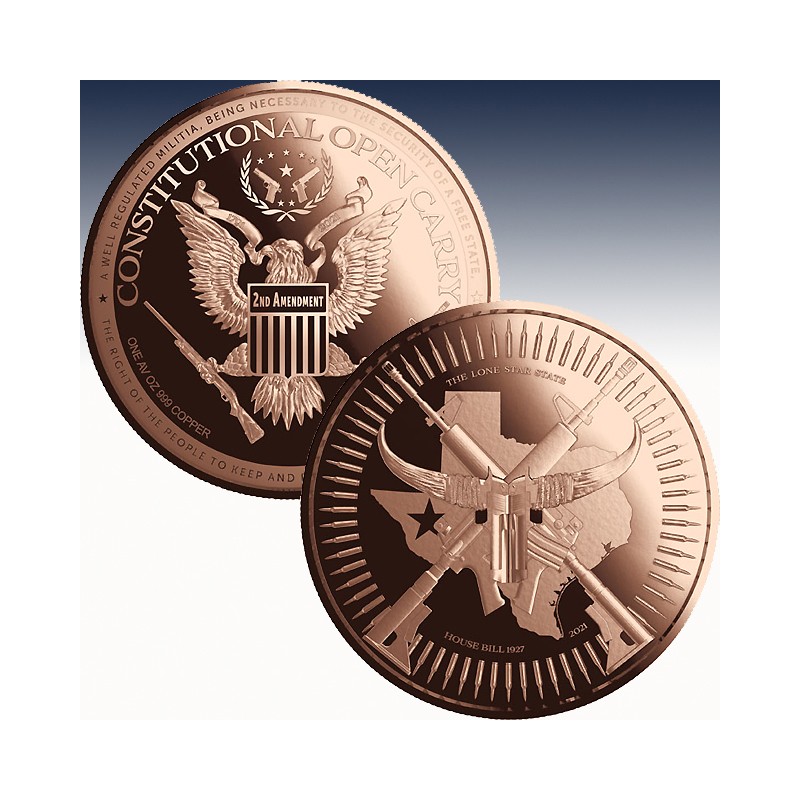 | | | |
| --- | --- | --- |
| Hersteller: |   | Patriot Coins |
| Steuersatz: |   | 19% |
| Erhaltung: |   | Stempelglanz |
| Stückelung: |   | 1 x 1 oz |
| Material: |   | Kupfer |
| Feinheit: |   | 999/1000 |
| Feingewicht: |   | 28,349 Gramm |
| Durchmesser: |   | 39,0 mm |
| Auflage: |   | -,- Stück |