Gold 1.764,70 Eur
Silber 21,33 Eur
Platin 861,99 Eur
Palladium 1.205,72 Eur
(49) 2935 - 3 390 375
Europaweite Lieferung
Europaweite Lieferung
Gold 1.764,70 Eur
Silber 21,33 Eur
Platin 861,99 Eur
Palladium 1.205,72 Eur
SILBER 15,39 EUR
PLATIN 853,48 EUR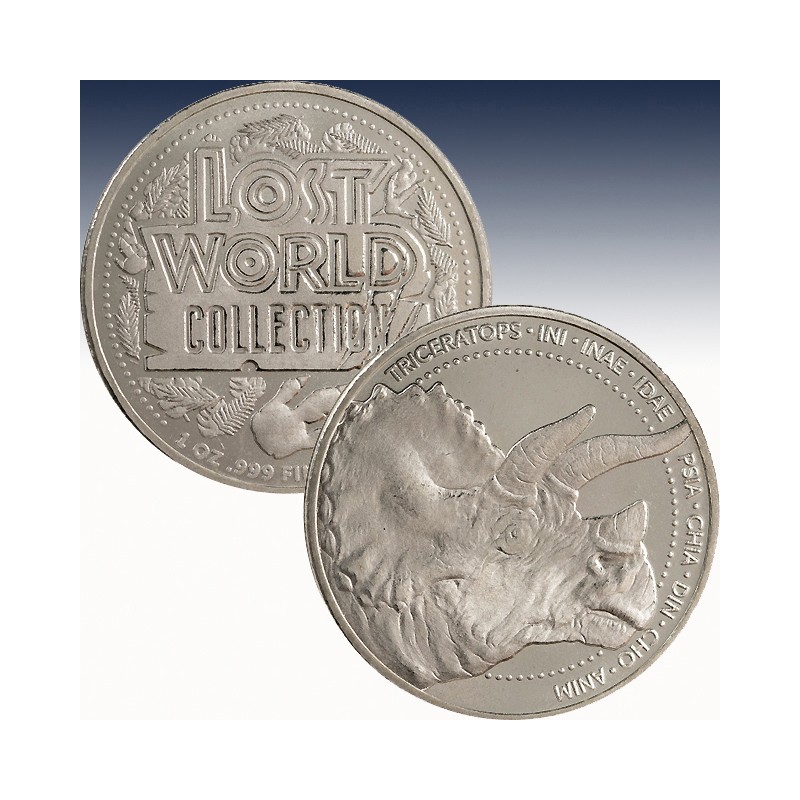  
1 x 1 oz Silver Round "The Lost World Collection - Triceratops" -BU-
| | | |
| --- | --- | --- |
| Hersteller: |   | Patriot Coins |
| Steuersatz: |   | 19% |
| Prägung: |   | Stempelglanz |
| Stückelung: |   | 1 x 1 Unze |
| Material: |   | Silber |
| Feinheit: |   | 999/1000 |
| Gewicht: |   | 31,10 Gramm |
| Verpackung: |   | zip-Tüte |
| Durchmesser: |   | 39mm |
1 x 1 oz Silver Round "The Lost World Collection - 2# Triceratops"
The Lost World Series from Patriot Coins is a breathtaking collection of rounds featuring all of your favorite dinosaurs. In this listing, you will find the standard version of the Triceratops, which usually ranks with the T-Rex as the most popular of the dinosaurs. Today, 1 oz The Lost World Collection Triceratops Silver Rounds are available to you online at JM Bullion.
Round Highlights:
Available to you in a flip, tube of 20, or box of 500!
All-new Lost World round featuring the Triceratops!
Contains 1 Troy oz of .999 pure silver.
A close-up view of a Triceratops features in the obverse design.
On the reverse is the Lost World Collection logo.
Made in the USA.
When examining the mightiest creatures in planet earth's history, scientists and casual fans alike generally agree that dinosaurs top the list. Having first appeared in the Triassic period nearly 250 million years ago, dinosaurs continued to roam the earth up through the Cretaceous era. Dinosaurs then went extinct at the end of this period, which was roughly 65 million years ago. Though we can only imagine life with dinosaurs, what a magnificent and terrifying world it must have been.
Each 1 oz The Lost World Triceratops Silver Round has been produced by Patriot Coins in the USA and will arrive to you in new condition. These rounds are part of the Lost World Collection and consist of genuine .999 pure silver. Upon delivery, you will find your round housed in a plastic flip. Alternately, multiples of 20 will ship in tubes, while orders of 500 are delivered in a box.
The obverse of 1 oz The Lost World Collection Silver Rounds features a Triceratops. Sculptor Matt Bonaccorsi depicts this legendary dinosaur in right-profile relief, which gives viewers a wonderful close-up view of its three horns and iconic frill. The word Triceratops is inscribed along the rim as well as the Latin genealogy of the creature.
On the reverse side of 1 oz The Lost World Collection Triceratops Rounds you will see the official Lost World Collection logo. Common to all entries in the series, this emblem features the words Lost World Collection surrounded by leaves and dinosaur footprints. Along the lower edge of the round are the hallmarks reading 1 oz .999 Fine Silver.
Technische Daten
Gewicht

31.103

Material

Silber

Jahreszahl

2022

Preis-Addition

10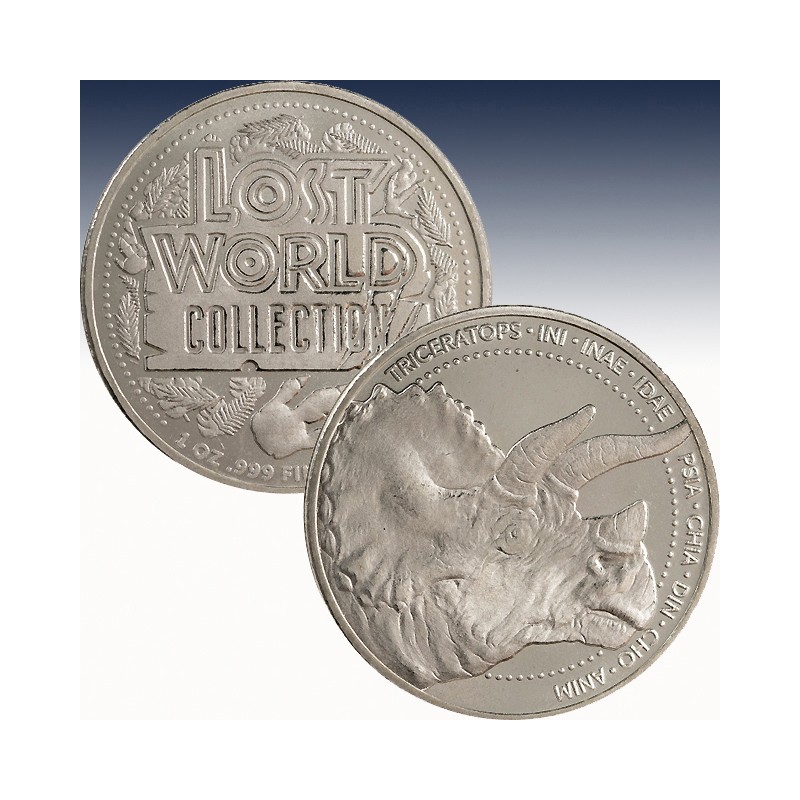 | | | |
| --- | --- | --- |
| Hersteller: |   | Patriot Coins |
| Steuersatz: |   | 19% |
| Prägung: |   | Stempelglanz |
| Stückelung: |   | 1 x 1 Unze |
| Material: |   | Silber |
| Feinheit: |   | 999/1000 |
| Gewicht: |   | 31,10 Gramm |
| Verpackung: |   | zip-Tüte |
| Durchmesser: |   | 39mm |