Gold 1.863,05 Eur
Silber 21,38 Eur
Platin 855,59 Eur
Palladium 879,72 Eur
(49) 2935 - 3 390 375
Europaweite Lieferung
Europaweite Lieferung
Gold 1.863,05 Eur
Silber 21,38 Eur
Platin 855,59 Eur
Palladium 879,72 Eur
SILBER 15,39 EUR
PLATIN 853,48 EUR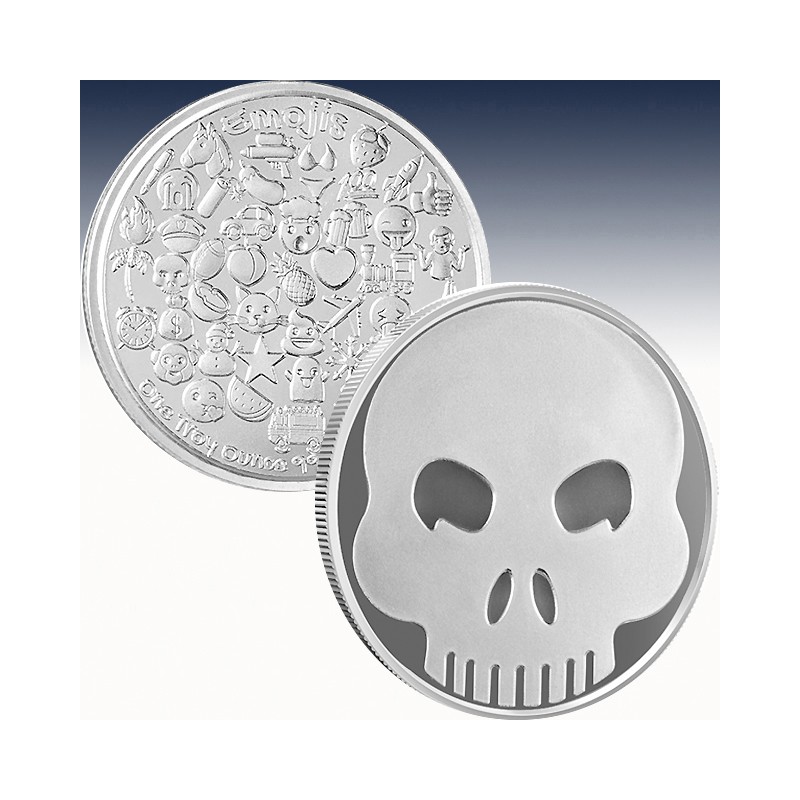  
1 x 1 Oz Silver Round Silvertowne "Emoji Skull 2023" -BU-
| | | |
| --- | --- | --- |
| Hersteller: |   | Silvertowne |
| Steuersatz: |   | 19% |
| Prägung: |   | Stempelglanz |
| Stückelung: |   | 1 x 1 Unze |
| Material: |   | Silber |
| Feinheit: |   | 999/1000 |
| Gewicht: |   | 3,103 Gramm |
| Verpackung: |   | zip-Tüte |
| Durchmesser: |   | 39.3 mm |
| Ausgabe: |   | -,- Stück |
1 x 1 Unze (Oz) Silver Round Silvertowne "6# Emoji Skull 2023"
The Emoji Series keeps rolling on in 2023 with an eighth release overall in the collection. For this eighth release, it looks we might not have any survivors from the launch of our most recent Rocket Emoji design. The Skull Emoji is the next issue in this series and its design once again showcases the variety of interpretations for emojis in modern digital conversations. Today, 1 oz Emoji Skull Silver Rounds are available to you online from JM Bullion.
Round Highlights:
Available to you in plastic flips or acrylic tubes of 20 rounds!
6th character in the Emoji Series of rounds!
Contains 1 Troy oz of .999 pure silver.
The obverse features the Skull emoji.
On the reverse are various emojis.
While the Skull Emoji could certainly suggest there were no survivors from the launch of the Rocket Emoji, like many other emojis, there are a wide range of interpretations and uses for this emoji in conversation. It can range from the macabre to humor, playfulness, and even the indication of a party or celebration around Halloween and the Day of the Dead.
All of these 1 oz Emoji Skull Silver Rounds are available to you for purchase individually in plastic flips. Multiples come in acrylic tubes of 20 rounds. All of the rounds in the Emoji Series feature proof-like visuals that consist of varying combinations of frosted and mirror-like fields on the surface of the rounds.
The obverse of the Emoji Skull Silver Round comes with a depiction of the Skull emoji. The Skull emoji commonly includes a human skull without the mandible, or jawbone, present. The figure has hollow eye sockets and no nose, with the upper teeth often visible. The most obvious interpretation of the Skull emoji is its association with death, mortality, and horror. However, surprisingly, the Skull emoji is often used humorously or playfully in conversations. People might include it in their messages or social media posts to add a light-hearted or sarcastic tone.
On the reverse side of 1 oz Emoji Skull Rounds, you will find the image of various emojis. Here, you will find a wide range of emojis that include fruits, inanimate objects, hands, faces, and even the Skull emoji itself.
Technische Daten
Gewicht

31.103

Material

Silber

Jahreszahl

2023

Preis-Addition

8.8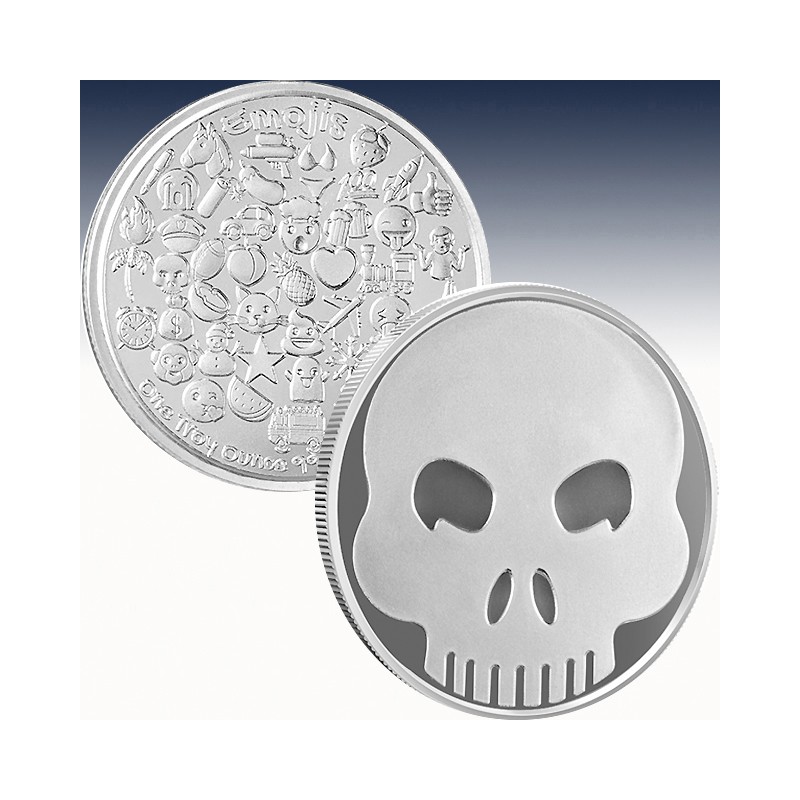 | | | |
| --- | --- | --- |
| Hersteller: |   | Silvertowne |
| Steuersatz: |   | 19% |
| Prägung: |   | Stempelglanz |
| Stückelung: |   | 1 x 1 Unze |
| Material: |   | Silber |
| Feinheit: |   | 999/1000 |
| Gewicht: |   | 3,103 Gramm |
| Verpackung: |   | zip-Tüte |
| Durchmesser: |   | 39.3 mm |
| Ausgabe: |   | -,- Stück |