Gold 1.863,05 Eur
Silber 21,38 Eur
Platin 855,59 Eur
Palladium 879,72 Eur
(49) 2935 - 3 390 375
Europaweite Lieferung
Europaweite Lieferung
Gold 1.863,05 Eur
Silber 21,38 Eur
Platin 855,59 Eur
Palladium 879,72 Eur
SILBER 15,39 EUR
PLATIN 853,48 EUR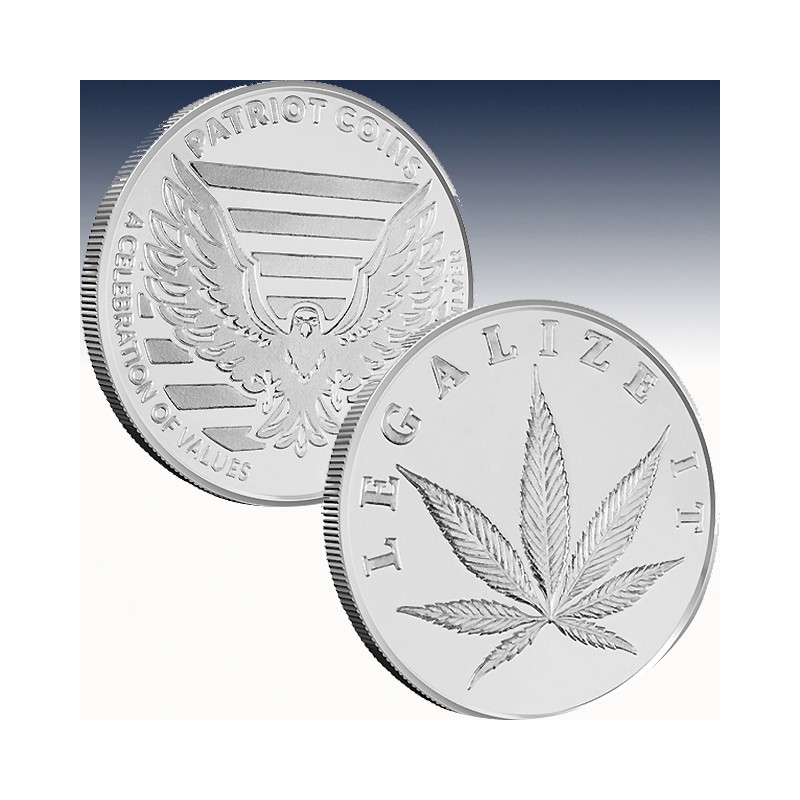  
1 x 1 oz Silver Round Patriot Coins "Silver Legalize It Round" -BU-
| | | |
| --- | --- | --- |
| Hersteller: |   | Silver Shield |
| Steuersatz: |   | 19% |
| Prägung: |   | Stempelglanz |
| Stückelung: |   | 1 x 1 Unze |
| Material: |   | Silber |
| Feinheit: |   | 999/1000 |
| Gewicht: |   | 31,103 Gramm |
| Verpackung: |   | zip-Tüte |
| Durchmesser: |   | 39x3,10 mm |
1 x 1 Unze (oz) Silver Round Patriot Coins "Silver Legalize It Round"
These rounds reinforce the ongoing efforts to legalize Cannabis nationwide. They also feature a memorable Cannabis design, making them a nice collectible to have on hand during this crucial time in American history.
Round Highlights:
Arrives in a flip, tube of 20, or box of 500!
Brand-new Legalize It silver round!
Contains 1 Troy oz of .999 pure silver.
The obverse depicts a cannabis plant.
On the reverse side is the Patriot Coins emblem.
Made in the USA.
Cannabis was originally used as herbal medicine as far back as 500 BC. In early America, cannabis played a large role, as hemp was used in the production of textiles and ropes. In fact, some colonies were even required by law to grow the plant. It wasn't until the 20th century that the law began to prohibit Cannabis—largely for racial and political purposes. Slowly but surely, the tides are shifting. Colorado and Washington became the first states to lift recreational restrictions of Cannabis in 2012. 19 states, plus Washington DC and Guam, have since followed suit.
Each 1 oz Legalize It Round in this JM Bullion listing online was produced by Patriot Coins, a private company based out of Texas. The rounds will arrive to you in new condition with a number of packaging options. If you order a single round, it will ship in an individual plastic flip. Alternately, multiples of 20 are packaged in a tube, while orders of 500 arrive in a box.
The obverse of these Legalize It Silver Rounds features a cannabis plant design. The plant contains a total of seven leaves, each rendered with exquisite, textured detail. Above this image across the rim is an inscription that reads Legalize It. This engraving mirrors the original 2009 design that launched the Legalized Collection.
On the reverse side of 1 oz Legalize It Rounds you'll find the Patriot Coins company logo. This design has as its centerpiece an eagle in a forward-facing position with its wings spread wide. In the background, you see the lines of the American flag. Across the border of the round, there are inscriptions that read Patriot Coins, A Celebration of Values, 1 oz .999 Fine Silver.
Einzigartig in ihrer Art und bereits jetzt schon Kult in den Vereinigten Staaten.
Jede dieser wunderschönen Silverround enthält 999/1000 Feinsilber und wurde im wunderschönem "Brilliant uncirculated" geprägt.
Pro Einheit mit 20 Münzen erfolgt die
Lieferung im Original - Münztube!
Technische Daten
Gewicht

31.103

Material

Silber

Preis-Addition

9.5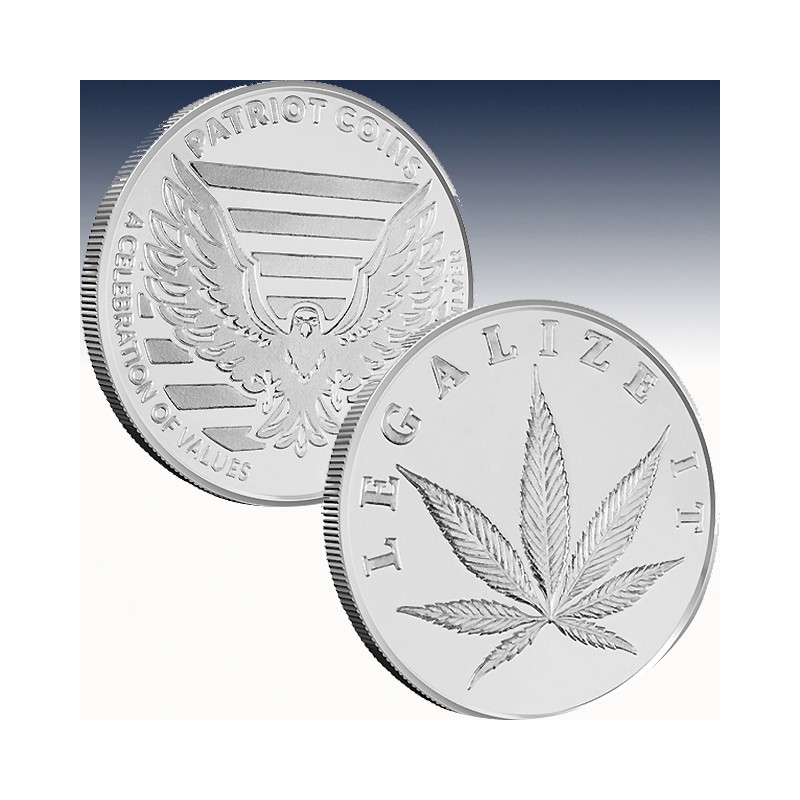 | | | |
| --- | --- | --- |
| Hersteller: |   | Silver Shield |
| Steuersatz: |   | 19% |
| Prägung: |   | Stempelglanz |
| Stückelung: |   | 1 x 1 Unze |
| Material: |   | Silber |
| Feinheit: |   | 999/1000 |
| Gewicht: |   | 31,103 Gramm |
| Verpackung: |   | zip-Tüte |
| Durchmesser: |   | 39x3,10 mm |