Gold 1.634,49 Eur
Silber 22,39 Eur
Platin 805,89 Eur
Palladium 1.859,99 Eur
(49) 2935 - 3 390 375
Europaweite Lieferung
Europaweite Lieferung
Gold 1.634,49 Eur
Silber 22,39 Eur
Platin 805,89 Eur
Palladium 1.859,99 Eur
SILBER 15,39 EUR
PLATIN 853,48 EUR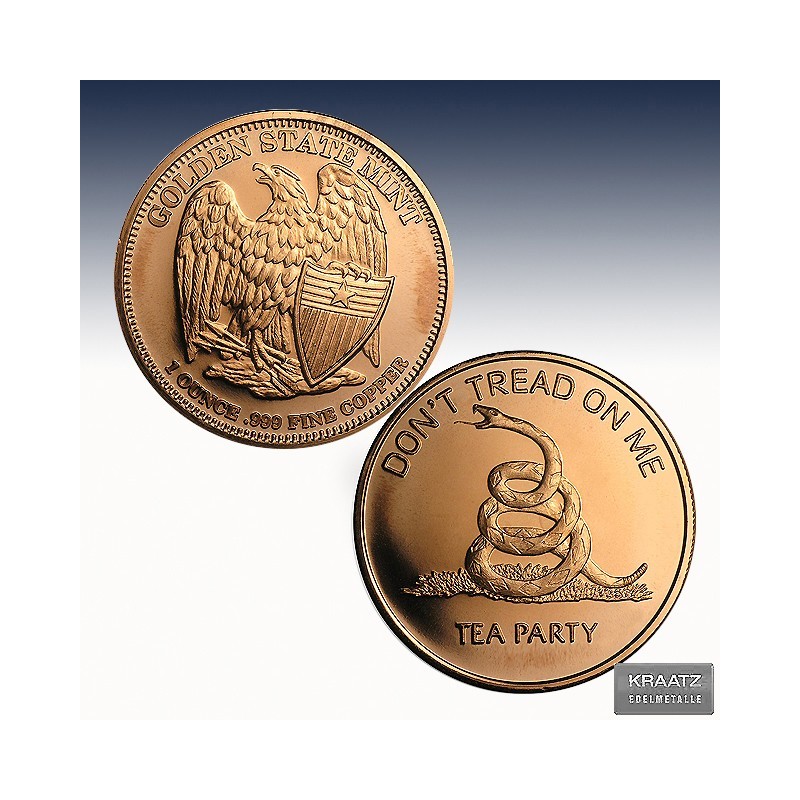  
1 x 1 Oz Copper Round Golden State Mint "Don't Tread on Me - Tea Party" -BU-
| | | |
| --- | --- | --- |
| Hersteller: |   | Golden State Mint |
| Steuersatz: |   | 19% |
| Prägung: |   | Stempelglanz |
| Stückelung: |   | 1 x 1 Unze |
| Material: |   | Kupfer |
| Feinheit: |   | 999/1000 |
| Gewicht: |   | 28.349 Gramm |
| Verpackung: |   | zip-Tüte |
| Durchmesser: |   | 39 mm |

Lieferbedingungen (bearbeiten im Modul "Kundenvorteile")

Rücksendebedingungen (bearbeiten im Modul "Kundenvorteile")
1 x 1 Unze (oz) Copper Round Golden State Mint
"Don't Tread on Me - Tea Tarty"

Diese Copper Round ist mit einer der außergewöhnlichsten der Serie von "Golden State Mint"
"Don't Tread on Me" war der Slogan der Unterdrückten seit Jahrhunderten, als Verwendung in ihrem Kampf für die Freiheit in den USA.
Most of the snakes depicted along with the slogan seem small or almost worm-like. Not so with this design. It features a rattlesnake coiled and poised to strike. Not weak or languid but ready. It is not the whine of the enslaved, but rather a warning from the patient patriot, biding his time, but ever watchful.

Einzigartig in ihrer Art und bereits jetzt schon Kult in den Vereinigten Staaten.

Jede dieser wunderschönen Copper Round enthält 999/1000 Feinkupfer und wurde im wunderschönem Brilliant uncirculated geprägt.

Pro Einheit mit 20 Münzen erfolgt die
Lieferung im Original - Münztube!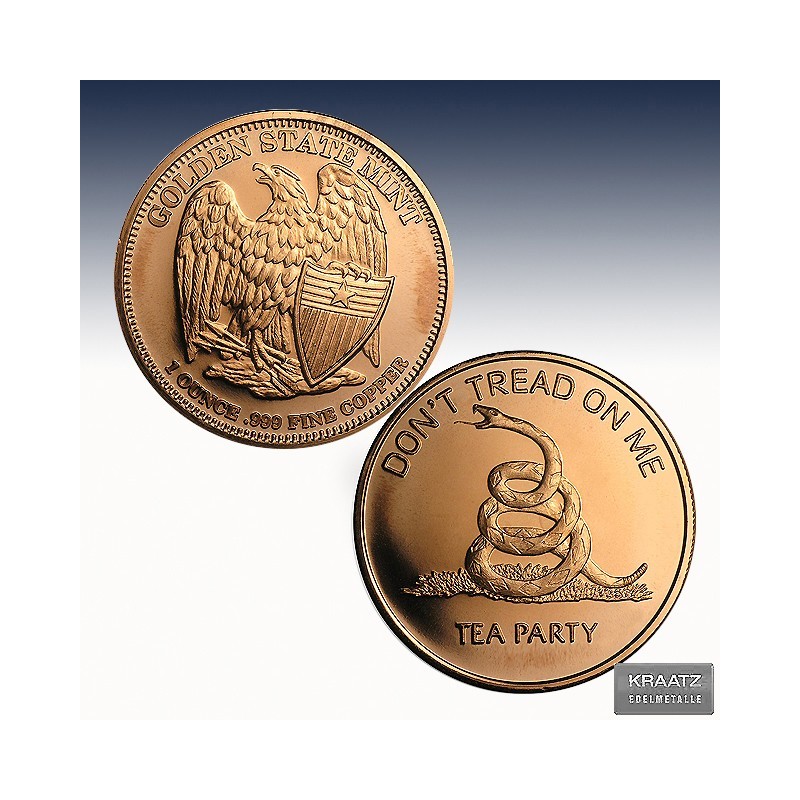 | | | |
| --- | --- | --- |
| Hersteller: |   | Golden State Mint |
| Steuersatz: |   | 19% |
| Prägung: |   | Stempelglanz |
| Stückelung: |   | 1 x 1 Unze |
| Material: |   | Kupfer |
| Feinheit: |   | 999/1000 |
| Gewicht: |   | 28.349 Gramm |
| Verpackung: |   | zip-Tüte |
| Durchmesser: |   | 39 mm |