Gold 1.472,13 Eur
Silber 21,46 Eur
Platin 1.016,77 Eur
Palladium 0,00 Eur
(49) 2935 - 3 390 375
Europaweite Lieferung
Europaweite Lieferung
Gold 1.472,13 Eur
Silber 21,46 Eur
Platin 1.016,77 Eur
Palladium 0,00 Eur
SILBER 15,39 EUR
PLATIN 853,48 EUR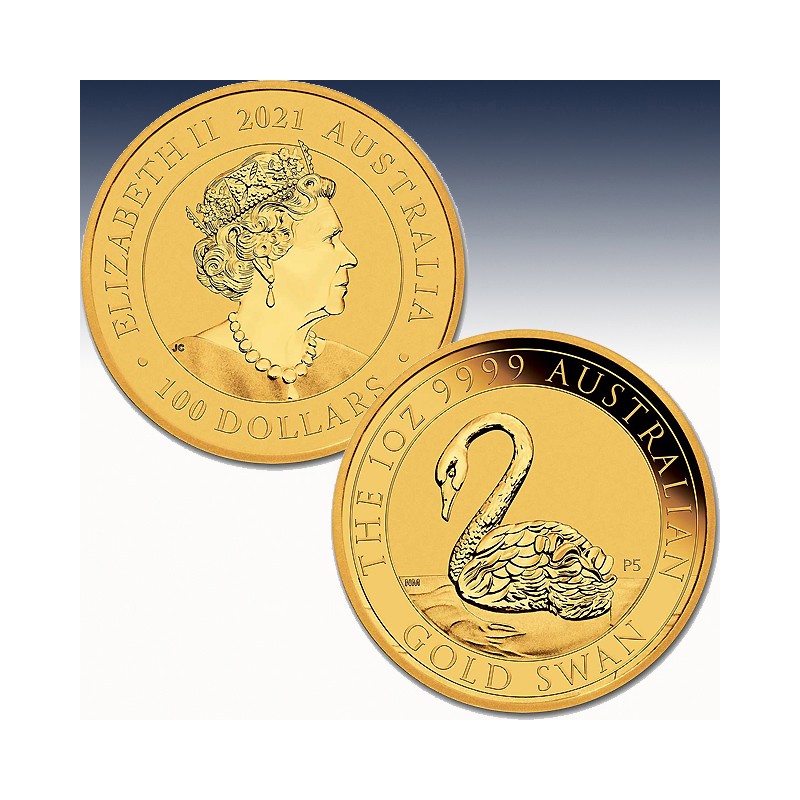  
1 x 1 Oz Goldmünze 100$ Australien "Gold Swan 2021" -BU-
| | | |
| --- | --- | --- |
| Hersteller: |   | Perth-Mint |
| Nennwert: |   | 100 AUD |
| Prägung: |   | Stempelglanz |
| Stückelung: |   | 1 x 1 Unze |
| Material: |   | Gold |
| Feinheit: |   | 999/1000 |
| Gewicht: |   | 31,103 Gramm |
| Durchmesser: |   | 32,60 mm |
| Auflage: |   | 5.000 Stück |
1 x 1 Unze (oz) Goldmünze 100$ Australien "Gold Schwan 2021"        

Exquisitely crafted, this Brilliant Uncirculated Gold Swan continues the success of the Gold bullion Swan first launched in 2017.
This BU Swan continues the limited mintage of 5,000 coins made of .9999 fine Gold.

An instant collector favorite due to the limited mintage and impeccable design, the Swan series is renowned world-wide. The highly anticipated 2021 1 oz Gold Swan features a new and exciting design.
This coin is the fifth in an annual series of 1 oz limited mintage Gold Swan bullion coins with designs varying each year. Learn more about the exciting Perth Swan Series today!

Coin Highlights:
Limited mintage of 5,000 coins worldwide.
Contains 1 oz of .9999 fine Gold.
Packaged individually in a plastic capsule. Multiples of 20 come in sealed rolls. Multiples of 100 are packaged in a sealed box.
Obverse: The Jody Clark likeness of Her Majesty Queen Elizabeth II, the monetary denomination and the 2021 year-date are depicted.
Reverse: Portrays a swan gracefully floating on the surface of the water. The design includes the inscription "The 1 OZ 9999 Australian Gold Swan" and The Perth Mint's exclusive "P5" mint mark that signifies this coin is a part of the fifth annual swan release.
Sovereign coin backed by the Australian government.
Jede dieser wunderschönen Goldmünze enthält 9999 Feingold und wurde im wunderschönem Brilliant uncirculated geprägt.
Diese Münze wird in der Original-Kapsel
der Perth Mint geliefert

Technische Daten
Gewicht

31.103

Material

Gold

Jahreszahl

2021

Preis-Addition

104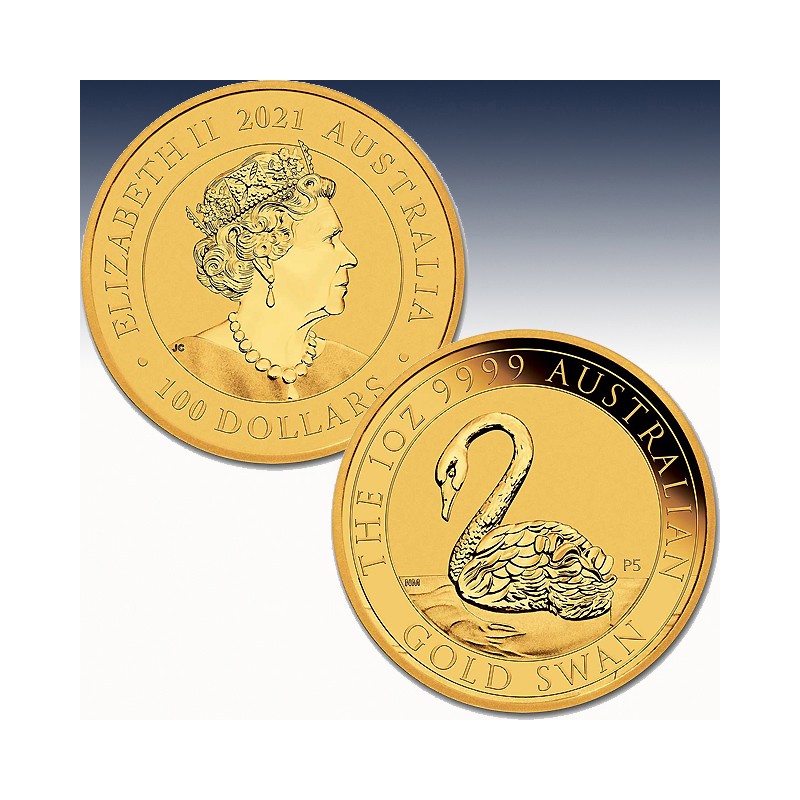 | | | |
| --- | --- | --- |
| Hersteller: |   | Perth-Mint |
| Nennwert: |   | 100 AUD |
| Prägung: |   | Stempelglanz |
| Stückelung: |   | 1 x 1 Unze |
| Material: |   | Gold |
| Feinheit: |   | 999/1000 |
| Gewicht: |   | 31,103 Gramm |
| Durchmesser: |   | 32,60 mm |
| Auflage: |   | 5.000 Stück |