Gold 1.762,65 Eur
Silber 21,39 Eur
Platin 926,03 Eur
Palladium 1.502,25 Eur
(49) 2935 - 3 390 375
Europaweite Lieferung
Europaweite Lieferung
Gold 1.762,65 Eur
Silber 21,39 Eur
Platin 926,03 Eur
Palladium 1.502,25 Eur
SILBER 15,39 EUR
PLATIN 853,48 EUR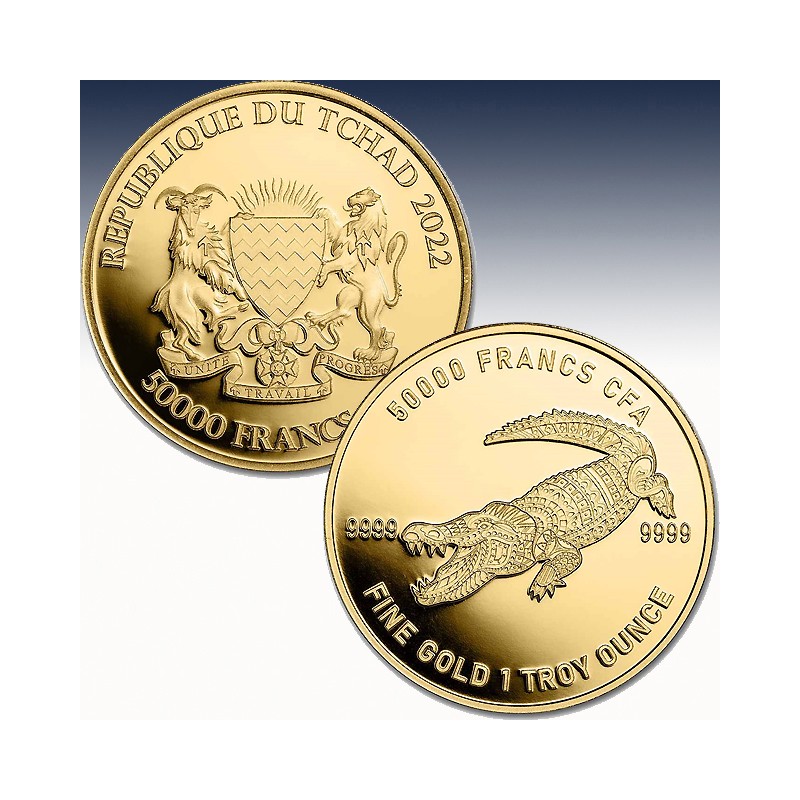  
1 x 1 oz Goldmünze 50.000 Franca CFA Republic of Chad "Mandala Crocodile 2022" -BU-
| | | |
| --- | --- | --- |
| Herkunft: |   | Rep. of Chad |
| Nennwert: |   | 50.000 CFA |
| Prägung: |   | Stempelglanz |
| Stückelung: |   | 1 x 1 Unze |
| Material: |   | Gold |
| Feinheit: |   | 999/1000 |
| Gewicht: |   | 31,1 Gramm |
| Verpackung: |   | gekapselt |
| Durchmesser: |   | 30 mm |
1 x 1 Unze (oz) Goldmünze 50.000 Franca CFA
Republic of Chad "Mandala Krokodil 2022"

This ninth release of the APMEXclusive® Republic of Chad Mandala Wildlife series features a detailed image of the crocodile in .9999 fine Gold. The 1 troy oz coin has an extremely limited mintage of only 100 coins worldwide.

Coin Highlights:

Contains 1 oz of .9999 fine Gold.
Limited to 100 coins worldwide.
Individual coins come in capsules.
Obverse: Features a beautiful full-body image of a crocodile filled with a mandala print. Also included is the metal content, purity and denomination.
Reverse: Features the coat of arms of the Republic of Chad, a shield that is supported by a goat and lion on either side. Below the shield is a medal and scroll with the national motto in French, "Unite, Travail, Progres," meaning "Unity, Work, Progress" in English.

Republic of Chad Mandala Wildlife Series
The Mandala Wildlife Series features 1 oz Gold and 1 oz Silver coins with unique designs of different animals, each with a beautiful mandala print. These coins have limited mintages, along with a changing design per release, adding to their collectibility. The Mandala Crocodile is the ninth release of the series, offered in both a 1 oz Silver and 1 oz Gold finish. Featured on the reverse of each coin in the Mandala series is the coat of arms of the Republic of Chad.

The crocodile has a V-shaped narrow and long head, unlike the alligator who has a U-shaped snout. Crocodiles tend to congregate in freshwater habitats such as rivers, lakes and wetlands. They are carnivorous animals, feeding mostly on fish, reptiles, birds and mammals. There are many species of crocodiles, many originating from and living in Africa. Crocodiles have very acute senses, giving them an advantage against their predators. The eyes, ears and nostrils are all located on the top of the crocodile's head, allowing them to lie low in the water and making them harder for predators to spot. These fascinating animals are often found roaming the rivers of Africa, making them a perfect addition to the Republic of Chad Mandala Wildlife series
Technische Daten
Gewicht

31.103

Material

Gold

Jahreszahl

2022

Preis-Addition

465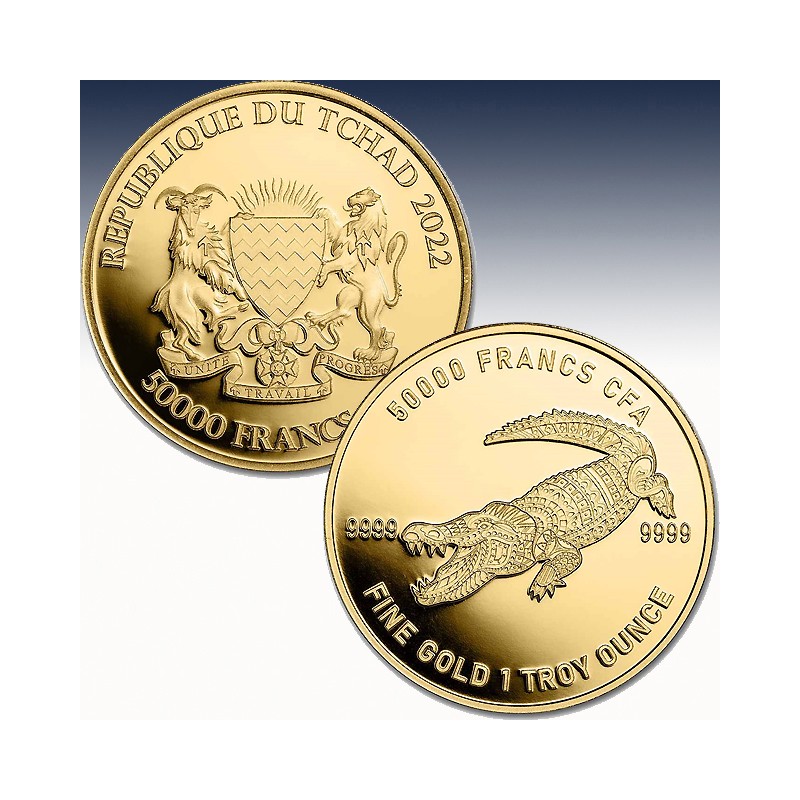 | | | |
| --- | --- | --- |
| Herkunft: |   | Rep. of Chad |
| Nennwert: |   | 50.000 CFA |
| Prägung: |   | Stempelglanz |
| Stückelung: |   | 1 x 1 Unze |
| Material: |   | Gold |
| Feinheit: |   | 999/1000 |
| Gewicht: |   | 31,1 Gramm |
| Verpackung: |   | gekapselt |
| Durchmesser: |   | 30 mm |