(49) 2935 - 3 390 375
Europaweite Lieferung
Europaweite Lieferung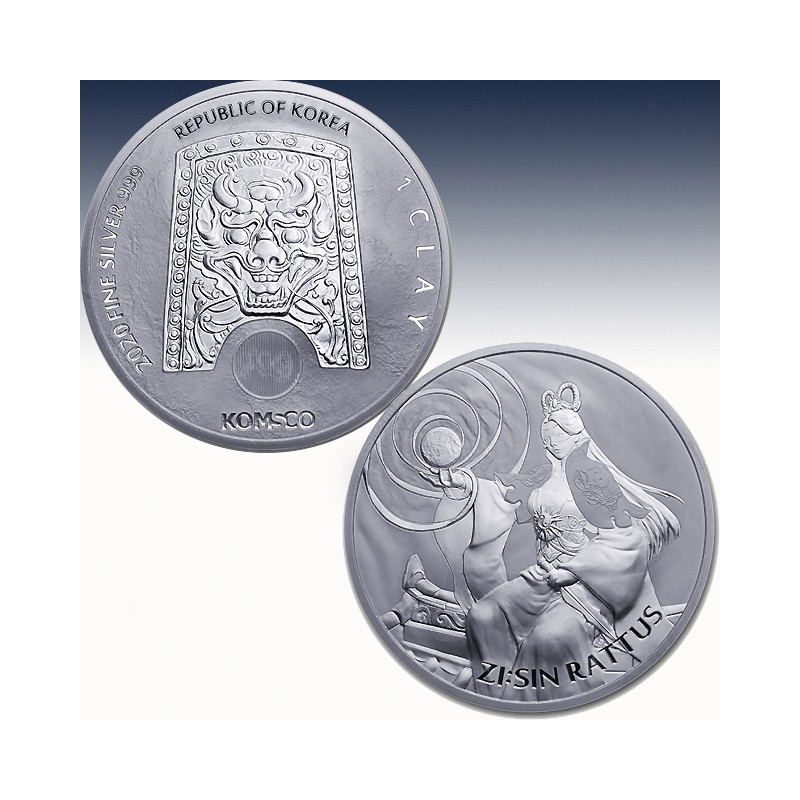  
1 x 1 oz Silbermedaille 1 Clay South Korea "Zi-Sin - Rattus 2020" -BU-
| | | |
| --- | --- | --- |
| Herkunft: |   | Südkorea |
| Nennwert: |   | 1x1 Clay |
| Prägung: |   | Stempelglanz |
| Stückelung: |   | 1 x 1 Unze |
| Material: |   | Silber |
| Feinheit: |   | 999/1000 |
| Gewicht: |   | 31,103 Gramm |
| Verpackung: |   | gekapselt |
| Durchmesser: |   | 40,0 mm |
| Auflage: |   | 40.000 Stück |

Lieferbedingungen (bearbeiten im Modul "Kundenvorteile")

Rücksendebedingungen (bearbeiten im Modul "Kundenvorteile")
1 x 1 Unze (oz) Silbermünze 1 Clay Südkorea "4# ZI:SIN Rattus 2020"
Continuing the success of the ZI:SIN series, KOMSCO, the creators of the popular Chiwoo Silver Bullion series, issues the fourth release featuring the guardian Rattus.
ZI:SIN are the Twelve Guardians assigned to protect twelve directions. They serve protection to the world against evil forces from twelve directions at all times. This issue features Rattus, who as the ability to foresee danger.

Medal Highlights:
Minted at KOMSCO, the mint of South Korea, with a limited mintage of 22,000.
Contains 1 oz of .999 fine Silver.
Fourth issue of KOMSCO's ZI:SIN (Twelve Guardians) series.
Multiples of 25 are packaged in mint tubes. All other medals will be in protective packaging.
Obverse: Features the Gwi-myeon-wa surrounded by the year date, fineness, and country of issue.
Reverse: Depiction of the guardian Rattus dressed in a celestial robe under a bright, full moon.
ZI:SIN Rattus is the Queen of the underground cave at the Chiwoo Empire and has the ability to forsee danger. Dressed in a celestial robe with a dagger on her waist, Rattus waits at the top of the cave to enjoy the darkness and brightness of the world under the full moon. It is here that she is able to foresee that a great war is coming, and alerts Chiwoo Cheonwang.

For the 2020 release, the obverse design features a new Gwi-myeon-wa, known as "Nok-yoo-gi-myeon-wa". Traditionally, Koreans built Gwi-myeon-wa and hung them on both ends of their roofs to scare off evil spirits.
Diese Anlagemünze zeichnet sich durch ihre hohe Prägequalität und hohen Silberfeingehalt von 999/1000 aus.
Die Chiwoo Cheonwang ist als 1 Unze erhältlich (31,1g) und hat einen Nominalwert von 1 Clay.
Technische Daten
Gewicht

31.103

Material

Silber

Jahreszahl

2020

Preis-Addition

5.9