Gold 1.760,49 Eur
Silber 21,41 Eur
Platin 923,75 Eur
Palladium 1.491,06 Eur
(49) 2935 - 3 390 375
Europaweite Lieferung
Europaweite Lieferung
Gold 1.760,49 Eur
Silber 21,41 Eur
Platin 923,75 Eur
Palladium 1.491,06 Eur
SILBER 15,39 EUR
PLATIN 853,48 EUR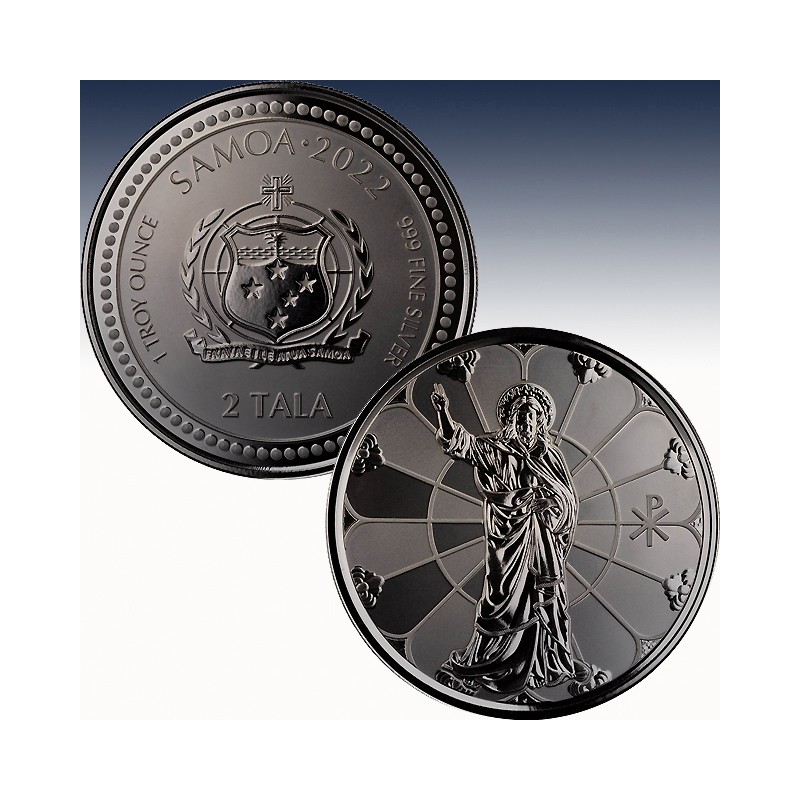  
1 x 1 oz Silbermünze 2$ Tala Samoa "Jesus Collection - Light of Christ 2022" -Rhodium-*
| | | |
| --- | --- | --- |
| Herkunftsland: |   | Samoa |
| Nennwert: |   | 2 AUD |
| Prägung: |   | Stempelglanz |
| Stückelung: |   | 1 x 1 Unze |
| Material: |   | Silber |
| Feinheit: |   | 999,9/1000 |
| Gewicht: |   | 31.103 Gramm |
| Durchmesser: |   | 39,00 mm |
| Auflage: |   | 1.000 Stück |
1 x 1 Unze (oz) Silbermünze 2$ Tala Samoa
"Jesus Collection - Light of Christ 2022"

(diff.besteuert nach §25a UStG)
The "Light of Christ" coin program marks the second release in The Jesus Collection, a beloved coin series by Scottsdale Mint. Available in a variety of sizes, metals, and finishes, these coins are not only beautiful, but are made to serve a greater purpose. This series is part of a Coins for Charity program, raising money for a basket of programs that Scottsdale Mint faithfully supports.
$40 Donated Per Coin
Coin Details
–  1 Troy Ounce | 999 Fine Silver
–  Legal Tender in Samoa
–  Issue Year – 2022
– Limited Mintage: 1,000
–  Quality: Proof with Black Rhodium
–  Diameter: 39 MM
–  Packaging Includes Case, Sleeve Certificate of Authenticity, and Sealed Capsule
–  $40 Donated Per Coin
Technische Daten
Gewicht

31.103

Material

Silber

Jahreszahl

2022

Preis-Addition

72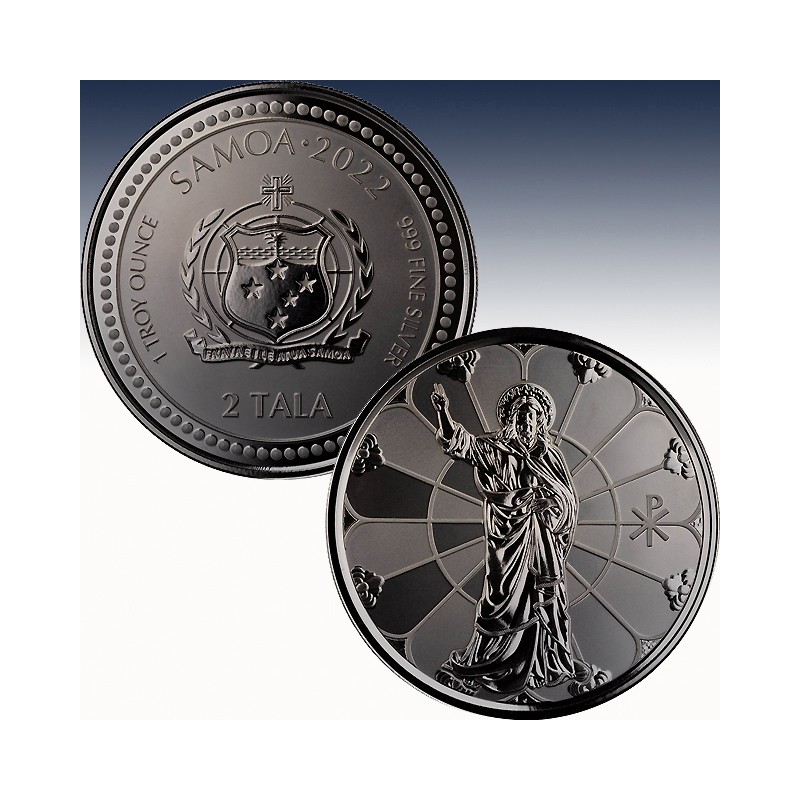 | | | |
| --- | --- | --- |
| Herkunftsland: |   | Samoa |
| Nennwert: |   | 2 AUD |
| Prägung: |   | Stempelglanz |
| Stückelung: |   | 1 x 1 Unze |
| Material: |   | Silber |
| Feinheit: |   | 999,9/1000 |
| Gewicht: |   | 31.103 Gramm |
| Durchmesser: |   | 39,00 mm |
| Auflage: |   | 1.000 Stück |