Gold 1.863,05 Eur
Silber 21,38 Eur
Platin 855,59 Eur
Palladium 879,72 Eur
(49) 2935 - 3 390 375
Europaweite Lieferung
Europaweite Lieferung
Gold 1.863,05 Eur
Silber 21,38 Eur
Platin 855,59 Eur
Palladium 879,72 Eur
SILBER 15,39 EUR
PLATIN 853,48 EUR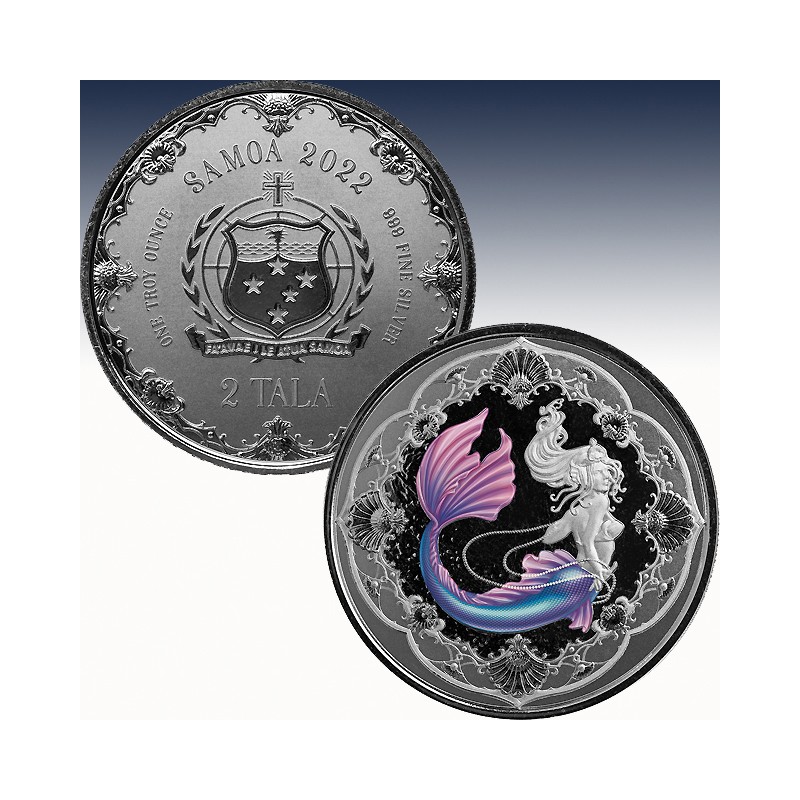  
1 x 1 oz Silbermünze 2$ Tala Samoa "Mermaid - The Princess of the Seas 2022" -Color-*
| | | |
| --- | --- | --- |
| Herkunftsland: |   | Samoa |
| Nennwert: |   | Tala 2$ |
| Prägung: |   | Spiegelglanz |
| Stückelung: |   | 1 x 1 Unze |
| Material: |   | Silber |
| Feinheit: |   | 999/1000 |
| Gewicht: |   | 31,103 gramm |
| Durchmesser: |   |  39,00 mm |
| Auflage: |   | 2.000 Stück |
1 x 1 Unze (oz) Silbermünze 2$ Tala Samoa
"Mermaid - The Princess of the Seas 2022"
Scottsdale Mint is excited to bring you the next installment in our
Mermaid
series. Where our earlier coins explored the dark side of these sea creatures, the 2022 version focuses on the playful, royal beauty of the
Mermaid
. 
Set in a beautiful round, the
Mermaid
appears in the middle of a turbulent ocean, but she herself is calm and seemingly oblivious to the chaos of the waves.
Mermaids
are renowned for their ability to straddle dual realities.
Surrounded by ornate seashells in an intricate, filigree-style design, the
Mermaid
loosely holds onto a long string of pearls, a nod to early Chinese mythology that believed
Mermaid
's tears became pearls. 
This coin is available in proof-like or antiqued silver or a colorful proof-like version that gives life to the fairytale. Better get one for your collection or for someone special before they grow legs and never return!
Diese Sammlermünze wird als ganze Unze herausgegeben und besteht aus 99,99 Prozent Feinsilber in der Prägung "Colorized"!
Sie hat einen Durchmesser von 39,0 mm. 
Die Rückseite zeigt, wie bei australischen und auch kanadischen gängigen Münzen, das Porträt der britischen Königin Elizabeth II im Profil sowie die jeweilige Nennwertangabe.
Auch diese Silbermünze gilt als gesetzliches Zahlungsmittel in ihren Herausgeberland Australien.
Geliefert wird diese besondere Sammlermünze "Mermaid"
Original verpackt im Certi.-Lock inklusive Original Kapsel der Scottsdale Mint.
Technische Daten
Gewicht

31.103

Material

Silber

Jahreszahl

2022

Preis-Addition

30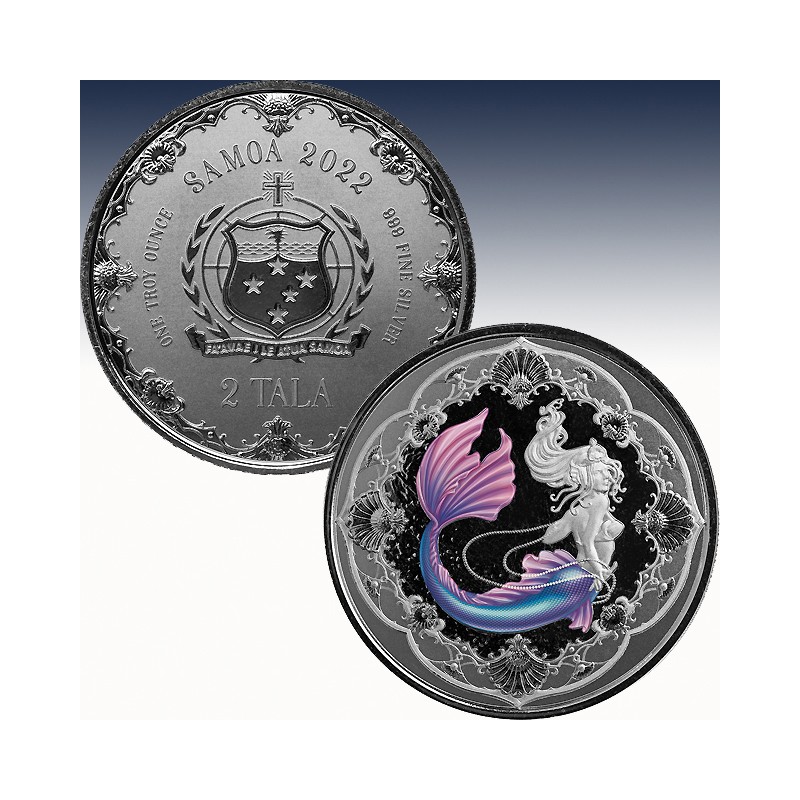 | | | |
| --- | --- | --- |
| Herkunftsland: |   | Samoa |
| Nennwert: |   | Tala 2$ |
| Prägung: |   | Spiegelglanz |
| Stückelung: |   | 1 x 1 Unze |
| Material: |   | Silber |
| Feinheit: |   | 999/1000 |
| Gewicht: |   | 31,103 gramm |
| Durchmesser: |   |  39,00 mm |
| Auflage: |   | 2.000 Stück |