Gold 1.690,01 Eur
Silber 21,34 Eur
Platin 957,33 Eur
Palladium 1.798,00 Eur
(49) 2935 - 3 390 375
Europaweite Lieferung
Europaweite Lieferung
Gold 1.690,01 Eur
Silber 21,34 Eur
Platin 957,33 Eur
Palladium 1.798,00 Eur
SILBER 15,39 EUR
PLATIN 853,48 EUR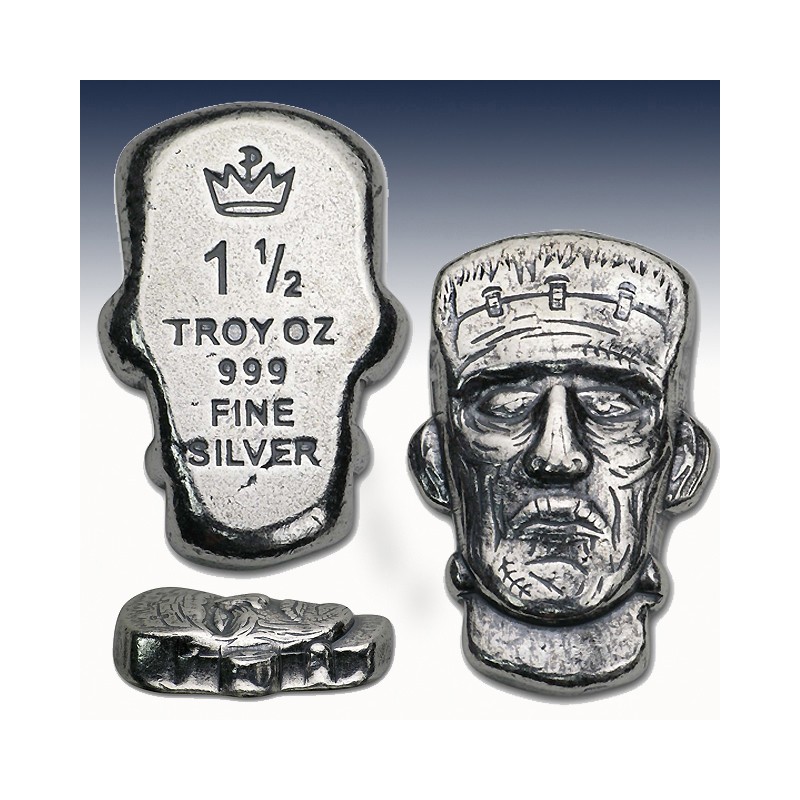  
1 x 1,5 oz Silverbar Monarch Precious Metals "3D Frankenstein" -BU-
| | | | |
| --- | --- | --- | --- |
|   | Hersteller: |   | Monarch Precious Metals |
|   | Steuersatz: |   | 19% |
|   | Prägung: |   | Stempelglanz |
|   | Stückelung: |   | 1 x 1,5 Unze |
|   | Material: |   | Silber |
|   | Feinheit: |   | 999/1000 |
|   | Gewicht: |   |  46,65 Gramm |
|   | Verpackung: |   | Kunstoffsäckchen |
|   | Durchmesser: |   | -x-,-x-0mm |
1 x 1,50 Unze (oz) Silver Bar Hand Poured
Monarch Precious Metals "3D Frankenstein"
Viele der Silberbarren, die von der Monarch Precious Metals hergestellt werden, sind mit Symbolen der Piraten
versehen -  dem Totenkopf oder der Piratenflagge oder aber im Look einer Schatztruhe.

Die Monarch Precious Metals Barren sind von Hand gegossen und eine schöne Ergänzung für jede Sammlung.
These 1.5 oz .999 fine Silver Frankenstein heads were inspired by the legend that first rose to fame in the 1800s. Each piece is given a dark antique polish to make the details of each piece stand out.

Product Highlights:
Contains at least 1.5 oz of .999 fine Silver.
Comes in protective packaging.
Obverse: Depicts Frankenstein with three staples across his forehead and bolts sticking out of his neck along with other various scars that bring this spooky piece of Silver to life.
Reverse: Displays the manufacturers logo along with the weight and purity.


Hand poured products are purposely made to look worn, flawed, and cracked to look like they have withstood countless ages. Hand poured Silver is a great way to add a conversation piece to you stack, while adding a sense of collectibility to your holdings.


Jede dieser wunderschönen Silverbar enthält 999/1000 Feinsilber und wurde in einem wunderschönem "Brilliant uncirculated" geprägt.
Technische Daten
Gewicht

46,65

Material

Silber

Preis-Addition

37.5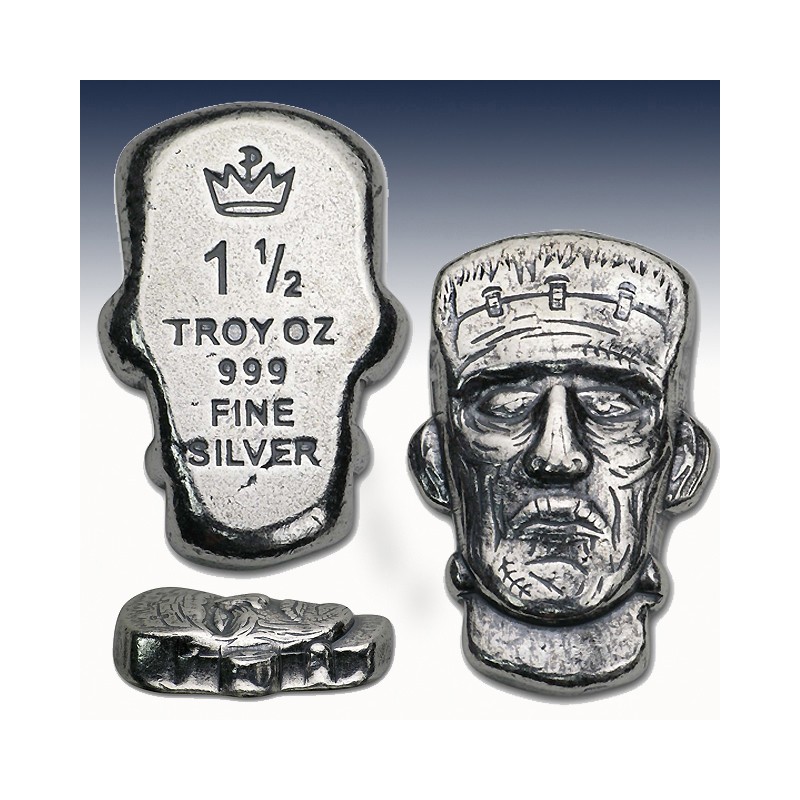 | | | | |
| --- | --- | --- | --- |
|   | Hersteller: |   | Monarch Precious Metals |
|   | Steuersatz: |   | 19% |
|   | Prägung: |   | Stempelglanz |
|   | Stückelung: |   | 1 x 1,5 Unze |
|   | Material: |   | Silber |
|   | Feinheit: |   | 999/1000 |
|   | Gewicht: |   |  46,65 Gramm |
|   | Verpackung: |   | Kunstoffsäckchen |
|   | Durchmesser: |   | -x-,-x-0mm |