Gold 1.620,80 Eur
Silber 20,84 Eur
Platin 748,04 Eur
Palladium 1.943,97 Eur
(49) 2935 - 3 390 375
Europaweite Lieferung
Europaweite Lieferung
Gold 1.620,80 Eur
Silber 20,84 Eur
Platin 748,04 Eur
Palladium 1.943,97 Eur
SILBER 15,39 EUR
PLATIN 853,48 EUR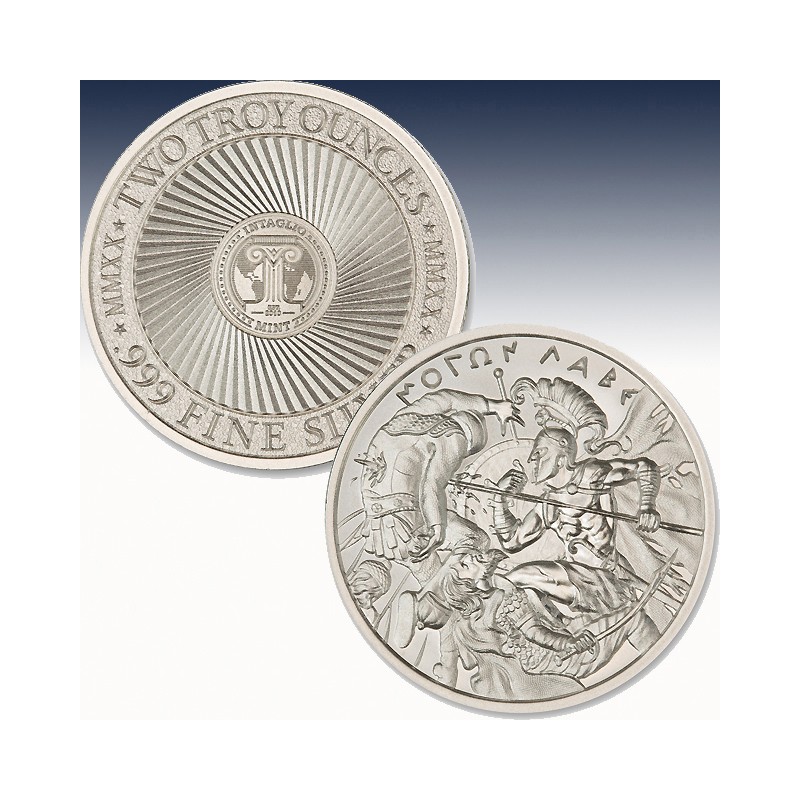  
1 x 2 Oz Silverround Intaglio Mint "Molon Labe V7" -BU
| | | |
| --- | --- | --- |
| Hersteller: |   | Intaglio Mint |
| Steuersatz: |   | 19% |
| Prägung: |   | Stempelglanz |
| Stückelung: |   | 1 x 1 Unze |
| Material: |   | Silber |
| Feinheit: |   | 999/1000 |
| Gewicht: |   | 62,206 Gramm |
| Verpackung: |   | Tasche |
| Durchmesser: |   | 39x6mm |

Lieferbedingungen (bearbeiten im Modul "Kundenvorteile")

Rücksendebedingungen (bearbeiten im Modul "Kundenvorteile")
1 x 2 Unze (oz) Silverround Intaglio Mint "Molon Labe V7"

Molon Labe, meaning "come and take it" is a traditional Greek phrase expressing defiance, believed to be spoken by the Spartan King Leonidas when the Persian armies demanded the surrender of their weapons. The expression is commemorated in this one-ounce silver art medal.
Contains 2 Troy Ounce .999 Fine Silver
Obverse: The detailed depiction of a soldier in Spartan regalia, in the heat of battle, with a spear in hand, thrusting his spear through the chest of his enemy.   "MOLON LABE" around the top circumference.
Reverse: High-Relief Intaglio Mint logo set on radial burst surrounded by stippled border reading "ONE TROY OUNCE" above and ".999 FINE SILVER" below on textured background, flanked by mintage year in roman numerals "MMXX".
Einzigartig in ihrer Art und bereits jetzt schon Kult in den Vereinigten Staaten.
Jede dieser wunderschönen Silverround enthält 999/1000 Feinsilber und wurde im wunderschönem "Brilliant uncirculated" geprägt.
Technische Daten
Gewicht

62.206

Material

Silber

Preis-Addition

11.2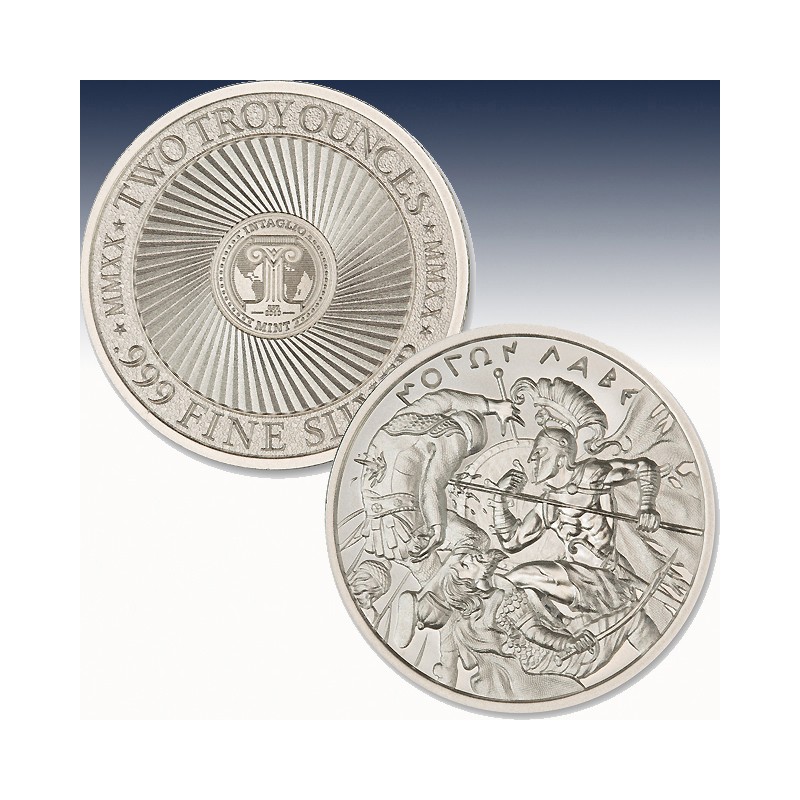 | | | |
| --- | --- | --- |
| Hersteller: |   | Intaglio Mint |
| Steuersatz: |   | 19% |
| Prägung: |   | Stempelglanz |
| Stückelung: |   | 1 x 1 Unze |
| Material: |   | Silber |
| Feinheit: |   | 999/1000 |
| Gewicht: |   | 62,206 Gramm |
| Verpackung: |   | Tasche |
| Durchmesser: |   | 39x6mm |