Gold 1.863,05 Eur
Silber 21,38 Eur
Platin 855,59 Eur
Palladium 879,72 Eur
(49) 2935 - 3 390 375
Europaweite Lieferung
Europaweite Lieferung
Gold 1.863,05 Eur
Silber 21,38 Eur
Platin 855,59 Eur
Palladium 879,72 Eur
SILBER 15,39 EUR
PLATIN 853,48 EUR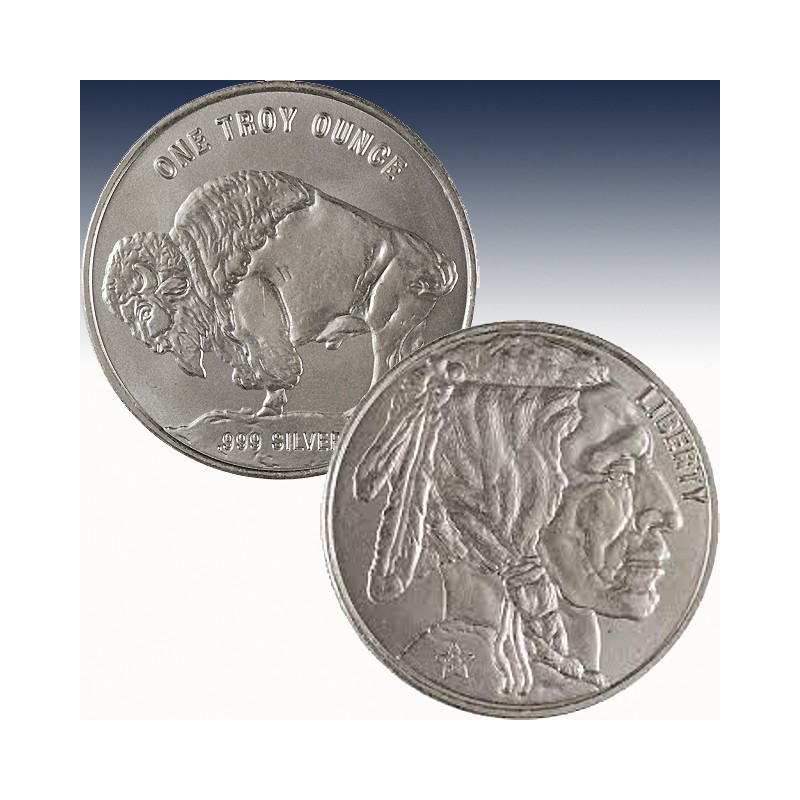  
1 x 1 Oz Silver Round Regency Mint "Buffalo Nickel" -BU-
| | | |
| --- | --- | --- |
| Hersteller: |   | Regency Mint |
| Steuersatz: |   | 19% |
| Prägung: |   | Stempelglanz |
| Stückelung: |   | 1 x 1 Unze |
| Material: |   | Silber |
| Feinheit: |   | 999/1000 |
| Gewicht: |   | 31,103 Gramm |
| Verpackung: |   | zip-Tüte |
| Durchmesser: |   | 39x2,47 mm |
1 x 1 Unze (oz) Silver Round Regency Mint "Buffalo Nickel"
One of the most famous circulation coins in American history is the Buffalo Nickel. This five-cent piece was introduced in 1913 and its imagery was relaunched by the US Mint in 2006 on the American Gold Buffalo. It has also been replicated on copper and silver rounds  from countless private mints. Today, 1 oz Regency Mint Buffalo Silver Rounds are available to you online at JM Bullion.
Round Highlights:
Available to you in plastic flips or acrylic tubes of 20 rounds!
Replicates the famous Buffalo Nickel imagery!
Contains 1 Troy oz of .999 pure silver.
Obverse depicts an indigenous figure.
Reverse features the American bison.
The Buffalo Nickel, also known as the Indian Head Nickel, was a five-cent coin produced by the United States Mint from 1913 to 1938. It was designed by sculptor James Earle Fraser. This design is a popular item in the modern precious metals industry across bullion coins, bullion bars, and rounds.
All of these 1 oz Regency Mint Buffalo Silver Rounds are available to you with individual or bulk packaging. Individual rounds arrive in plastic flips, with multiples of 20 rounds in acrylic tubes.
In the obverse design of the 1 oz Buffalo Silver Round from Regency Mint, you will find the right-profile portrait of an indigenous figure. Designer James Earle Fraser reportedly combined the facial features of three real-life indigenous leaders in the early 20th century to create this portrait.
For the reverse fact of 1 oz Regency Mint Buffalo Silver Rounds, the mighty American bison is depicted. Fraser similarly sought a real-life specimen for inspiration, using Black Diamond at the Central Park Zoo as the model for his buffalo design.
Technische Daten
Gewicht

31.103

Material

Silber

Preis-Addition

8.5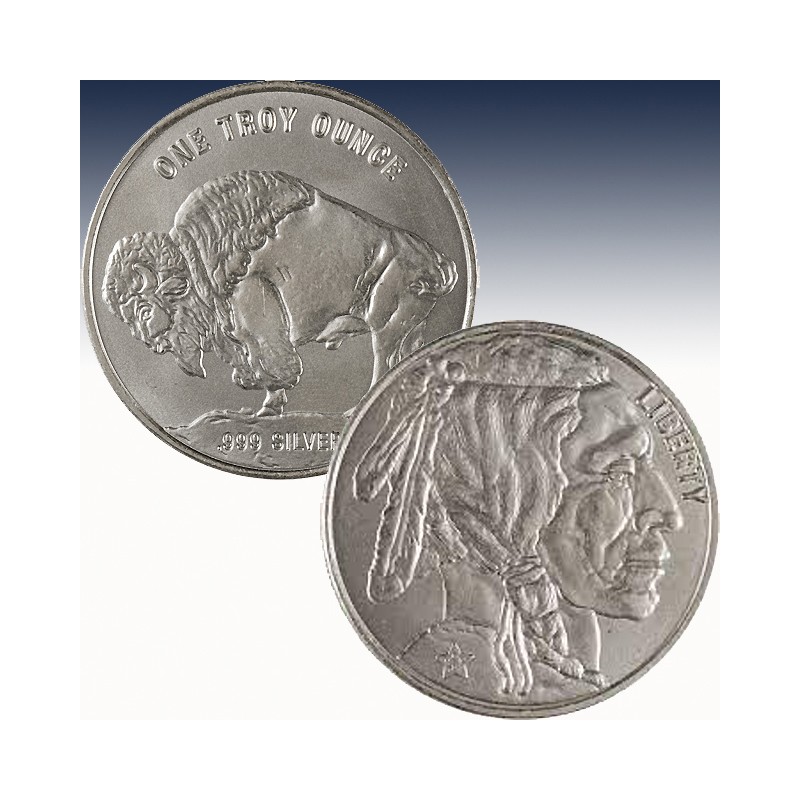 | | | |
| --- | --- | --- |
| Hersteller: |   | Regency Mint |
| Steuersatz: |   | 19% |
| Prägung: |   | Stempelglanz |
| Stückelung: |   | 1 x 1 Unze |
| Material: |   | Silber |
| Feinheit: |   | 999/1000 |
| Gewicht: |   | 31,103 Gramm |
| Verpackung: |   | zip-Tüte |
| Durchmesser: |   | 39x2,47 mm |