Gold 1.864,61 Eur
Silber 21,79 Eur
Platin 902,96 Eur
Palladium 1.309,16 Eur
(49) 2935 - 3 390 375
Europaweite Lieferung
Europaweite Lieferung
Gold 1.864,61 Eur
Silber 21,79 Eur
Platin 902,96 Eur
Palladium 1.309,16 Eur
SILBER 15,39 EUR
PLATIN 853,48 EUR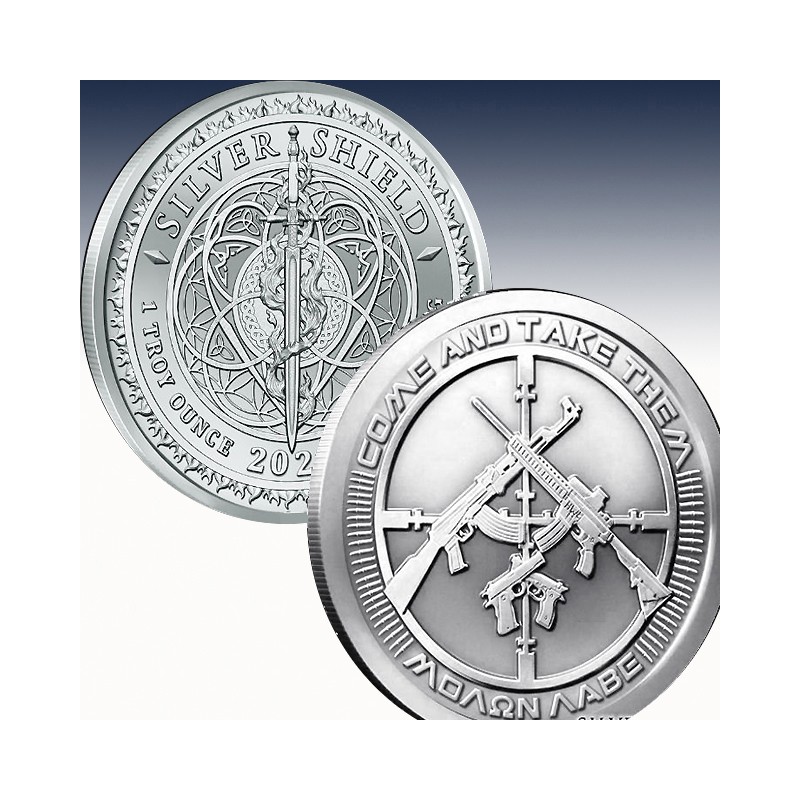  
1 x 1 oz Silverround Silver Shield "AG-47 Come and Take them 2022" -BU-
| | | |
| --- | --- | --- |
| Hersteller: |   | Golden State Mint |
| Steuersatz: |   | 19% |
| Prägung: |   | Stempelglanz |
| Stückelung: |   | 1 x 1 Unze |
| Material: |   | Silber |
| Feinheit: |   | 999/1000 |
| Gewicht: |   | 31,103 Gramm |
| Verpackung: |   | zip-Tüte |
| Durchmesser: |   | 39x3,2 mm |
1 x 1 Unze (oz) Silverround Silver Shield
"AG-47 Come and Take them 2022"
 Diese Silverround ist mit einer der außergewöhnlichen von "Silver Bullet Silver Shield" und dem Design von Heidi Wastweet.
The Come and Take It silver round is a merger of two previous designs in the Silver Shield series, AG-47 and Freedom Girl. This design carries a powerful message. It speaks of the willingness of people to stand up for what they believe in and to back up what they say. It echoes the words of the 2nd Amendment to the US Constitution and tells the world that freedom does not instigate violence, but if violence is necessary to preserve it then so be it.
Round Highlights:
Contains 1 oz of .999 fine Silver.
Multiples of 20 are packaged in tubes. Individual rounds come in protective packaging.
Obverse: Displays 47 bullets surround the scope target and crossed rifles and pistols.
Reverse: New and improved design for the Silver Shield collection. Features a sword in the middle encircled with flames near the outer rim and the words Silver Shield and 1 Troy Ounce .999 Pure AG along with the date 2020.
The obverse features the popular Freedom Girl from earlier designs in the series but she is different. This times she is wearing a hat and carrying a gun. Her face is still tranquil, but resolute. She is prepared, but certainly not eager. In the top right are the words "Come and Take It", much like the words from the AG-47 design.
Einzigartig in ihrer Art und bereits jetzt schon Kult in den Vereinigten Staaten.
Jede dieser wunderschönen Silverround enthält 999/1000 Feinsilber und wurde im feinsten "Brilliant uncirculated" geprägt.
Pro Einheit mit 20 Münzen erfolgt die
Lieferung im Original - Münztube!
Technische Daten
Gewicht

31.103

Material

Silber

Jahreszahl

2022

Preis-Addition

9.6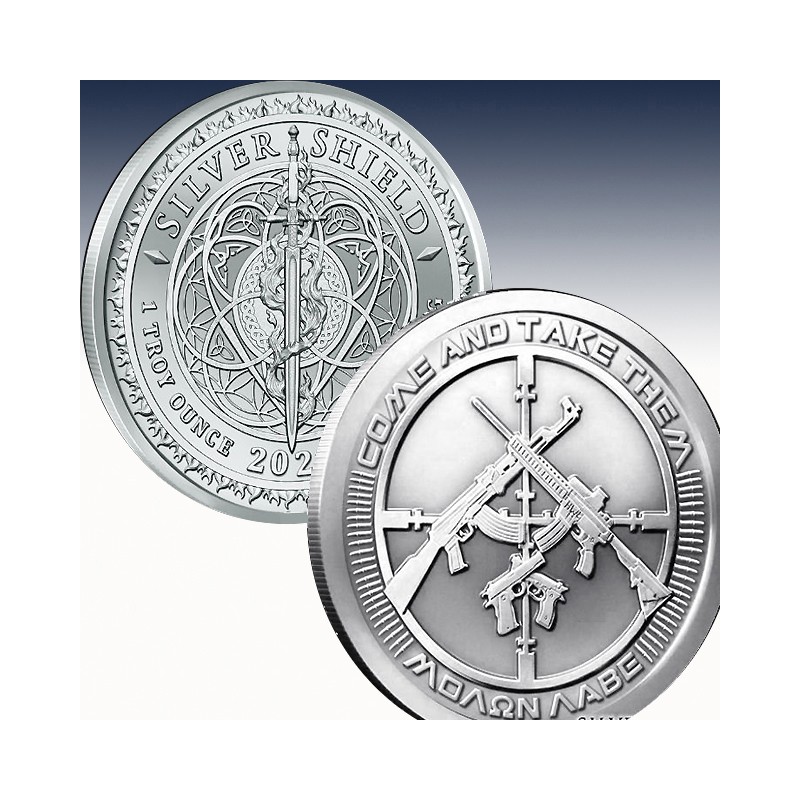 | | | |
| --- | --- | --- |
| Hersteller: |   | Golden State Mint |
| Steuersatz: |   | 19% |
| Prägung: |   | Stempelglanz |
| Stückelung: |   | 1 x 1 Unze |
| Material: |   | Silber |
| Feinheit: |   | 999/1000 |
| Gewicht: |   | 31,103 Gramm |
| Verpackung: |   | zip-Tüte |
| Durchmesser: |   | 39x3,2 mm |