Gold 1.688,62 Eur
Silber 21,36 Eur
Platin 959,20 Eur
Palladium 1.795,50 Eur
(49) 2935 - 3 390 375
Europaweite Lieferung
Europaweite Lieferung
Gold 1.688,62 Eur
Silber 21,36 Eur
Platin 959,20 Eur
Palladium 1.795,50 Eur
SILBER 15,39 EUR
PLATIN 853,48 EUR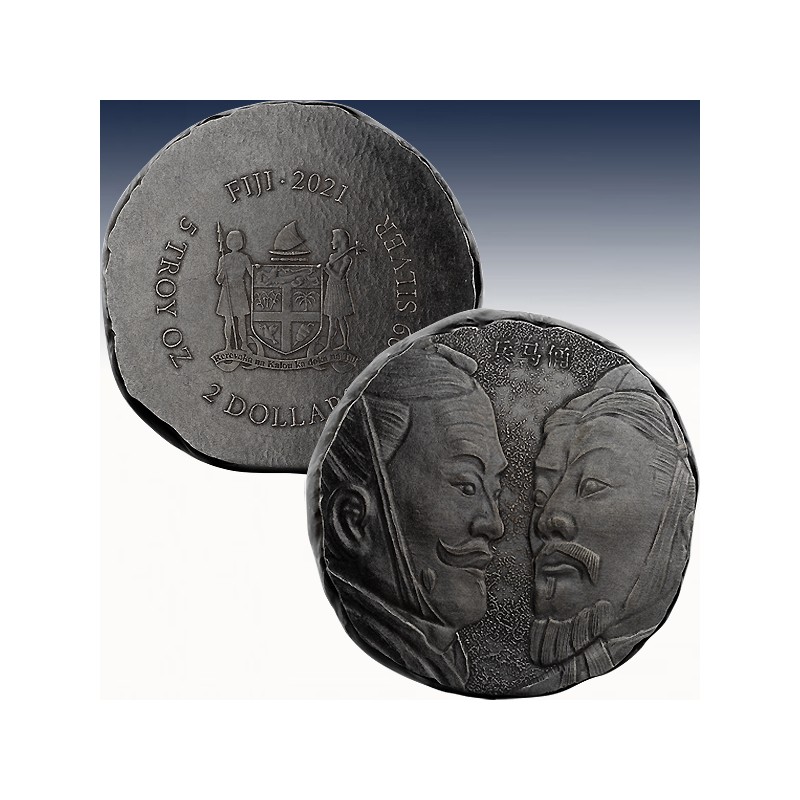  
1 x 5 oz Silbermünzen 2 Fiji "TERRACOTTA ARMY 2021" -AF-*
| | | |
| --- | --- | --- |
| Hersteller: |   | Scottsdale Mint |
| Nennwert: |   | 5$ Fiji |
| Prägung: |   | Antique Finish |
| Stückelung: |   | 1 x 5 Unze |
| Material: |   | Silber |
| Feinheit: |   | 999/1000 |
| Gewicht: |   | 155,51 Gramm |
| Durchmesser: |   |  38,61 mm |
| Steuersatz: |   | diff.best.§25aUStG |
| Auflage: |   | 10.000 Stück |
1 x 5 Unze (oz)  Silbermünze 2$ Fiji "Terracotta Army 2021"

(diff.besteuert nach §25a UStG)
Scottsdale Mint is pleased to announce the 4th annual release from the popular Fiji coin program - The 2021 Terracotta Army 5 oz Antique-Polished Silver Coin. This 5 oz coin has a 46mm diameter, ruptured edge, and an antique-polished finish that push the boundaries of any coin on the market. 

Qin Shi Huang, the founder of the Qin Dynasty, ruled as China's first emperor  from 220–210 BC. To achieve immortality he commissioned the building of his own tomb - and an army to protect it. The Terracotta Army found in the Emperor's burial complex was meant to guard his spirit in the afterlife. This massive collection consists of more than 8,000 life-size clay soldiers, horses, and chariots. Each clay figure is complete with armor, weapons, and unique facial features. Since being discovered by farmers in 1974, the Terracotta Army is held as one of the most remarkable and mysterious discoveries of the ancient world. 


The 2021 Terracotta Army 5 oz Silver Coin has a limited mintage of 5,000 pieces. The coins, manufactured and distributed by Scottsdale Mint and legal tender in Fiji, are struck in .999+ silver and weigh 5 troy ounces each.

Diese Sammlermünze wird als ganze Unze herausgegeben und besteht aus 99,9 Prozent Feinsilber in der wundervollen Prägung "Antique Finish"!
Sie hat einen Durchmesser von -,- mm, dicke 11,80mm und einem Gewicht von 155,51 gramm
Auch diese Silbermünze gilt als gesetzliches Zahlungsmittel in ihren Herausgeberland Fiji.
Technische Daten
Gewicht

155.15

Material

Silber

Jahreszahl

2021

Preis-Addition

50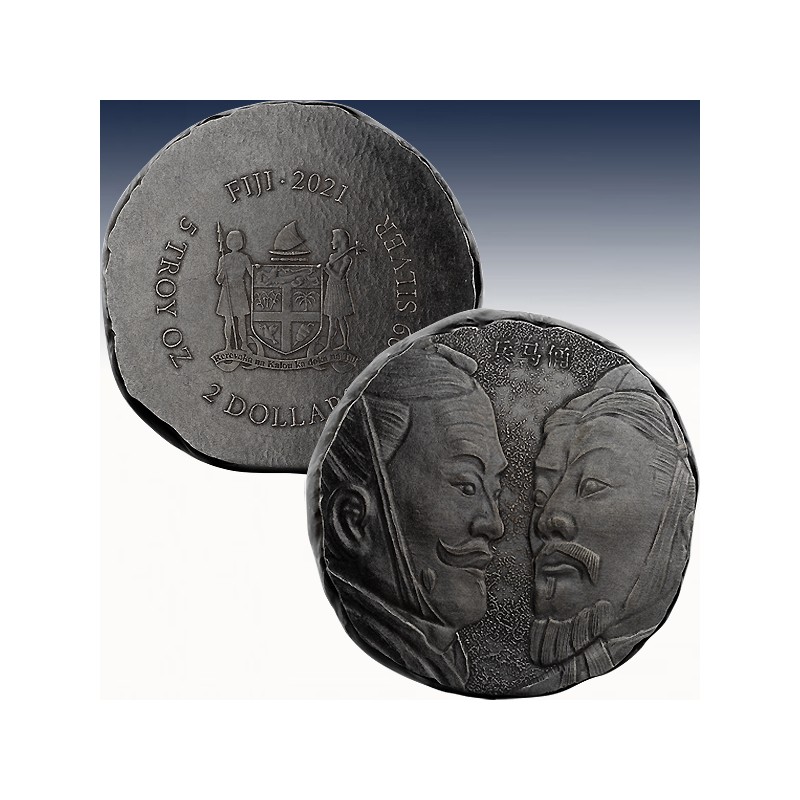 | | | |
| --- | --- | --- |
| Hersteller: |   | Scottsdale Mint |
| Nennwert: |   | 5$ Fiji |
| Prägung: |   | Antique Finish |
| Stückelung: |   | 1 x 5 Unze |
| Material: |   | Silber |
| Feinheit: |   | 999/1000 |
| Gewicht: |   | 155,51 Gramm |
| Durchmesser: |   |  38,61 mm |
| Steuersatz: |   | diff.best.§25aUStG |
| Auflage: |   | 10.000 Stück |