Gold 1.748,00 Eur
Silber 20,61 Eur
Platin 907,24 Eur
Palladium 1.864,50 Eur
(49) 2935 - 3 390 375
Europaweite Lieferung
Europaweite Lieferung
Gold 1.748,00 Eur
Silber 20,61 Eur
Platin 907,24 Eur
Palladium 1.864,50 Eur
SILBER 15,39 EUR
PLATIN 853,48 EUR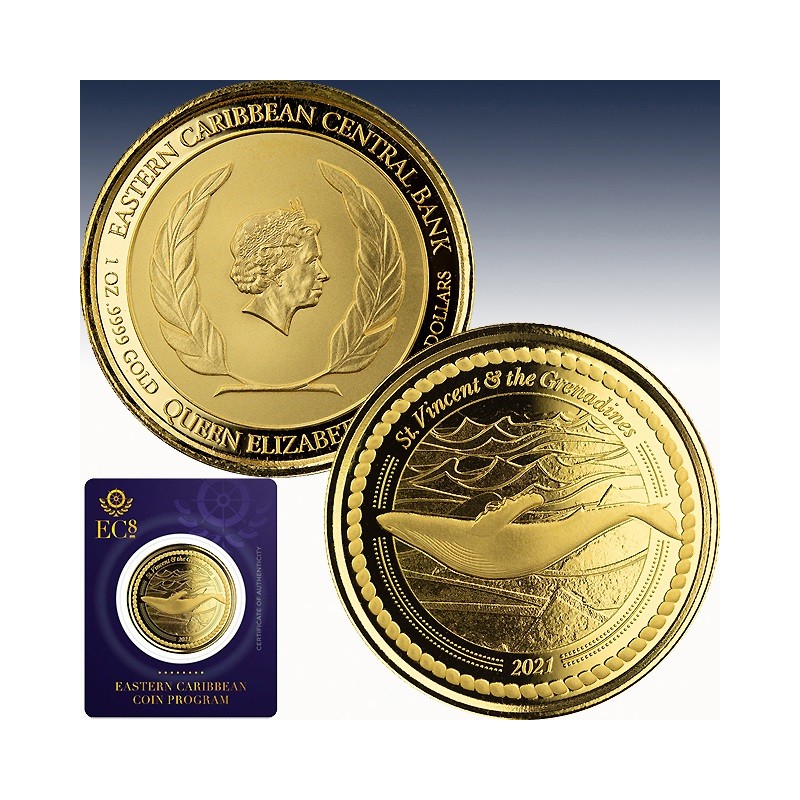  
1 x 1 oz Goldmünze 10$ St. Vincent & the Grenadines "Humpback Whale 2021" -PL-in Certi-Lock®
| | | |
| --- | --- | --- |
| Herkunft: |   | St. Vincent & the Grenadines |
| Nennwert: |   | 10 $ |
| Prägung: |   | Proof-Like |
| Stückelung: |   | 1 x 1 Unze |
| Material: |   | Gold |
| Feinheit: |   | 999/1000 |
| Gewicht: |   | 31,103 Gramm |
| Durchmesser: |   |  -,- mm |
| Echtheit: |   | Certi-Lock® |
| Auflage: |   | 2.500 Stück |
1 x 1 Unze (oz) Goldmünze 10$ St. Vincent & the Grenadines
"Humpback Whale 2021" Proof-Like in Certi-Lock®
Scottsdale Mint, in partnership with the Eastern Caribbean Central Bank (ECCB),
is pleased to continue the EC8 program with the release of the 3rd issue from St. Vincent and the Grenadines, the Pax Et Justitia Coat of Arms Silver and Gold Coin.  Manufactured and distributed by Scottsdale Mint, each coin is struck in .999+ silver and .9999+ gold and weighs one troy ounce. 

The silver "Pax Et Justitia" BU coins will ship in capsules on Scottsdale Mint skin boards of five (5) coins. The gold "Pax Et Justitia" BU coins will ship in Scottsdale Mint's Certi-Lock® packaging.  The silver color commemorative and gold color commemorative coins will ship in capsules inside custom boxes.
The 2021 ECCB St. Vincent and the Grenadines coin beautifully depicts the country's Coat of Arms, or national seal, which bears the words "Peace and Justice" in Latin.  The centerpiece is based on the colonial badge in use from 1907 to 1979 and features two women in classical Roman dress. The standing woman on the heraldic right extends an olive branch, the universal symbol of peace, and the kneeling woman holds the scales of justice over a gold altar between them. 

The background contains a handsome diamond pattern, paying homage to St. Vincent and the Grenadines' central location - uniquely situated with the St. Lucia to the North, Barbados to the East, Grenada to the South, and the Caribbean Sea to the West. The outer rim of the coin features the country and year in a timeless, capitalized serif font. The obverse of the coin features the effigy of Queen Elizabeth II, exclusive to Scottsdale Mint's ECCB coin series.
Die wechselnde Motive stellen in wunderschönen Motiven, sind ein absolutes "MUSS" für alle Münzsammler.
Diese Sammlermünze wird als ganze Unze herausgegeben und besteht aus 999,9 Prozent Feingold in der wundervollen Prägung "PROOF-LIKE"!
Diese Silbermünze gilt als gesetzliches Zahlungsmittel in ihren Herausgeberland St. Vincent & the Grenadines.
Geliefert wird diese anmutende Pax Et Justitia" im Certi-Lock®.
Certi-Lock ist ein revolutionärer Ansatz für die Authentifizierung von Edelmetallen. Durch den Einsatz von Technologie und kostenlosen Smartphone-Anwendungen durch Certi-Lock können Verbraucher nun die Authentizität von Certi-Locked Edelmetallen an den Fingerspitzen überall in der Welt überprüfen. Um mehr über Certi-Lock zu erfahren, wenden Sie sich bitte an Scottsdale Mint oder besuchen Sie http://www.certi-lock.com.
Technische Daten
Gewicht

31.103

Material

Gold

Jahreszahl

2021

Preis-Addition

100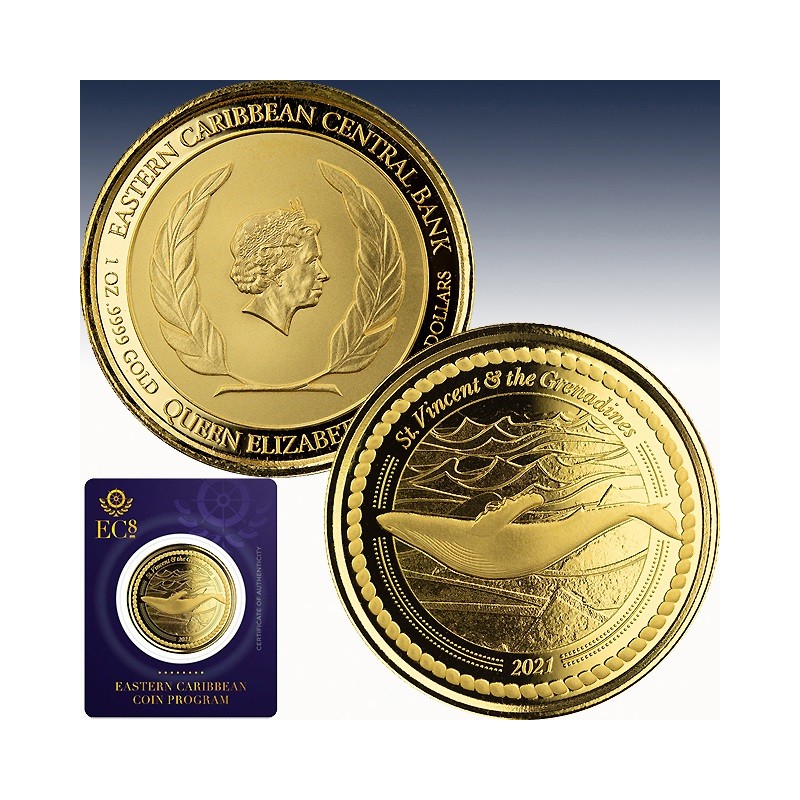 | | | |
| --- | --- | --- |
| Herkunft: |   | St. Vincent & the Grenadines |
| Nennwert: |   | 10 $ |
| Prägung: |   | Proof-Like |
| Stückelung: |   | 1 x 1 Unze |
| Material: |   | Gold |
| Feinheit: |   | 999/1000 |
| Gewicht: |   | 31,103 Gramm |
| Durchmesser: |   |  -,- mm |
| Echtheit: |   | Certi-Lock® |
| Auflage: |   | 2.500 Stück |