Gold 1.759,95 Eur
Silber 21,42 Eur
Platin 923,53 Eur
Palladium 1.491,98 Eur
(49) 2935 - 3 390 375
Europaweite Lieferung
Europaweite Lieferung
Gold 1.759,95 Eur
Silber 21,42 Eur
Platin 923,53 Eur
Palladium 1.491,98 Eur
SILBER 15,39 EUR
PLATIN 853,48 EUR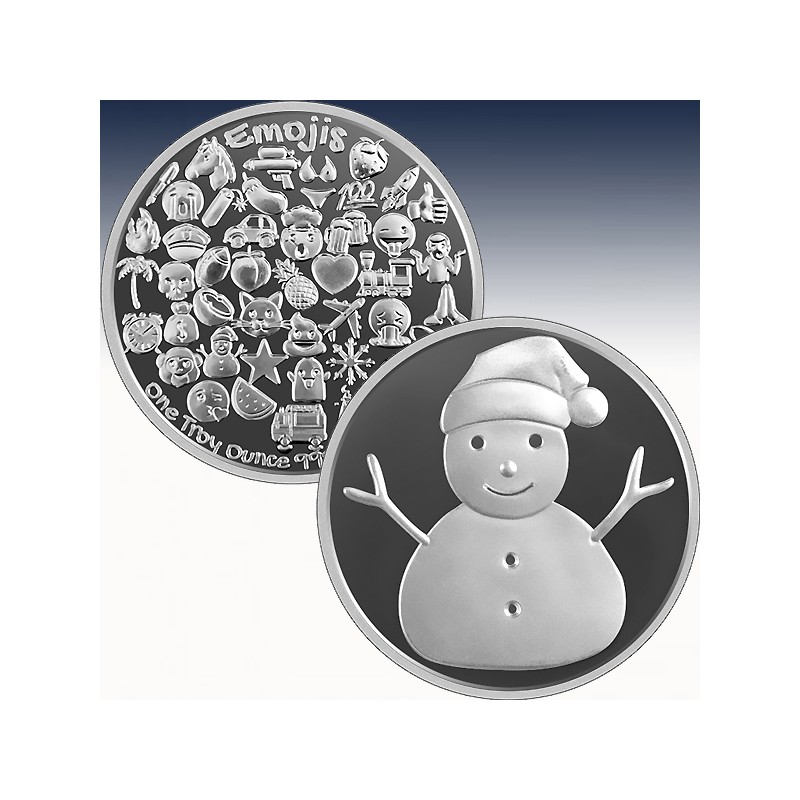  
1 x 1 Oz Silver Round Silvertowne "Emoji Snowman 2022" -BU-
| | | |
| --- | --- | --- |
| Hersteller: |   | Silvertowne |
| Steuersatz: |   | 19% |
| Prägung: |   | Stempelglanz |
| Stückelung: |   | 1 x 1 Unze |
| Material: |   | Silber |
| Feinheit: |   | 999/1000 |
| Gewicht: |   | 3,103 Gramm |
| Verpackung: |   | zip-Tüte |
| Durchmesser: |   | 39.3 mm |
| Ausgabe: |   | -,- Stück |
1 x 1 Unze (Oz) Silver Round Silvertowne "2# Emoji Snowman 2022"
The second release of the Emoji Series of custom silver rounds is perfect and available just in time for the holidays. The newest release celebrates a character associated with winter, in general, and Christmas in particular.
Round Highlights:
Arrives in protective plastic flips or acrylic tubes of 20 rounds!
2nd release of the Emoji Series!
Proof specimens!
Contains 1 Troy oz of .999 pure silver.
Snowman emoji on the obverse.
Various emojis on the reverse.
Each of the 1 oz Emoji Snowman Silver Rounds available to you in this listing at JM Bullion comes in protective plastic flips. If you purchase multiples, those will arrive by multiples of 20 rounds in acrylic tubes. The rounds are proof-like specimens with a combination of frosted and mirrored fields for visual contrast.
Snowmen are a classic symbol of the winter season and are often associated with the Christmas season in particular. While snowmen might seem like a modern construct, there are written records of snowmen being built in Europe following snowstorms. The earliest known record of a snowman depiction comes from the margins of a book written in 1380 that is in a library in The Hague, Netherlands.
In the obverse of Emoji Snowman Silver Rounds, you will find a depiction of the popular emoji. Here, the snowman has a two-tier body with a wide body base and two buttons. He has simple twig arms, a round head that has two eyes, a round nose, and a simple smile. To top it off, the snowman is wearing a Santa hat.
For the reverse design of the 1 oz Emoji Snowman Silver Round, the mint continues with its depiction of countless emojis. On this side, you will see all the famous emojis you've shared with friends and that have been shared with you via text conversations.
Material : Silber (925/1000) mit Goldmedaillon 24Karat
OHNE Umverpackung & Zertifikat
Technische Daten
Gewicht

31.103

Material

Silber

Jahreszahl

2022

Preis-Addition

9.5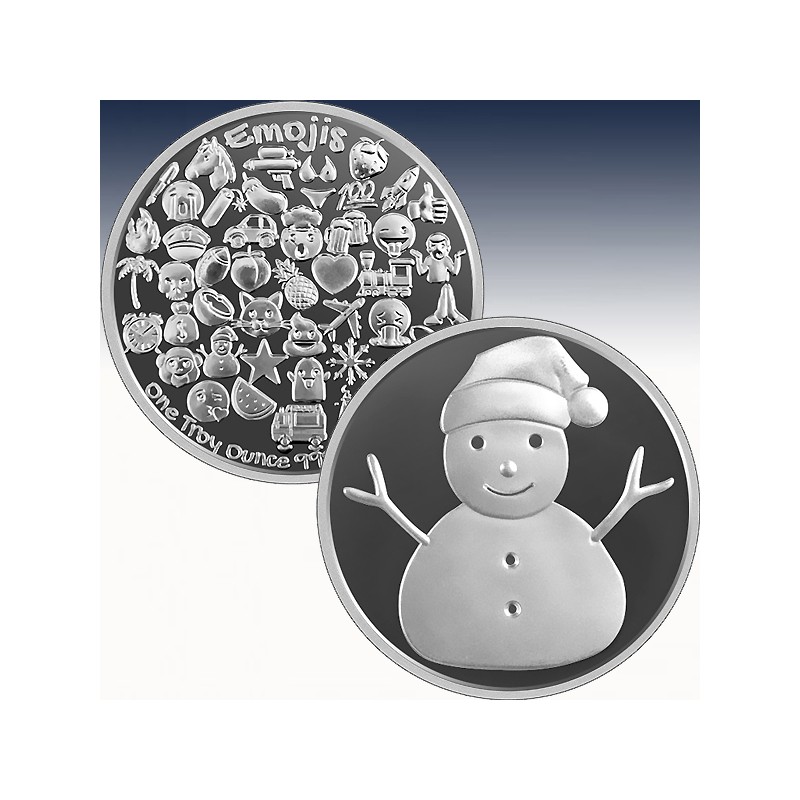 | | | |
| --- | --- | --- |
| Hersteller: |   | Silvertowne |
| Steuersatz: |   | 19% |
| Prägung: |   | Stempelglanz |
| Stückelung: |   | 1 x 1 Unze |
| Material: |   | Silber |
| Feinheit: |   | 999/1000 |
| Gewicht: |   | 3,103 Gramm |
| Verpackung: |   | zip-Tüte |
| Durchmesser: |   | 39.3 mm |
| Ausgabe: |   | -,- Stück |