Gold 1.760,72 Eur
Silber 21,35 Eur
Platin 923,53 Eur
Palladium 1.490,29 Eur
(49) 2935 - 3 390 375
Europaweite Lieferung
Europaweite Lieferung
Gold 1.760,72 Eur
Silber 21,35 Eur
Platin 923,53 Eur
Palladium 1.490,29 Eur
SILBER 15,39 EUR
PLATIN 853,48 EUR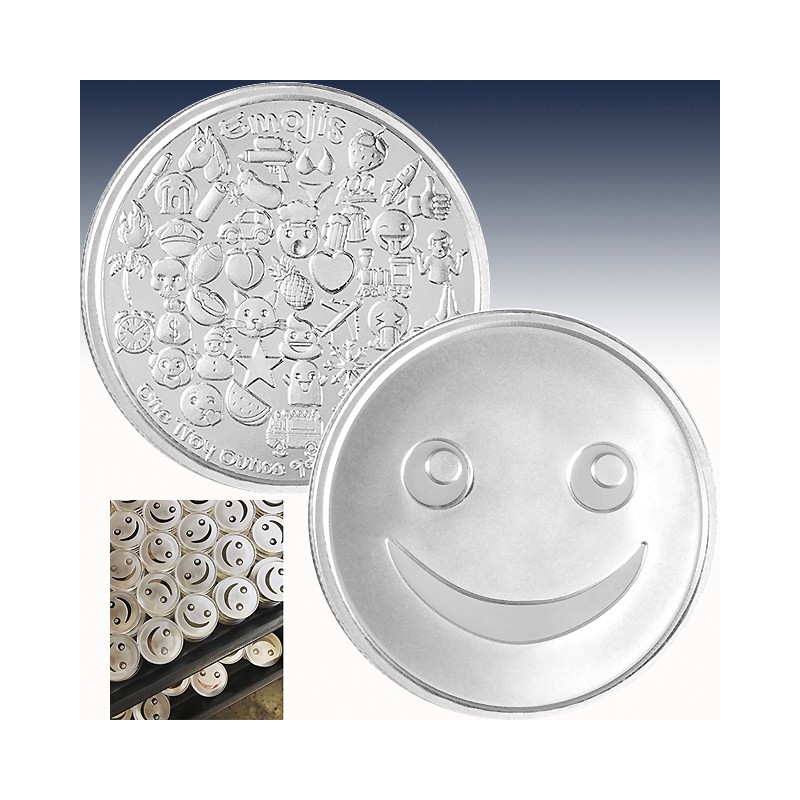  
1 x 1 Oz Silver Round Silvertowne "Emoji Smiley 2022" -BU-
| | | |
| --- | --- | --- |
| Hersteller: |   | Silvertowne |
| Steuersatz: |   | 19% |
| Prägung: |   | Stempelglanz |
| Stückelung: |   | 1 x 1 Unze |
| Material: |   | Silber |
| Feinheit: |   | 999/1000 |
| Gewicht: |   | 3,103 Gramm |
| Verpackung: |   | zip-Tüte |
| Durchmesser: |   | 39.3 mm |
| Ausgabe: |   | -,- Stück |
1 x 1 Unze (Oz) Silver Round Silvertowne "1# Emoji Smiley 2022"
When humanity first had the opportunity to send text messages to one another while on the go, instead of making a phone call, people instantly looked for shorthand options to express emotions. Eventually, emojis became an essential part of the smartphone keyboard and enabled people to communicate emotions and vibes in a whole new way. JM Bullion is celebrating the prominence of emojis in modern communication with a festive silver round collection. Now, 1 oz Emoji Smiley Silver Rounds are available to you for purchase online at JM Bullion.
Round Highlights:
Rounds arrive inside plastic flips or tubes of 20 rounds!
1st release in the new Emoji Series!
Proof visuals!
Contains 1 Troy oz of .999 pure silver.
Smiley emoji on the obverse.
A flood of emojis features on the reverse.
Prior to the more artistic emojis we are familiar with today appearing on the earliest smartphones, people were expressing their emotions and reactions via text using combinations of various punctuations from the keyboard. For example, the colon and right parenthesis were combined to form a smiley face. Starting in 1999, Japanese artist Shigetaka Kurita made it possible for emojis to become more expressive.
All of the 1 oz Emoji Smiley Silver Rounds available in this listing at JM Bullion come with proof visuals. The strike of these designs helps deliver a combination of frosted fields and mirrored fields on both sides. Individual silver rounds in this series come with plastic flips, while multiples of 20 are available in tubes.
In the obverse design of the Emoji Smiley Silver Round, the design features one of the most common emojis shared by billions of smartphone users. Here, the simple smiley face shows two large, round eyes with a smiling face that stretches from side to side across this face of the round.
For the reverse field of 1 oz Smiley Silver Rounds, the field is filled with a variety of different emojis. From emotions to food and random characters, you will find it all on this side of the round. There is a ray gun, a horse head, a pineapple, clanking beer mugs, the alien head, and even the fire emoji.
The new Emoji Silver Round Series will be an exciting collection at JM Bullion. You can expect to see new emojis on the obverse side of the rounds with each subsequent release following the Smiley release.
Technische Daten
Gewicht

31.103

Material

Silber

Jahreszahl

2022

Preis-Addition

9.8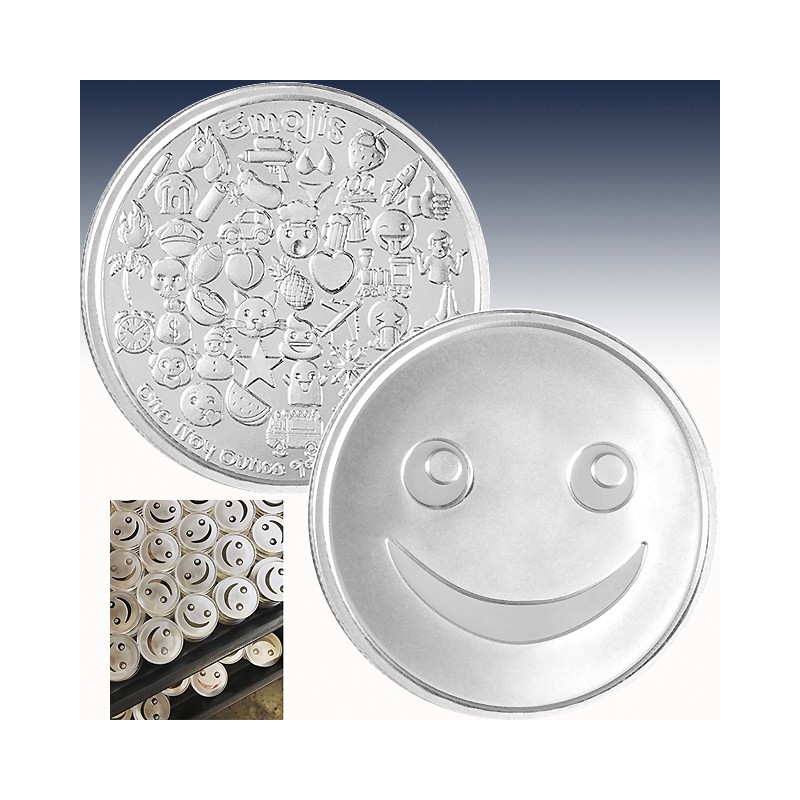 | | | |
| --- | --- | --- |
| Hersteller: |   | Silvertowne |
| Steuersatz: |   | 19% |
| Prägung: |   | Stempelglanz |
| Stückelung: |   | 1 x 1 Unze |
| Material: |   | Silber |
| Feinheit: |   | 999/1000 |
| Gewicht: |   | 3,103 Gramm |
| Verpackung: |   | zip-Tüte |
| Durchmesser: |   | 39.3 mm |
| Ausgabe: |   | -,- Stück |