Gold 1.858,09 Eur
Silber 21,71 Eur
Platin 897,65 Eur
Palladium 1.309,71 Eur
(49) 2935 - 3 390 375
Europaweite Lieferung
Europaweite Lieferung
Gold 1.858,09 Eur
Silber 21,71 Eur
Platin 897,65 Eur
Palladium 1.309,71 Eur
SILBER 15,39 EUR
PLATIN 853,48 EUR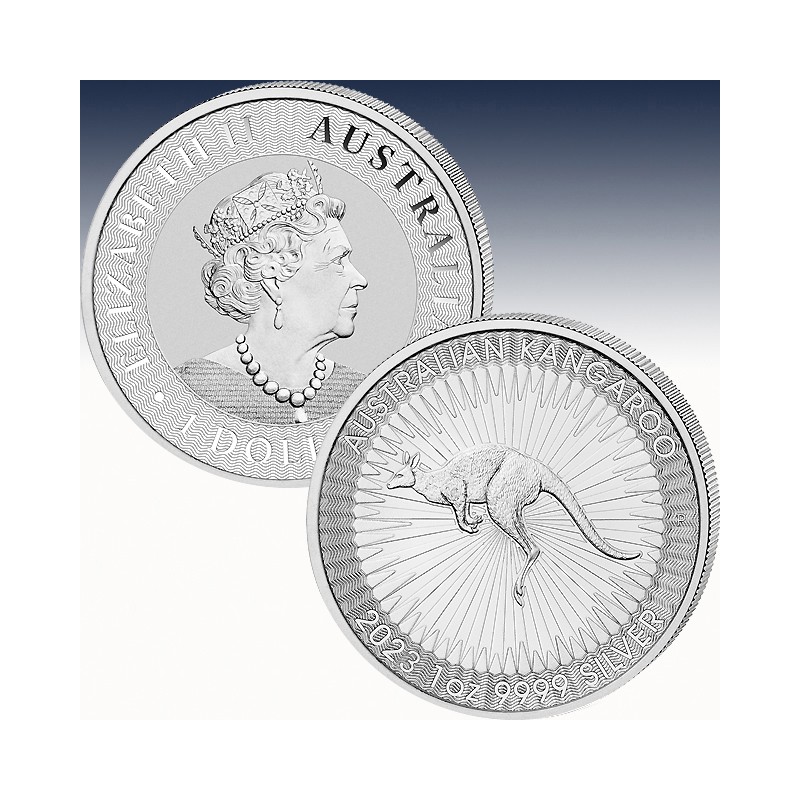  
1 x 1 oz Silbermünze 1$ Australian "Känguru 2023" -BU-*
Hersteller:
 
Perth Mint
Nennwert:
 
1 AUD
Prägung:
 
Stempelglanz
Stückelung:
 
1 x 1 Unze
Material:
 
Silber
Feinheit:
 
999,9/1000
Gewicht:
 
31,103 Gramm
Durchmesser:
 
40,60mm
Auflage:
 
 

unlimitiert
1 x 1 Unze (oz) Silbermünze 1$ Australien "Känguru 2023"
Silver Kangaroo bullion coins are a striking tribute to Australia's most recognizable animal. Featuring the iconic Kangaroo, the 2022 Silver Kangaroo coin is loved by investors and collectors alike for its .9999 fine Silver content and stunning design. The Silver Kangaroo offers an unrivaled combination of quality and fascinating wildlife design, which brings this Silver bullion coin series to life.

Coin Highlights:
Contains 1 oz of .9999 fine Silver.
Coin comes in protective packaging. Orders of 25 come in tubes, and orders of 250 coins come packaged in Mini Monster Boxes, which fit in standard safety deposit boxes.
Mint-sealed tubes of 25 coins feature a holographic security strip placed on top of the tube by The Perth Mint, allowing the ability to tell if the tube has been tampered with since leaving the mint.
Obverse: Bears the Jody Clark likeness of Her Majesty Queen Elizabeth II and the face value.
Reverse: Features the classic red kangaroo design by Dr. Stuart Devlin, surrounded by a radiating design meant to symbolize sunlight, along with a micro-engraved letter appearing under magnification.
Sovereign coin backed by the Australian government.

Silver Kangaroos
The Perth Mint first releases the 1 ounce Silver Kangaroo BU coin in 2015, with a limited mintage of 300,000. Since 2016, the Silver Kangaroo coins are produced annually with unlimited mintages. The Australian 1 ounce Silver Kangaroo is struck in .9999 fine Silver, and is issued as legal tender under the Australian Currency Act of 1965. The reverse of the Silver Kangaroo coin depicts a bounding red kangaroo, surrounded by rays of sunlight. These Australian Silver bullion coins are packaged in tubes of 25 coins and monster boxes of 250 coins.
Jede dieser wunderschönen Silbermünze enthält 999,9/1000 Feinsilber und wurde im wunderschönem Brilliant uncirculated geprägt.
Pro Einheit mit 25 Münzen erfolgt die
Lieferung im Original - Münztube!
Technische Daten
Gewicht

31.103

Material

Silber

Jahreszahl

2023

Preis-Addition

3.25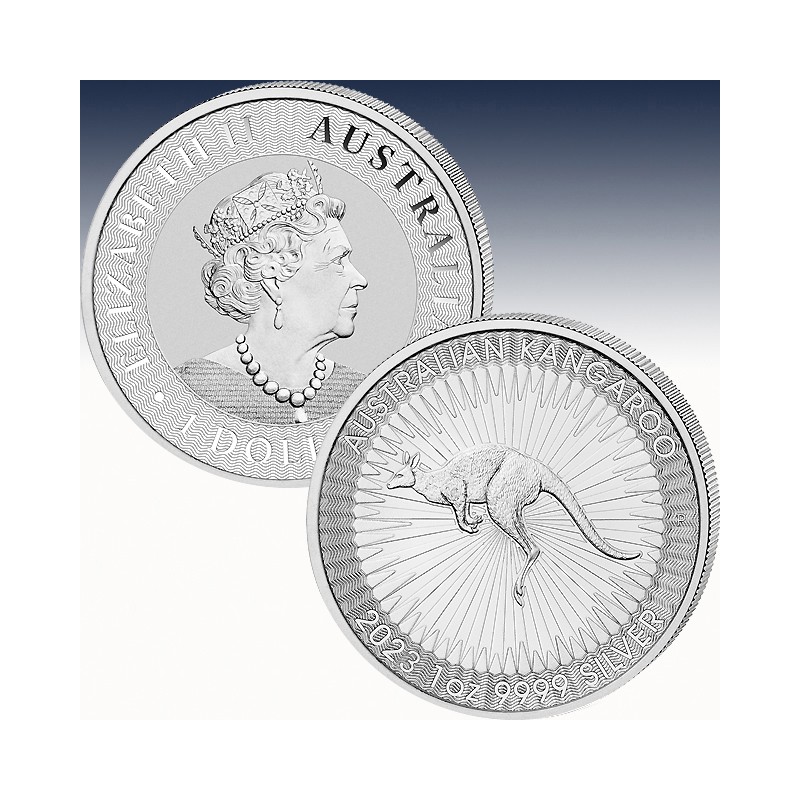 Hersteller:
 
Perth Mint
Nennwert:
 
1 AUD
Prägung:
 
Stempelglanz
Stückelung:
 
1 x 1 Unze
Material:
 
Silber
Feinheit:
 
999,9/1000
Gewicht:
 
31,103 Gramm
Durchmesser:
 
40,60mm
Auflage:
 
 

unlimitiert