Gold 1.759,51 Eur
Silber 21,37 Eur
Platin 923,04 Eur
Palladium 1.498,09 Eur
(49) 2935 - 3 390 375
Europaweite Lieferung
Europaweite Lieferung
Gold 1.759,51 Eur
Silber 21,37 Eur
Platin 923,04 Eur
Palladium 1.498,09 Eur
SILBER 15,39 EUR
PLATIN 853,48 EUR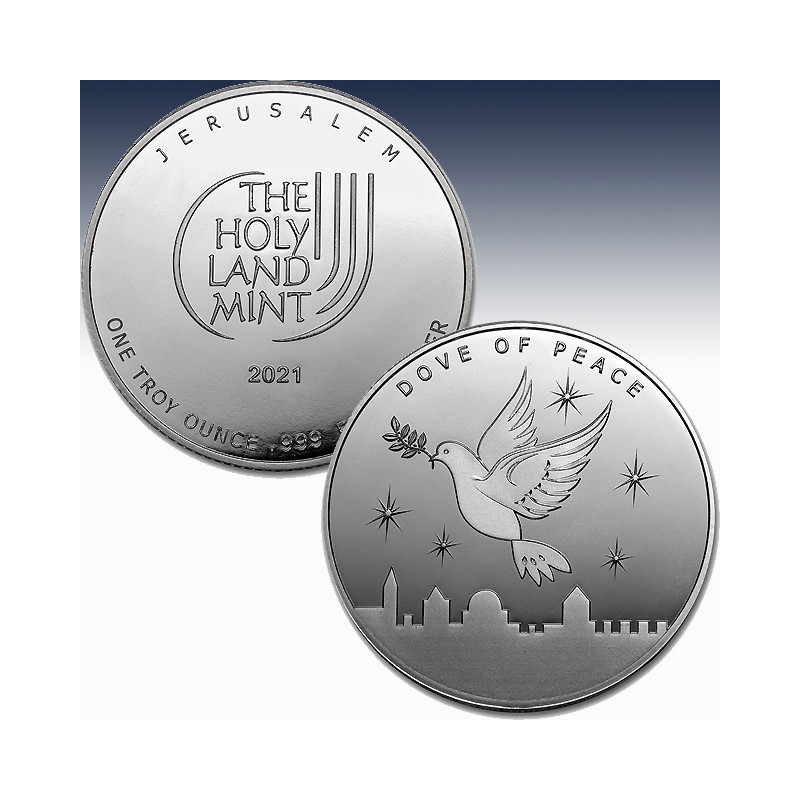  
1 x 1 oz Silver Round Holy Land Mint "Dove of Peace 2021" -PL- (Kapsel)
| | | |
| --- | --- | --- |
| Hersteller: |   | Holy Land Mint |
| Steuersatz: |   | 19% |
| Prägung: |   | Stempelglanz |
| Stückelung: |   | 1 x 1 Unze |
| Material: |   | Silber |
| Feinheit: |   | 999/1000 |
| Gewicht: |   | 31,103 Gramm |
| Verpackung: |   | gekapselt |
| Durchmesser: |   | 39 mm |
1 x 1 Unze (oz) Silver Round Holy Land Mint "Dove of Peace 2021"
The Holy Land Mint combines timeless imagery with modern quality, and this delicate Silver round is no exception. The dove is a symbol of peace around the world and this beautiful .999 fine Silver round features a simple design of this beloved creature.

Round Highlights:
Contains 1 oz of .999 fine Silver.
Round will be in Prooflike condition and comes in a protective capsule.
Obverse: Bears the outline of the city of Jerusalem with an angelic dove in flight above.
Reverse: Shows the year 2021, with the weight and purity and the Holy Land Mint logo.
Features the Agosi Precious Metals mint mark on the reverse. Rounds are minted on LBMA certified blanks.


Jerusalem in Hebrew means "City of Peace" and the symbol of the dove has a storied history, beginning with the story of Noah's Ark (Genesis 8:11) in which the dove returned with an olive branch, signaling the end of God's judgment and the beginning of a new covenant with man. Throughout history, the dove was a renowned figure in both Christian and Hebrew manuscripts, even appearing in ancient Roman catacombs.

The dove now serves as a symbol of the Holy Spirit in Christian iconography and was said to have whispered the words of God into the ear of Muhammad. The image of the dove has evolved to symbolize peace across the world, as it once did, and will continue to be the inspiration for a brighter future.
Specification
Einzigartig in ihrer Art und bereits jetzt schon Kult in den Vereinigten Staaten.
Jede dieser wunderschönen Silverround enthält 999/1000 Feinsilber und wurde im wunderschönem "PROOF-LIKE" geprägt.
Technische Daten
Gewicht

31.103

Material

Silber

Jahreszahl

2021

Preis-Addition

11.5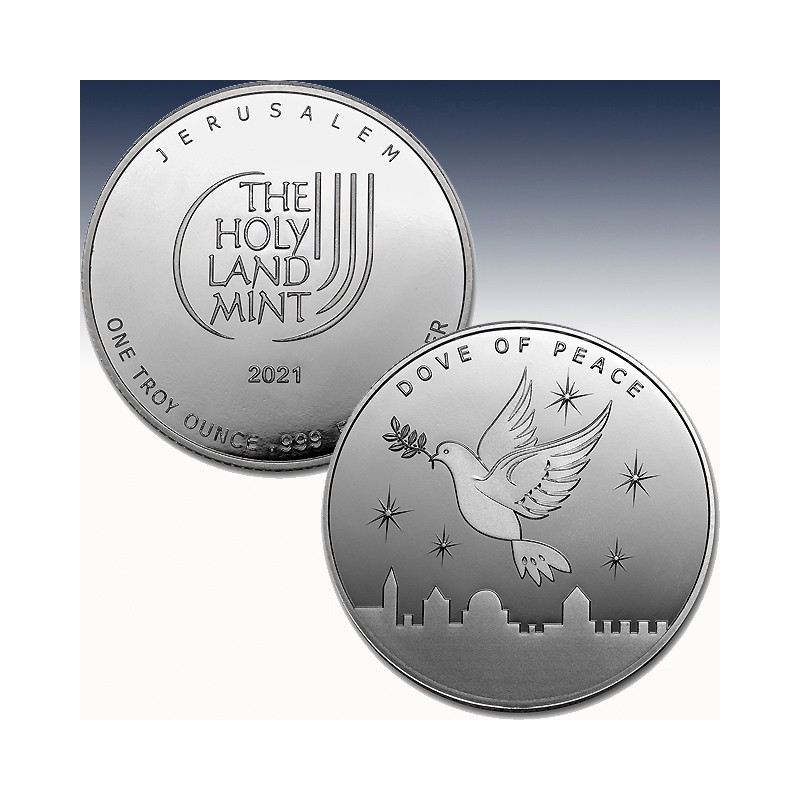 | | | |
| --- | --- | --- |
| Hersteller: |   | Holy Land Mint |
| Steuersatz: |   | 19% |
| Prägung: |   | Stempelglanz |
| Stückelung: |   | 1 x 1 Unze |
| Material: |   | Silber |
| Feinheit: |   | 999/1000 |
| Gewicht: |   | 31,103 Gramm |
| Verpackung: |   | gekapselt |
| Durchmesser: |   | 39 mm |