Gold 1.759,87 Eur
Silber 21,38 Eur
Platin 922,72 Eur
Palladium 1.496,02 Eur
(49) 2935 - 3 390 375
Europaweite Lieferung
Europaweite Lieferung
Gold 1.759,87 Eur
Silber 21,38 Eur
Platin 922,72 Eur
Palladium 1.496,02 Eur
SILBER 15,39 EUR
PLATIN 853,48 EUR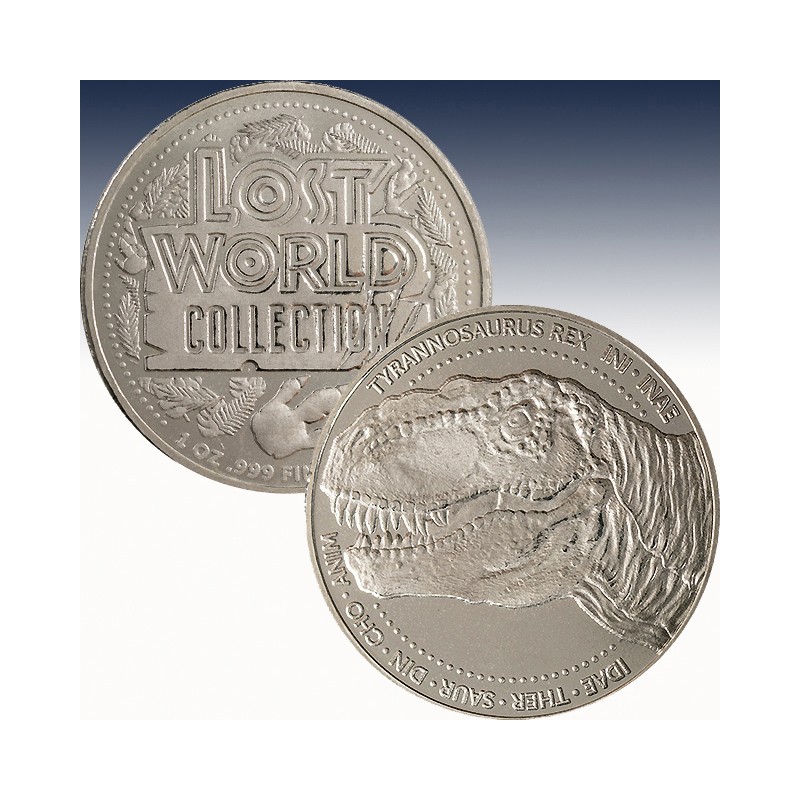  
1 x 1 oz Silver Round "The Lost World Collection - T-Rex" -BU- (Kapsel)
| | | |
| --- | --- | --- |
| Hersteller: |   | Patriot Coins |
| Steuersatz: |   | 19% |
| Prägung: |   | Stempelglanz |
| Stückelung: |   | 1 x 1 Unze |
| Material: |   | Silber |
| Feinheit: |   | 999/1000 |
| Gewicht: |   | 31,10 Gramm |
| Verpackung: |   | gekapselt |
| Durchmesser: |   | 39mm |
1 x 1 oz Silver Round "The Lost World Collection - 1# T-Rex"

Arguably the most terrifying dinosaur in history, the Tyrannosaurus Rex is now featured on a stunning silver round made in the USA by Patriot Coins. Roaming what is currently North America and Canada roughly 65 million years ago, the T-Rex could grow up to 40 feet long and had teeth the size of a banana! Right now, 1 oz The Lost World Collection T-Rex Silver Rounds are available to purchase online from JM Bullion.
Round Highlights:
Ships in a flip, tube of 20, or box of 500!
Brand-new T-Rex round in The Lost World Collection!
Consists of 1 Troy oz of .999 pure silver.
A T-Rex features in the obverse design.
On the reverse side is the official series logo.
Made in the USA.
When you purchase 1 oz The Lost World Collection T-Rex Rounds in this JM Bullion listing online, you will receive a brand-new product that was manufactured in the United States by Patriot Coins. Single rounds will ship to you in protective plastic flips, while orders of 20 arrive in a tube. You can also order 500 rounds and receive them inside a box.
On the obverse face of 1 oz The Lost World Collection Silver Rounds there is a depiction of a Tyrannosaurus Rex. In this design, we see the fearsome dinosaur in left-profile relief as it bares its enormous teeth. Inscriptions on the obverse read Tyrannosaurus Rex, followed by Latin genealogy reading Ini, Inae, Idae, Ther, Saur, Din, Cho, Anim.
The reverse side of The Lost World Collection T-Rex Silver Rounds features the official series emblem. This consists of the words Lost World Collection shown against a backdrop of leaves and footprints. Hallmarks reading 1 oz .999 Fine Silver are inscribed as well along the lower edge.
Simply looking at a T-Rex induces chills. Now imagine if you were alive 65 million years ago when they actually haunted the earth, devouring anything in their sight. This genus of theropod dinosaur is featured in the latest release in The Lost World Collection from Patriot Coins. This thrilling series features all of your favorite dinosaurs, with the herbivores shown facing right and the carnivores to the left. Collectors have the choice to obtain each design in either the standard or antique version, both of which are produced in the USA.
Technische Daten
Gewicht

31.103

Material

Silber

Jahreszahl

2022

Preis-Addition

10.5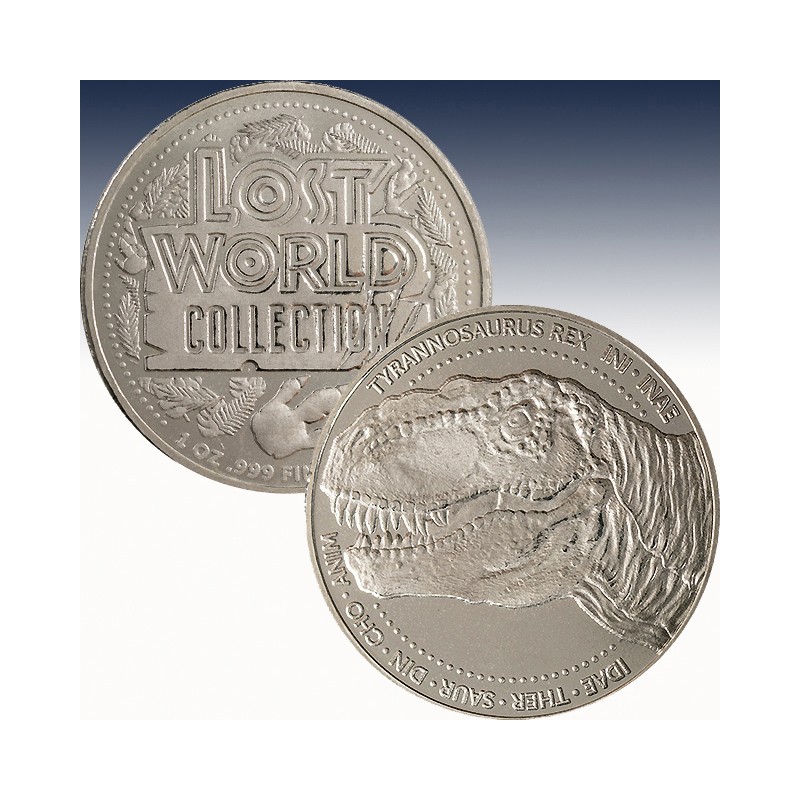 | | | |
| --- | --- | --- |
| Hersteller: |   | Patriot Coins |
| Steuersatz: |   | 19% |
| Prägung: |   | Stempelglanz |
| Stückelung: |   | 1 x 1 Unze |
| Material: |   | Silber |
| Feinheit: |   | 999/1000 |
| Gewicht: |   | 31,10 Gramm |
| Verpackung: |   | gekapselt |
| Durchmesser: |   | 39mm |