Gold 1.817,38 Eur
Silber 22,01 Eur
Platin 956,09 Eur
Palladium 1.302,44 Eur
(49) 2935 - 3 390 375
Europaweite Lieferung
Europaweite Lieferung
Gold 1.817,38 Eur
Silber 22,01 Eur
Platin 956,09 Eur
Palladium 1.302,44 Eur
SILBER 15,39 EUR
PLATIN 853,48 EUR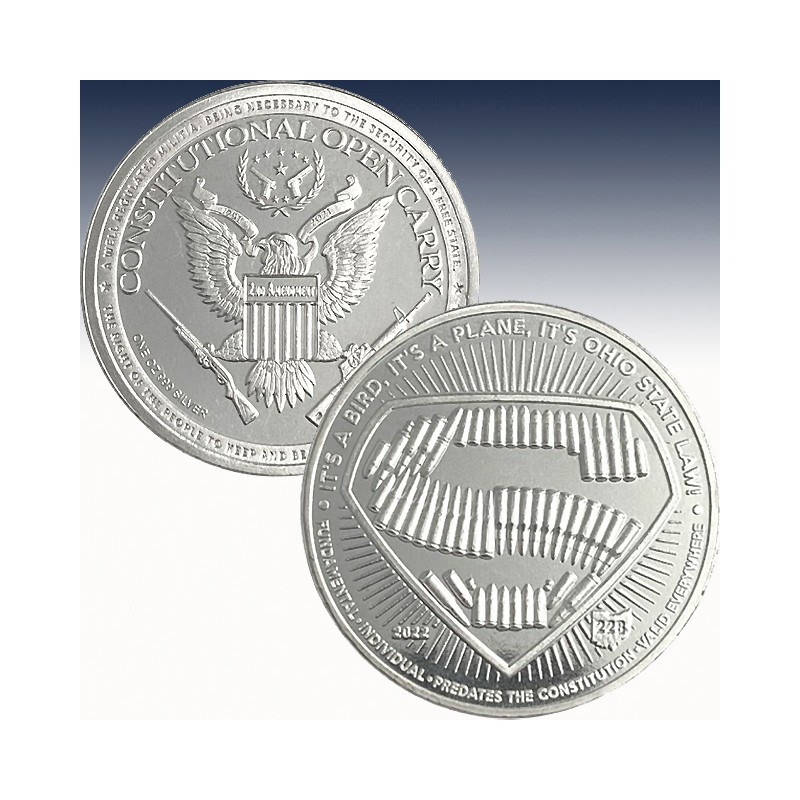  
1 x 1 oz Silverround Patriot Coins "Ohio Open Carry Round" -BU-
| | | |
| --- | --- | --- |
| Hersteller: |   | Patriot Coins |
| Steuersatz: |   | 19% |
| Erhaltung: |   | Stempelglanz |
| Stückelung: |   | 1 x 1 |
| Material: |   | Silber |
| Feinheit: |   | 999/1000 |
| Feingewicht: |   | 31,103 Gramm |
| Durchmesser: |   | 39,0 mm |
| Auflage: |   | 100.000 Stück |
1 x 1 Unze (oz) Silverround Patriot Coins "Ohio Open Carry Round"
On December 15th, 1791, the first ten amendments to the United States Constitution were ratified by three-fourths of the states. As the law of the land, these amendments became known as the Bill of Rights and included among them the right for citizens to keep and bear arms. This important historical moment forms the basis for the Constitutional Open Carry Series from Patriot Metals, which is now featuring the state of Ohio. Now, 1 oz Constitutional Open Carry Ohio Silver Rounds are available to you for purchase online from JM Bullion. 
Round Highlights: 
Available to you in a flip, tube of 20, or box of 500 rounds!

 

All-new design in the Constitutional Open Carry Series! 

 

Contains 1 Troy oz of .999 pure silver.

 

A Superman bullet logo is depicted on the obverse. 

 

The official Constitutional Open Carry design features on the reverse side. 

 

Made in the USA. 

 
Each 1 oz Constitutional Open Carry Ohio Round in this online JM Bullion listing will arrive to you housed inside an individual plastic flip. However, if you purchase multiples of 20, they will ship in a tube, while orders of 500 will arrive in a box. These rounds were struck in .999 pure silver by Patriot Coins and will be delivered to you in new condition.  
In the state of Ohio, it is legal for citizens who are eighteen years old and above to carry firearms in public. These firearms can be openly carried as long as the individual does so responsibly and does not brandish the weapon. However, for concealed carry in Ohio, the state does require its citizens to possess a concealed handgun license.  
The obverse of Constitutional Open Carry Ohio Silver Rounds contains the iconic Superman logo. Keeping in line with the theme of the series, this logo is arranged with bullets. As for the presence of this logo in the first place, it is due to the fact that Superman was created in the state of Ohio by Jerry Siegel and Joe Shuster. Along the rim, there are inscriptions reading It's a Bird, it's a Plane, it's Ohio State Law! Fundamental, Individual, Predates the Constitution, Valid Everywhere.  
On the reverse side of 1 oz Constitutional Open Carry Silver Rounds, you will find the official series design. Following the tradition of the Presidential seal, you'll see a heraldic eagle with a shield across its chest. However, here the shield reads 2nd Amendment, and in the bird's talons, there are two firearms. Inscriptions on the reverse face read Constitutional Open Carry, One oz .999 Silver. On the outer edge of the design, there are additional inscriptions of the exact text of the 2nd Amendment. 

Technische Daten
Gewicht

31.103

Material

Silber

Jahreszahl

2023

Preis-Addition

10.4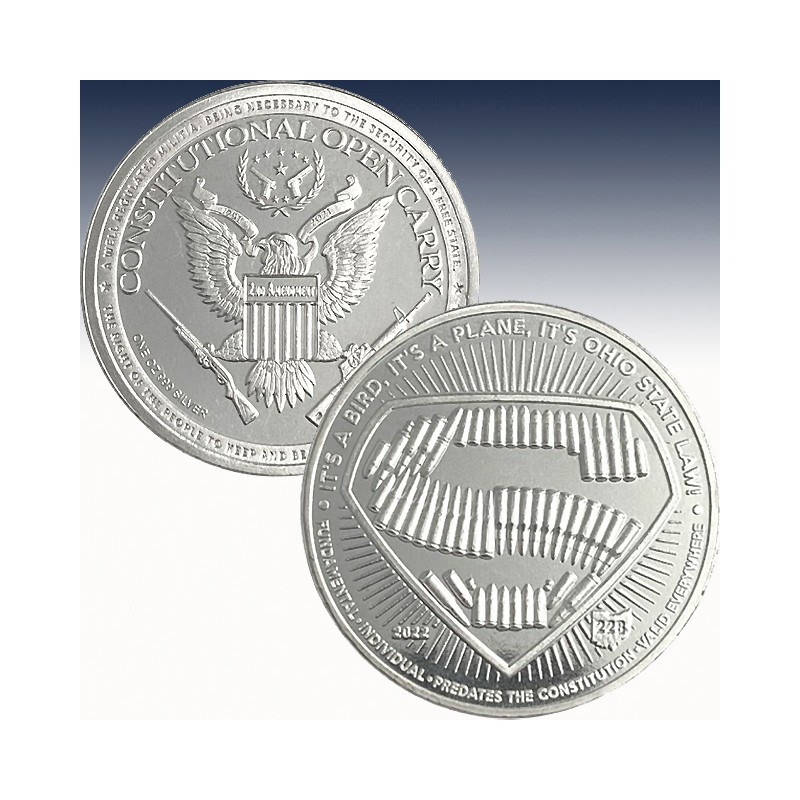 | | | |
| --- | --- | --- |
| Hersteller: |   | Patriot Coins |
| Steuersatz: |   | 19% |
| Erhaltung: |   | Stempelglanz |
| Stückelung: |   | 1 x 1 |
| Material: |   | Silber |
| Feinheit: |   | 999/1000 |
| Feingewicht: |   | 31,103 Gramm |
| Durchmesser: |   | 39,0 mm |
| Auflage: |   | 100.000 Stück |