Gold 1.759,95 Eur
Silber 21,42 Eur
Platin 923,53 Eur
Palladium 1.491,98 Eur
(49) 2935 - 3 390 375
Europaweite Lieferung
Europaweite Lieferung
Gold 1.759,95 Eur
Silber 21,42 Eur
Platin 923,53 Eur
Palladium 1.491,98 Eur
SILBER 15,39 EUR
PLATIN 853,48 EUR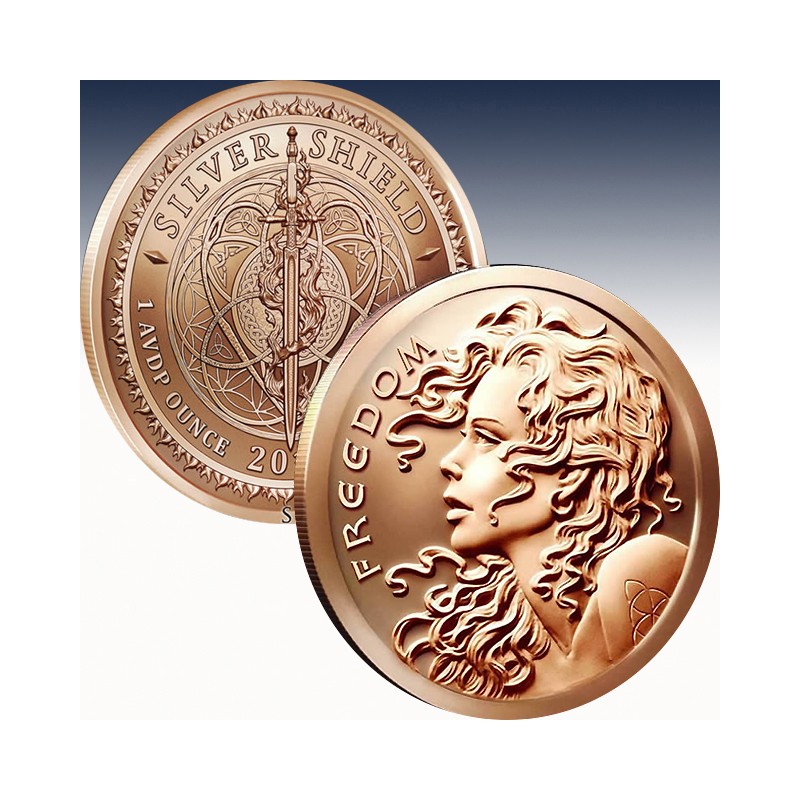  
1 x 1 oz Copper Round "Freedom Girl 2022" -BU-
| | | |
| --- | --- | --- |
| Hersteller: |   | Golden State Mint |
| Steuersatz: |   | 19% |
| Prägung: |   | Stempelglanz |
| Stückelung: |   | 1 x 1 Unze |
| Material: |   | Kupfer |
| Feinheit: |   | 999/1000 |
| Gewicht: |   | 28.349 Gramm |
| Verpackung: |   | zip-Tüte |
| Durchmesser: |   | 39 mm |
1 x 1 Unze (oz) Copper Round "Freedom Girl 2022"
Dies Copper Round ist mit einer der außergewöhnlichen von "Silver Bullet Silver Shield" und dem Design von Heidi Wastweet.
This is a re-release of remarkably popular Freedom Girl Copper Round. It is exactly the same image used on the original. The only difference is instead of the Silver Bullet Bullet Silver Shield logo on the other side it is the new Silver Shield logo.

This coin is created on the basis of the Peace Dollar, which is regarded as one of the most beautiful coins in the world. The Peace Dollar was struck by the US mint after World War One, commemorating the "War to End All Wars" - 34 year old sculptor Anthony de Francisci used his wife Mary Teresa as a model for the coin.
Ausführliche Übersetzung folgt....

Einzigartig in ihrer Art und bereits jetzt schon Kult in den Vereinigten Staaten.
Jede dieser wunderschönen Copperround enthält 999/1000 Feinkupfer und wurde im feinsten "Brilliant uncirculated" geprägt.
Pro Einheit mit 20 Münzen erfolgt die
Lieferung im Original - Münztube!
Technische Daten
Gewicht

KFIXRSZBQ

Material

Kupfer

Jahreszahl

2022

Preis-Addition

4.2
| | | |
| --- | --- | --- |
| Hersteller: |   | Golden State Mint |
| Steuersatz: |   | 19% |
| Prägung: |   | Stempelglanz |
| Stückelung: |   | 1 x 1 Unze |
| Material: |   | Kupfer |
| Feinheit: |   | 999/1000 |
| Gewicht: |   | 28.349 Gramm |
| Verpackung: |   | zip-Tüte |
| Durchmesser: |   | 39 mm |