Gold 1.863,05 Eur
Silber 21,38 Eur
Platin 855,59 Eur
Palladium 879,72 Eur
(49) 2935 - 3 390 375
Europaweite Lieferung
Europaweite Lieferung
Gold 1.863,05 Eur
Silber 21,38 Eur
Platin 855,59 Eur
Palladium 879,72 Eur
SILBER 15,39 EUR
PLATIN 853,48 EUR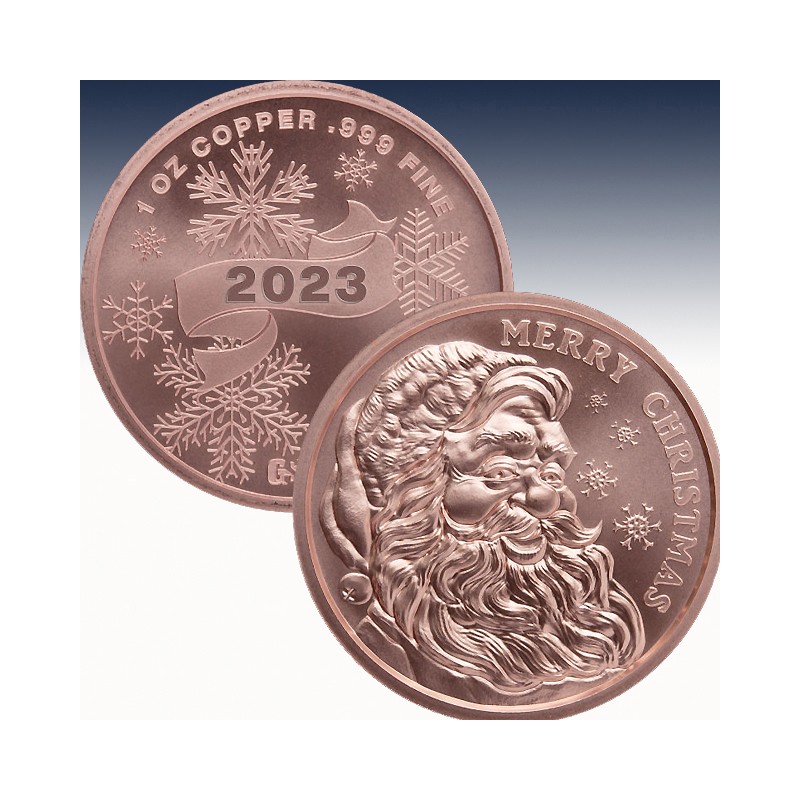  
1 x 1 oz Copper Round "Merry Christmas Santa 2023" -BU-
| | | |
| --- | --- | --- |
| Herkunft: |   | Golden State Mint |
| Steuersatz: |   | 19% |
| Prägung: |   | Stempelglanz |
| Stückelung: |   | 1 Unze |
| Material: |   | Kupfer |
| Feinheit: |   | 999/1000 |
| Gewicht: |   | 31,103 Gramm |
| Verpackung: |   | zip-Tüte |
| Durchmesser: |   | 39 mm |
1 x 1 Unze (oz) Copper Round Golden State Mint "Merry Christmas Santa 2023"
Schnee fällt. Die Luft ist kalt. Die Weihnachtsszeit ist da und mit ihm starten neue sehr schön gestaltete und exquisit gravierte Feinsilber-Münzen mit einem selektiven farbigen Abschnitt, um den Glanz dieser Zeit der Feste zu verschönern.

Mit der Weihnachtszeit kommt wieder eine besondere Zeit für wunderschöne Geschenkideen.
Einzigartig in ihrer Art und bereits jetzt schon ein Kult in den Vereinigten Staaten.


For a gift, stocking stuffer or just treating yourself, celebrate Christmas with Golden State Mint with this original and classic design.
Merry Christmas Santa BU 1 oz Copper round .999 Fine.
Jede dieser wunderschönen Copper Round enthält 999/1000 Feinkupfer und wurde im wunderschönem Brilliant uncirculated geprägt.
Technische Daten
Gewicht

KFIXRSZBQ

Material

Kupfer

Jahreszahl

2023

Preisaktualisierer

Inaktiv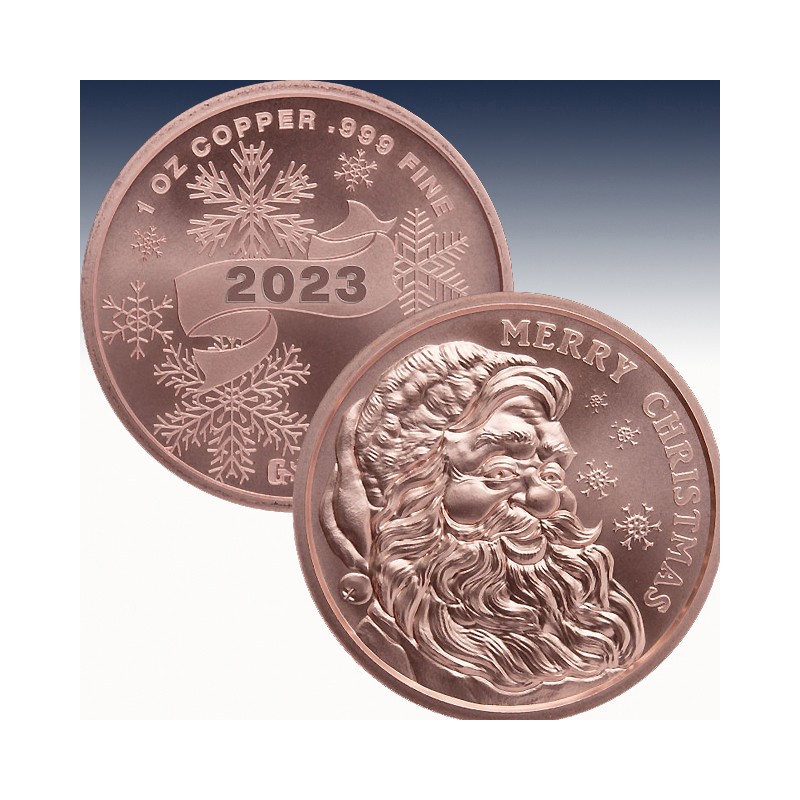 | | | |
| --- | --- | --- |
| Herkunft: |   | Golden State Mint |
| Steuersatz: |   | 19% |
| Prägung: |   | Stempelglanz |
| Stückelung: |   | 1 Unze |
| Material: |   | Kupfer |
| Feinheit: |   | 999/1000 |
| Gewicht: |   | 31,103 Gramm |
| Verpackung: |   | zip-Tüte |
| Durchmesser: |   | 39 mm |