Gold 1.748,00 Eur
Silber 20,61 Eur
Platin 907,24 Eur
Palladium 1.864,50 Eur
(49) 2935 - 3 390 375
Europaweite Lieferung
Europaweite Lieferung
Gold 1.748,00 Eur
Silber 20,61 Eur
Platin 907,24 Eur
Palladium 1.864,50 Eur
SILBER 15,39 EUR
PLATIN 853,48 EUR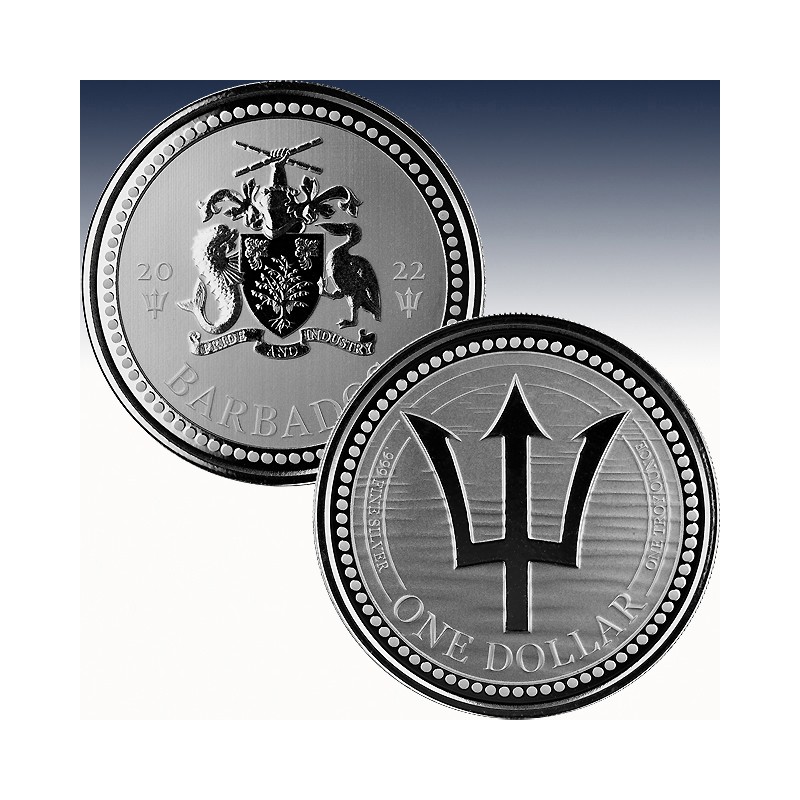  
1 x 1 oz Silbermünze 1$ Barbados "Trident 2022" -PL- *
| | | |
| --- | --- | --- |
| Herkunftsland: |   | Barbados |
| Nennwert: |   | 1$ |
| Prägung: |   | Spiegelglanz |
| Stückelung: |   | 1 x 1 Unze |
| Material: |   | Silber |
| Feinheit: |   | 999/1000 |
| Gewicht: |   | 31,103 gramm |
| Durchmesser: |   |  40,60 mm |
| Auflage: |   | 30.000 Stück |
1 x 1 Unze (oz) Silbermünze 1$ Barbados "Trident 2022"
 (diff.besteuert nach §25a UStG)
Diese Sammlermünze wird als 31,103 gramm herausgegeben und besteht aus 999/1000 Feinsilber!
Sie hat einen Durchmesser von 40,60 mm.
Auch diese Silbermünze gilt als gesetzliches Zahlungsmittel in ihren Herausgeberland Barbados.
Die Spiegelglanz Prägung sorgt für ein besonders detailreiches und schön anmutendes Motiv.
The Trident, a symbol of strength and power, draws its roots from the mythical Roman God of Freshwater and the Sea, Neptune.  However, the Trident that serves as the national pride of Barbados and that is found on the Barbados national flag differs from Neptune's Trident in that the shaft of the Barbadian Trident is broken, symbolizing Barbados' historical break and eventual independence from the United Kingdom in 1966.

In this, the inaugural year of an annual program brought to you by Scottsdale Mint, the complete mintage of the 1 oz Barbados Trident Silver Coin (2017) is limited to only 30,000 pieces.
Technische Daten
Gewicht

31.103

Material

Silber

Jahreszahl

2022

Preis-Addition

8.4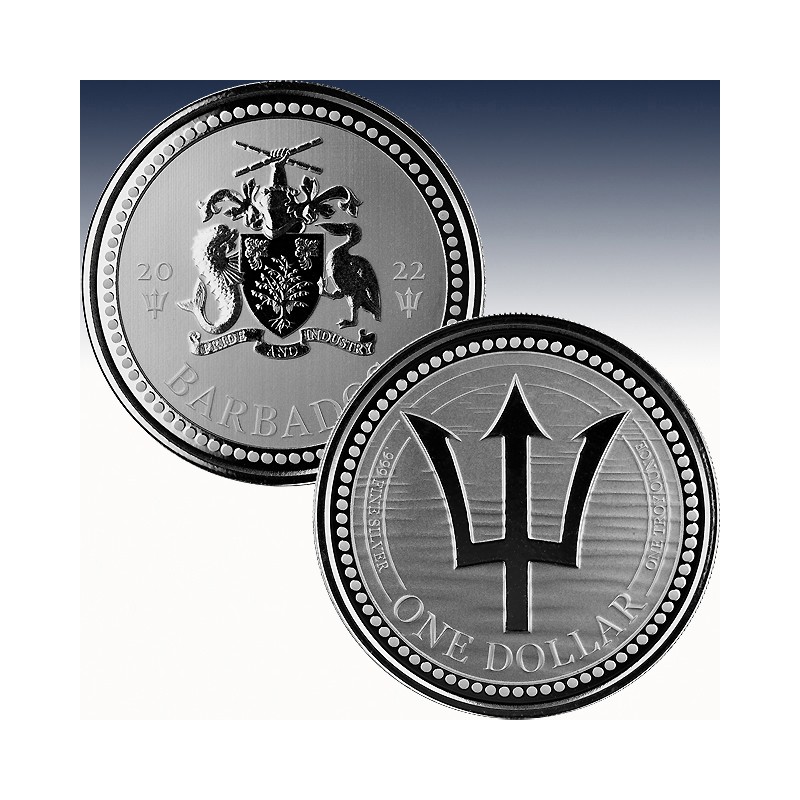 | | | |
| --- | --- | --- |
| Herkunftsland: |   | Barbados |
| Nennwert: |   | 1$ |
| Prägung: |   | Spiegelglanz |
| Stückelung: |   | 1 x 1 Unze |
| Material: |   | Silber |
| Feinheit: |   | 999/1000 |
| Gewicht: |   | 31,103 gramm |
| Durchmesser: |   |  40,60 mm |
| Auflage: |   | 30.000 Stück |