Gold 1.863,05 Eur
Silber 21,38 Eur
Platin 855,59 Eur
Palladium 879,72 Eur
(49) 2935 - 3 390 375
Europaweite Lieferung
Europaweite Lieferung
Gold 1.863,05 Eur
Silber 21,38 Eur
Platin 855,59 Eur
Palladium 879,72 Eur
SILBER 15,39 EUR
PLATIN 853,48 EUR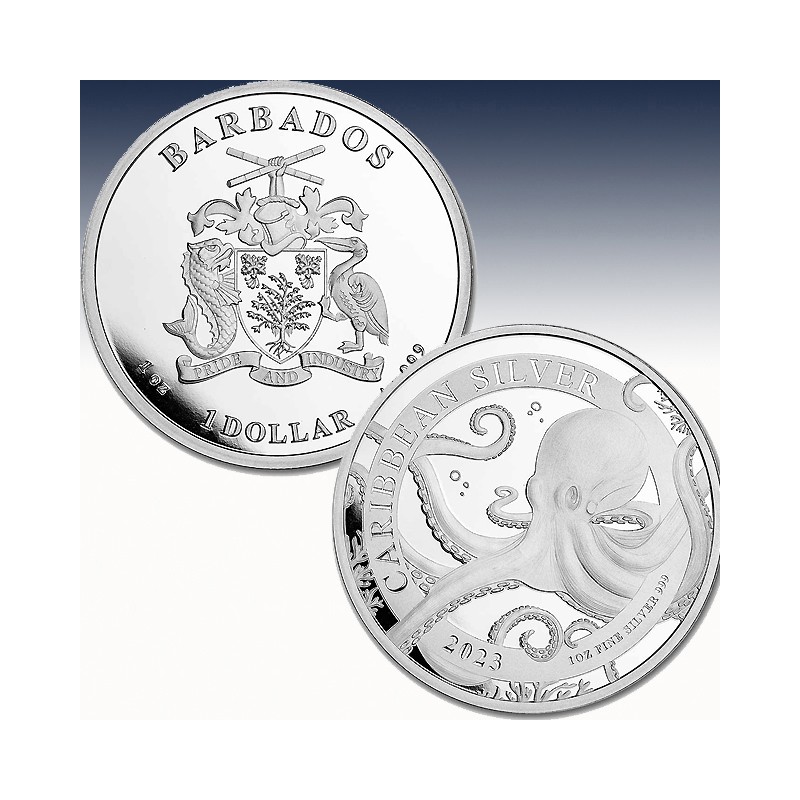  
1 x 1 oz Silbermünze 1$ Barbados "Caribbean Octopus 2023" -BU-*
| | | |
| --- | --- | --- |
| Herkunftsland: |   | Barbados |
| Nennwert: |   | 1$ |
| Prägung: |   | Stempelglanz |
| Stückelung: |   | 1 x 1 Unze |
| Material: |   | Silber |
| Feinheit: |   | 999/1000 |
| Gewicht: |   | 31,103 gramm |
| Durchmesser: |   |  38,60 mm |
| Auflage: |   | 7.500 Stück |
1 x 1 Unze (oz) Silbermünze 1$ Barbados
"Caribbean Octopus 2023"
This Series has a limited mintage of 7,000 coins. This bullion silver coin, issued by the country of Barbados, is the newest design in the Caribbean series.

Coin Highlights:
Contains 1 oz of .999 fine silver.
Mintage of 7,000.
Multiples of 20 coins in heat sealed rolls. All other coins will be in protective capsules.
Obverse: Displays the Barbados coat of arms along with the face value and purity. The golden shield of the arms carries two Pride of Barbados flowers (the national flower) and the bearded fig tree (ficus Citrifolia). On either side of the shield are the supporters – on the right is a dolphin, symbolic of the fishing industry, and on the left is a pelican, after Pelican Island, a small outcrop later incorporated into the Deep Water Harbour development. Above the shield is a helmet and mantling and on a wreath is the arm and hand of a Bajan holding two crossed pieces of sugar cane symbolic of the sugar industry. The coat of arms carries the motto "Pride and Industry."
Reverse: Features an image of a an octopus with some of its tentacles wrapped around the circle of the design. Surrounding the octopus are images of the plants. The name of the coin, purity and year of issue is also on the reverse.
Sovereign coin backed by the Barbados government.

On each of the octopus' legs, tentacles are suction cups which help the animal attach itself to surfaces. An octopus releases black ink when threatened by predators.
Barbados Caribbean Series
This is the third design in the Caribbean silver series which has included the seahorse, pelican and now the octopus. Each year a new design has been minted. This silver bullion program has become popular not only with bullion buyers, but also collectors. All previous coins in this program have sold out and are difficult to find in the market.
Technische Daten
Gewicht

31.103

Material

Silber

Jahreszahl

2023

Preis-Addition

8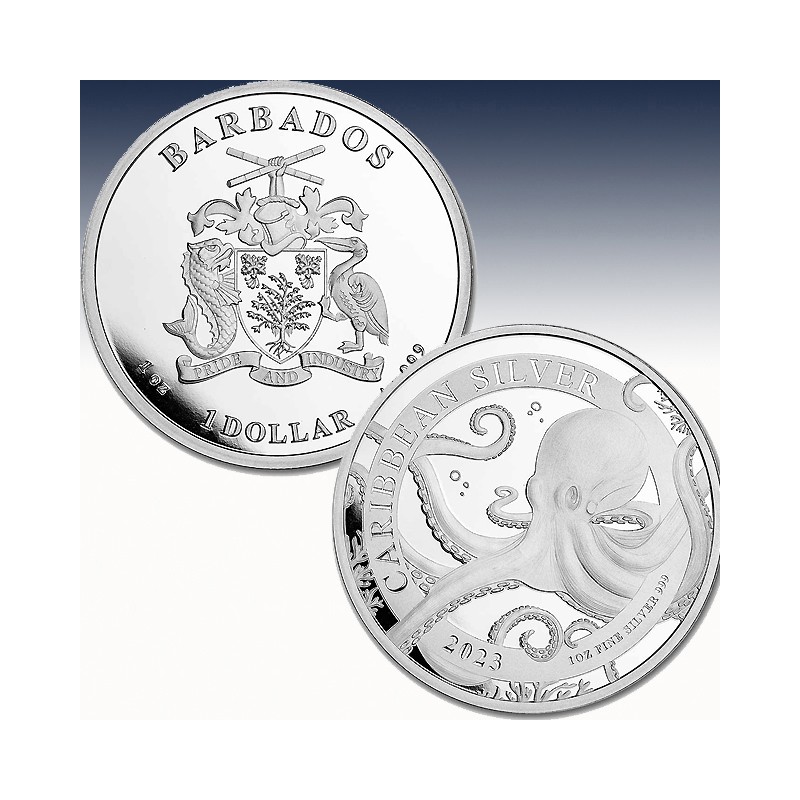 | | | |
| --- | --- | --- |
| Herkunftsland: |   | Barbados |
| Nennwert: |   | 1$ |
| Prägung: |   | Stempelglanz |
| Stückelung: |   | 1 x 1 Unze |
| Material: |   | Silber |
| Feinheit: |   | 999/1000 |
| Gewicht: |   | 31,103 gramm |
| Durchmesser: |   |  38,60 mm |
| Auflage: |   | 7.500 Stück |