Gold 1.737,15 Eur
Silber 20,30 Eur
Platin 865,85 Eur
Palladium 1.827,00 Eur
(49) 2935 - 3 390 375
Europaweite Lieferung
Europaweite Lieferung
Gold 1.737,15 Eur
Silber 20,30 Eur
Platin 865,85 Eur
Palladium 1.827,00 Eur
SILBER 15,39 EUR
PLATIN 853,48 EUR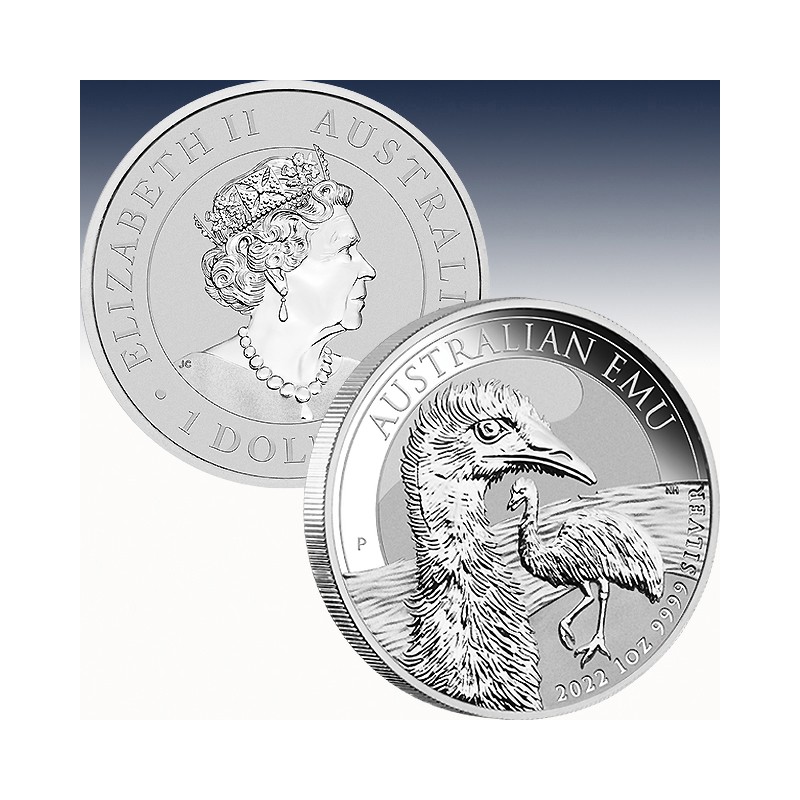  
1 x 1 oz Silber 1$ Australien "Emu 2022" -BU-*
| | | |
| --- | --- | --- |
| Hersteller: |   | Perth Mint |
| Nennwert: |   | 1 AUD |
| Prägung: |   | Stempelglanz |
| Stückelung: |   | 1 x 1 Unze |
| Material: |   | Silber |
| Feinheit: |   | 999/1000 |
| Gewicht: |   | 31,135 Gramm |
| Durchmesser: |   | 40,60mm |
| Auflage: |   |  30.000 Stück |
1 x 1 Unze (oz) Silber 1$ Australien "5# Emu 2022"
(diff.besteuert nach §25a UStG)
Der australische Emu ist ein großer flugunfähiger Vogel, der große Distanzen überwinden kann. Obwohl Emus Federn haben, können sie nicht fliegen, weil ihre Flügel zu klein sind. Emus kommt in Australien in fast allen Lebensräumen vor und ernährt sich hauptsächlich von Grasblüten, Samen und Insekten. Der Emu ist der zweitgrößte lebende Vogel in der Höhe, nach dem Strauß.
Coin Highlights:
Contains 1 oz of .9999 fine Silver.
Packaged individually in a plastic capsule. Multiples of 20 come in sealed rolls. Multiples of 100 are packaged in a sealed box.
Limited mintage of 30,000 coins.
Obverse: Bears the Jody Clark likeness of Her Majesty Queen Elizabeth II, the face value, year-date, weight, and fineness.
Reverse: Depicts two Australian Emus on a landscape of foliage, trees, and grass. The design also includes the description "Australian Emu", The Perth Mint's "P" mintmark, the year date, weight, and purity.
Sovereign coin backed by the Australian government.

The Australian Emu is a large flightless bird that can trot great distances. Although emus have feathers, they cannot fly because their wings are too small. Emus are found throughout Australia in almost all habitat types and they feed mainly on grass flowers, seeds, and insects. The emu is the second-largest living bird by height, after the Ostrich.
Diese eindrucksvolle  Stempelglanz Prägung sorgt zusammen mit den Farbapplikationen für ein besonders  detailreiches und schön anmutendes Motiv.
Technische Daten
Gewicht

31.103

Material

Silber

Jahreszahl

2022

Preis-Addition

12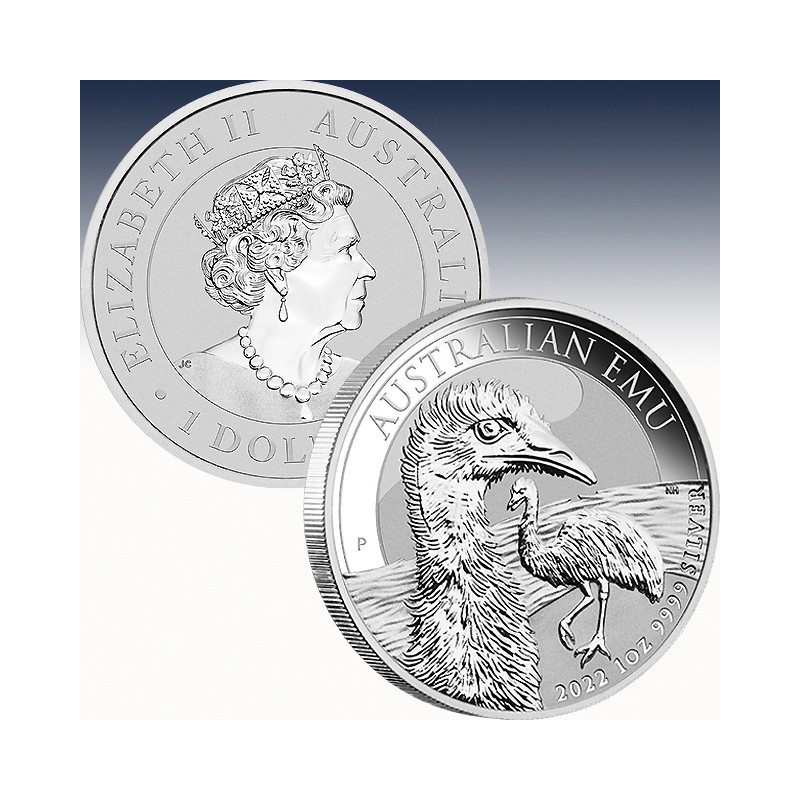 | | | |
| --- | --- | --- |
| Hersteller: |   | Perth Mint |
| Nennwert: |   | 1 AUD |
| Prägung: |   | Stempelglanz |
| Stückelung: |   | 1 x 1 Unze |
| Material: |   | Silber |
| Feinheit: |   | 999/1000 |
| Gewicht: |   | 31,135 Gramm |
| Durchmesser: |   | 40,60mm |
| Auflage: |   |  30.000 Stück |