Gold 1.863,05 Eur
Silber 21,38 Eur
Platin 855,59 Eur
Palladium 879,72 Eur
(49) 2935 - 3 390 375
Europaweite Lieferung
Europaweite Lieferung
Gold 1.863,05 Eur
Silber 21,38 Eur
Platin 855,59 Eur
Palladium 879,72 Eur
SILBER 15,39 EUR
PLATIN 853,48 EUR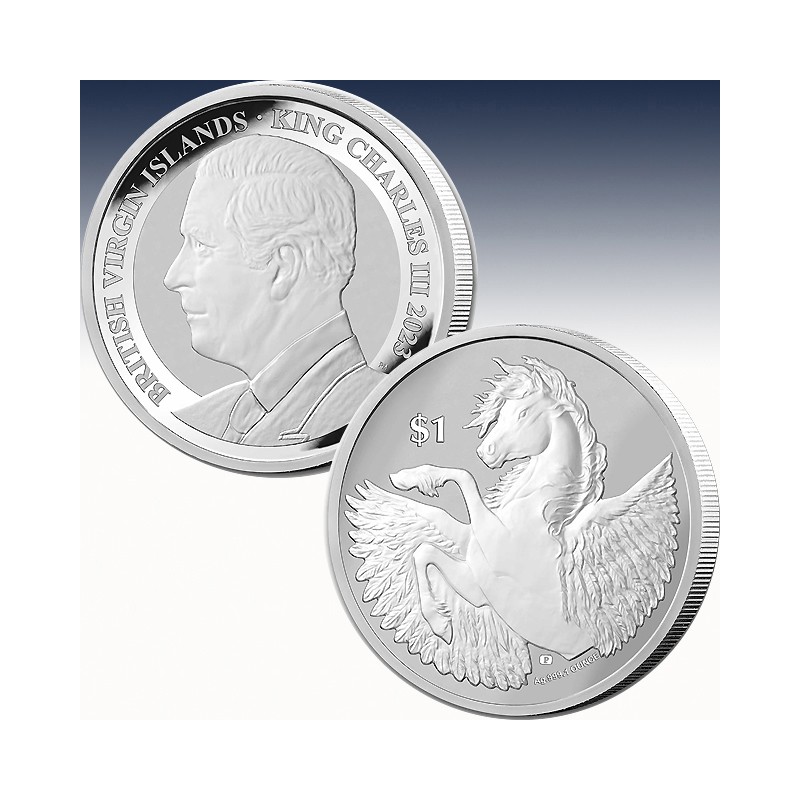  
1 x 1oz Silbermünze 1$ British Virgin Islands "Pegasus Reverse Cameo 2023" -BU-*
| | | |
| --- | --- | --- |
| Hersteller: |   | Pobjoy Mint |
| Nennwert: |   | 1$ |
| Prägung: |   | Reverse Proof |
| Stückelung: |   | 1 x 1 Unze |
| Material: |   | Silber |
| Feinheit: |   | 999/1000 |
| Gewicht: |   | 31,10 g |
| Verpackung: |   | gekapselt |
| Durchmesser: |   | 38,6x3,0mm |
| Auflage: |   | 10.000 Stück |
1 x 1 Unze (oz) Silbermünze 1$ British Virgin Islands "Pegasus 2023"
The sixth release in the popular Pegasus bullion coin series comes with an extremely limited mintage of only 10,000 coins worldwide and features Pegasus, the mythical horse, along with a revamped finish.

Coin Highlights:
Contains 1 oz of .999 fine Silver.
Limited mintage of 10,000 coins worldwide.
With an enhanced Reverse Frosted Cameo finish.
Coin comes in protective packaging.
Sixth release in the Pegasus series from Pobjoy Mint.
Obverse: Depicts an effigy of His Majesty King Charles III.
Reverse: Features Pegasus, the mythical horse, rearing up with his wings spread.
Sovereign coin backed by the British Virgin Islands government.

Greek Mythology
Pegasus is one of the best-known creatures in Greek mythology. This winged horse is usually depicted as white in color and was always considered a good-hearted and gentle animal. Throughout his life, Pegasus remained a mysterious creature that symbolized divine inspiration or the journey to heaven. As a reward for his service and loyalty, Zeus honored him with a special immortality, turning him into a constellation on the last day of his life.

The story of Pegasus begins when Perseus is sent to kill one of the three Gorgons, Medusa who had writhing snakes instead of hair. It was said that anyone unfortunate enough to gaze on her face would turn to stone. The God Hermes and the Goddess Athena came to aid Perseus with special gifts, including a shield which Perseus used as a mirror so he did not look directly at Medusa. When Perseus beheaded Medusa it is said that Pegasus was born from the blood of the Gorgon. Many wanted to capture Pegasus but no one could work out how to tame such a magnificent creature.
Technische Daten
Gewicht

31.103

Material

Silber

Jahreszahl

2023

Preis-Addition

8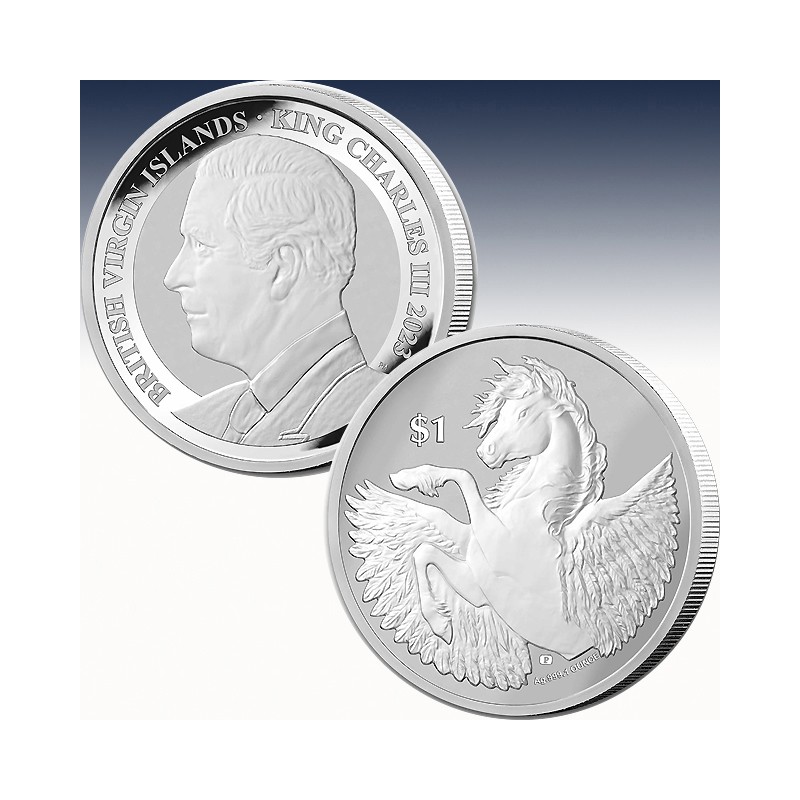 | | | |
| --- | --- | --- |
| Hersteller: |   | Pobjoy Mint |
| Nennwert: |   | 1$ |
| Prägung: |   | Reverse Proof |
| Stückelung: |   | 1 x 1 Unze |
| Material: |   | Silber |
| Feinheit: |   | 999/1000 |
| Gewicht: |   | 31,10 g |
| Verpackung: |   | gekapselt |
| Durchmesser: |   | 38,6x3,0mm |
| Auflage: |   | 10.000 Stück |