Gold 1.863,05 Eur
Silber 21,38 Eur
Platin 855,59 Eur
Palladium 879,72 Eur
(49) 2935 - 3 390 375
Europaweite Lieferung
Europaweite Lieferung
Gold 1.863,05 Eur
Silber 21,38 Eur
Platin 855,59 Eur
Palladium 879,72 Eur
SILBER 15,39 EUR
PLATIN 853,48 EUR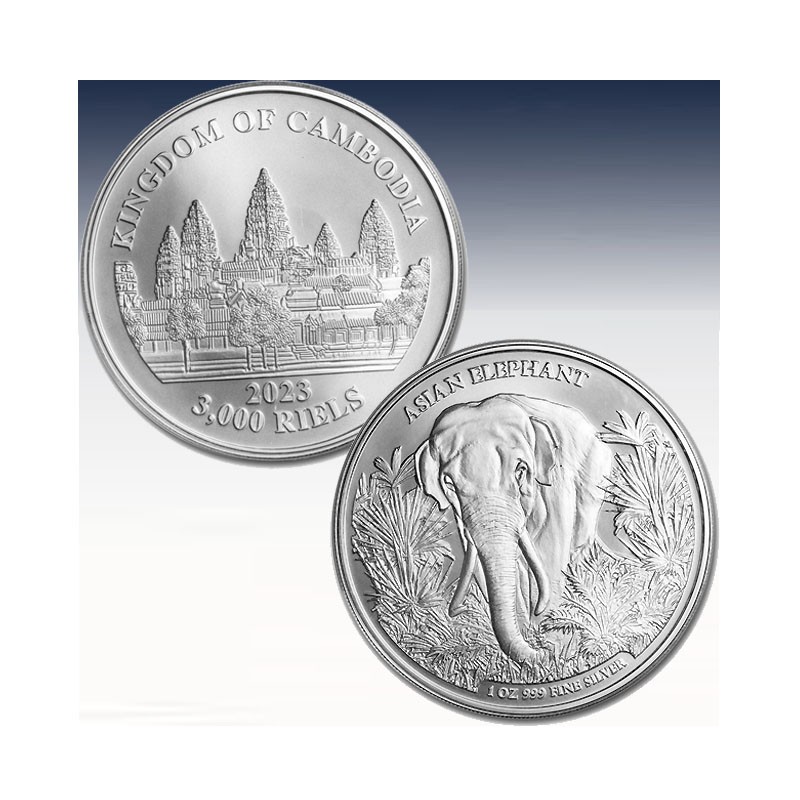  
1 x 1 Oz Silbermünze 3000 KHR Kambodscha "Asian Elephant 2023" -BU-*
| | | |
| --- | --- | --- |
| Herkunft: |   | Kambodscha |
| Nennwert: |   | 3000 KHR |
| Prägung: |   | Stempelglanz |
| Stückelung: |   | 1 x 1 Unze |
| Material: |   | Silber |
| Feinheit: |   | 999,9/1000 |
| Gewicht: |   | 31,103 |
| Verpackung: |   | gekapselt |
| Durchmesser: |   | 40,70x3.05 mm |
| Auflage: |   | 10.000 Stück |
1 x 1 Unze (oz) Silbermünze 3000 KHR Kambodscha
"Asiatischer Elefant 2023"
The first release of the Asia Big Five series features the Asian Elephant in this 1 Oz Silver bullion coin. This release has a limited mintage of 10,000 coins.

Coin Highlights:
Contains 1 oz of .999 fine Silver.
Limited mintage of 10,000 coins.
First release in the Asia Big Five series.
Coins come in protective capsule.
Obverse: Displays the Angkor Wat with "Kingdom of Cambodia," which is located in northwest Cambodia and is the largest religious structure in the form of a temple complex in the world by land area. Also included is the year of issue and legal tender denomination.
Reverse: Features the Asian elephant in a Cambodia forest.
Asia Big Five Series
The Asia Big Five Series features the animals that are endangered in Cambodia, primarily due to poachers. The largest population of Asian elephants live in the eastern plains landscape of Mondulkiri province in Cambodia. Female Asian elephants do not have tusks, making them less vulnerable to ivory poachers.
Technische Daten
Gewicht

31.103

Material

Silber

Jahreszahl

2023

Preis-Addition

9.5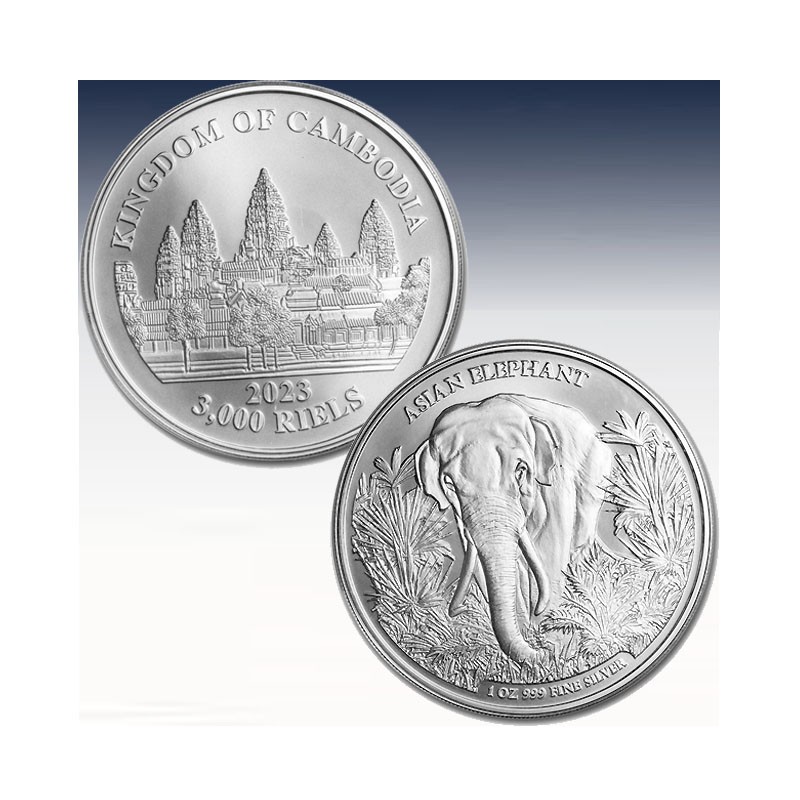 | | | |
| --- | --- | --- |
| Herkunft: |   | Kambodscha |
| Nennwert: |   | 3000 KHR |
| Prägung: |   | Stempelglanz |
| Stückelung: |   | 1 x 1 Unze |
| Material: |   | Silber |
| Feinheit: |   | 999,9/1000 |
| Gewicht: |   | 31,103 |
| Verpackung: |   | gekapselt |
| Durchmesser: |   | 40,70x3.05 mm |
| Auflage: |   | 10.000 Stück |