Gold 1.857,93 Eur
Silber 21,58 Eur
Platin 905,80 Eur
Palladium 1.313,71 Eur
(49) 2935 - 3 390 375
Europaweite Lieferung
Europaweite Lieferung
Gold 1.857,93 Eur
Silber 21,58 Eur
Platin 905,80 Eur
Palladium 1.313,71 Eur
SILBER 15,39 EUR
PLATIN 853,48 EUR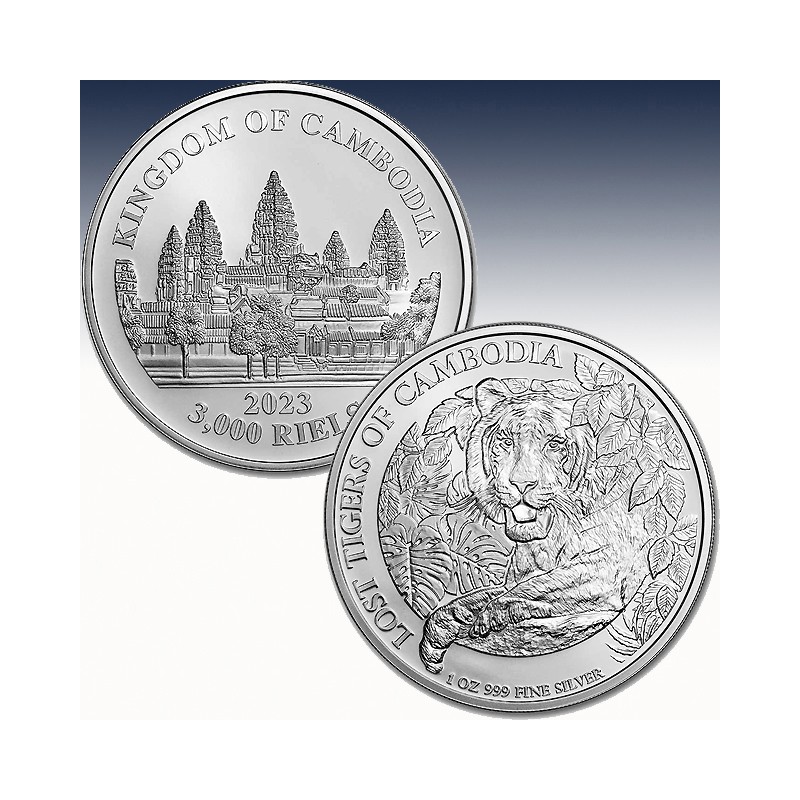  
1 x 1 Oz Silbermünze 3000 KHR Kambodscha "Lost Tigers 2023" -BU-*
| | | |
| --- | --- | --- |
| Herkunft: |   | Kambodscha |
| Nennwert: |   | 3000 KHR |
| Prägung: |   | Stempelglanz |
| Stückelung: |   | 1 x 1 Unze |
| Material: |   | Silber |
| Feinheit: |   | 999,9/1000 |
| Gewicht: |   | 31,103 |
| Verpackung: |   | gekapselt |
| Durchmesser: |   | 40,70x3.05 mm |
| Auflage: |   | 10.000 Stück |
1 x 1 Oz Silbermünze 3000 KHR Kambodscha "Lost Tigers 2023"
The second release of the Lost Tigers of Cambodia continues with this 1 oz Silver Bullion coin. This release has a limited mintage of 10,000 coins.

Coin Highlights:
Contains 1 oz of .999 fine Silver.
Limited mintage of 10,000 coins.
Second in the Lost Tigers of Cambodia series.
Coins come in protective capsule.
Obverse: Displays the Angkor Wat with "Kingdom of Cambodia", located in northwest Cambodia and is the largest religious structure in the form of a temple complex in the world by land area. Also includes the year of issue and legal tender denomination.
Reverse: Features the Indo-Chinese tiger surrounded by foliage. This design portrays the scenery of a tiger living in Cambodia, like they did years ago.

Lost Tigers of Cambodia Series
The Lost Tigers of Cambodia Series is the first bullion release on Cambodia Legal Tender. This is the second release in the series. These endangered tigers live in Southeast Asia, and live in tropical climate in rainforests as well as on grasslands and in the mountains. It is believed that there are only around 350 Indo-Chinese tigers left in the world. Cambodia is the first country to acknowledge the possible extinction of these tigers in 2017 and to work on helping their recovery.
Technische Daten
Gewicht

31.103

Material

Silber

Jahreszahl

2023

Preis-Addition

9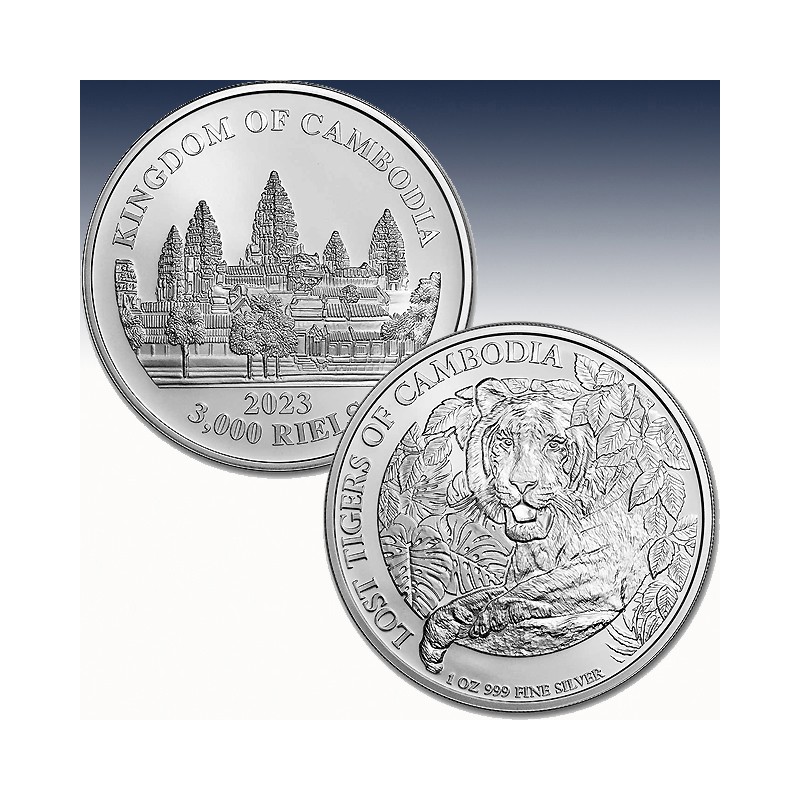 | | | |
| --- | --- | --- |
| Herkunft: |   | Kambodscha |
| Nennwert: |   | 3000 KHR |
| Prägung: |   | Stempelglanz |
| Stückelung: |   | 1 x 1 Unze |
| Material: |   | Silber |
| Feinheit: |   | 999,9/1000 |
| Gewicht: |   | 31,103 |
| Verpackung: |   | gekapselt |
| Durchmesser: |   | 40,70x3.05 mm |
| Auflage: |   | 10.000 Stück |