Gold 1.817,06 Eur
Silber 22,02 Eur
Platin 955,71 Eur
Palladium 1.299,30 Eur
(49) 2935 - 3 390 375
Europaweite Lieferung
Europaweite Lieferung
Gold 1.817,06 Eur
Silber 22,02 Eur
Platin 955,71 Eur
Palladium 1.299,30 Eur
SILBER 15,39 EUR
PLATIN 853,48 EUR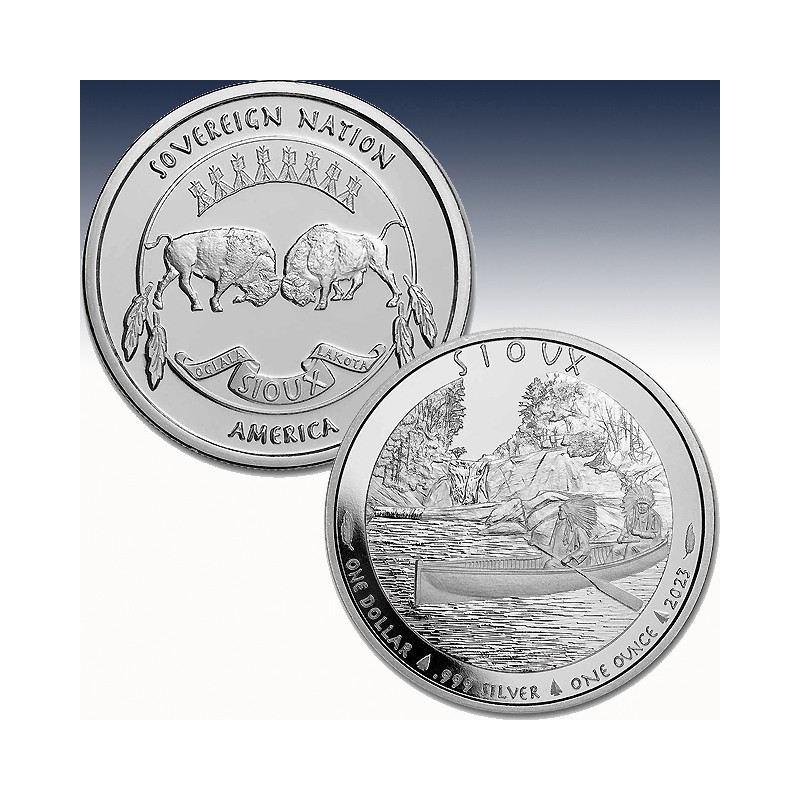  
1 x 1 Oz Silbermünze $1 USA "Sioux Indian Chief Canoe 2023" -BU-*
| | | |
| --- | --- | --- |
| Herkunft: |   | USA |
| Nennwert: |   | 1 $ |
| Prägung: |   | Stempelglanz |
| Stückelung: |   | 1 x 1 Unze |
| Material: |   | Silber |
| Feinheit: |   | 999/1000 |
| Gewicht: |   | 31,103 Gramm |
| Verpackung: |   | Kapsel |
| Durchmesser: |   | 39 mm |
1 x 1 Unze (oz) 1 Oz Silver Coin $1 USA
"4# Sioux Indian Chief Canoe 2023"
(diff.besteuert nach §25a UStG)
This Native American Mint 1 oz Silver BU features two Sioux chiefs paddling in a canoe.
This coin is authorized by the Oglala Sioux Tribe, which is the largest of the Sioux nations and is located at Pine Ridge, South Dakota.
This is the sixth coin in the Sioux Buffalo series.

Coin Highlights:

Contains 1 oz of .999 fine Silver.
Each coin comes in an individual capsule. Multiples of 20 come encapsulated in shrink-wrapped rolls.
Obverse: A beautiful depiction of two Sioux chiefs paddling in a canoe near what is now called Elk Park Falls in Elk Park, North Carolina. Both are outfitted with large headdresses.
Reverse: Depicts a 19th century Indian war shield. On the shield are two buffaloes colliding in combat as well as a tepee and banner with the name of the tribe. The eight tepees represent the districts of the Oglala Sioux reservation.
These are non-circulating, legally authorized coins by a federally recognized sovereign nation, but are not legal tender.
Royalties from the sale of these coins assist Native American charities and raise tribal awareness.


Sioux Bullion Series
The Great Sioux Nation consists of groups of Native American tribes and First Nations peoples in North America. The tribes are comprised mostly of the two language groups, the Lakota and Dakota, which means "the allies."The Native American Mint Silver coin series Inception of this popular series began in 2015, and it continues to offer exclusive Sioux designs representing the tribes with great dignity and honor while also pairing with top notch quality. This Native American coin series is expected to be an annual release.

History of Elk Park, North Carolina
Centuries ago, Native American tribes were spread throughout the native land of the Americas. Before any white man set foot on this land, it was settled by the forefathers of tribes such as the Sioux. Elk Park Falls (also known as Big Falls) is part of the Elk River in the Pisgah National Forest. This is one of the most beautiful waterfalls in North Carolina and this area of the state is known to have been Sioux land centuries ago.
Technische Daten
Gewicht

31.103

Material

Silber

Jahreszahl

2023

Preis-Addition

12.75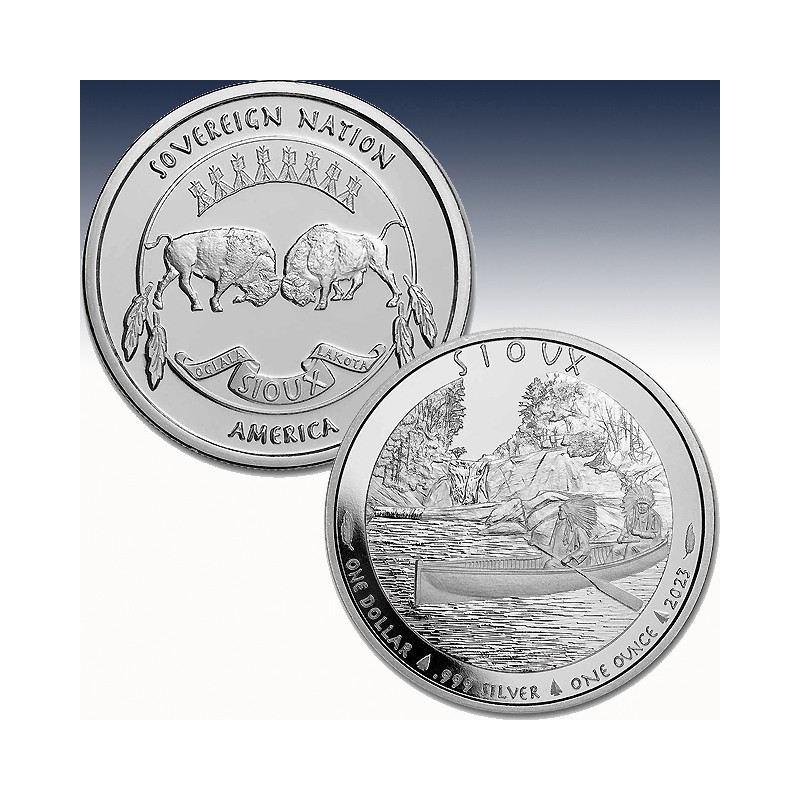 | | | |
| --- | --- | --- |
| Herkunft: |   | USA |
| Nennwert: |   | 1 $ |
| Prägung: |   | Stempelglanz |
| Stückelung: |   | 1 x 1 Unze |
| Material: |   | Silber |
| Feinheit: |   | 999/1000 |
| Gewicht: |   | 31,103 Gramm |
| Verpackung: |   | Kapsel |
| Durchmesser: |   | 39 mm |