Gold 1.481,15 Eur
Silber 21,77 Eur
Platin 1.027,97 Eur
Palladium 2.391,86 Eur
(49) 2935 - 3 390 375
Europaweite Lieferung
Europaweite Lieferung
Gold 1.481,15 Eur
Silber 21,77 Eur
Platin 1.027,97 Eur
Palladium 2.391,86 Eur
SILBER 15,39 EUR
PLATIN 853,48 EUR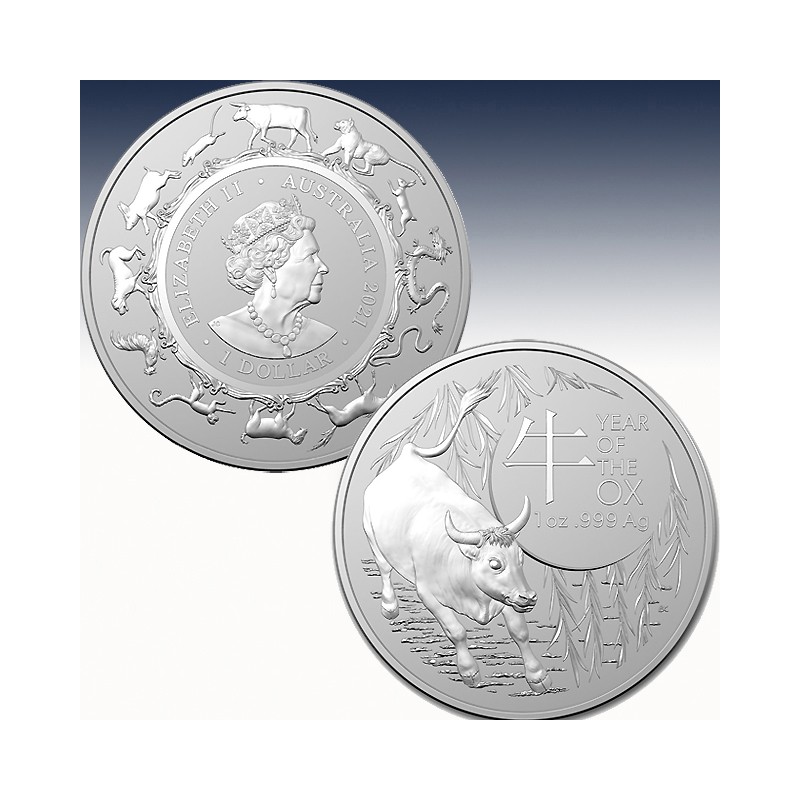  
1 x 1 Oz Silber 1$ Australien RAM "Year of the Ox 2021" -BU-*
| | | |
| --- | --- | --- |
| Hersteller: |   | Royal Australian Mint |
| Nennwert: |   | 1 AUD |
| Prägung: |   | Stempelglanz |
| Stückelung: |   | 1 x 1 Unze |
| Material: |   | Silber |
| Feinheit: |   | 999/1000 |
| Gewicht: |   | 31,103 Gramm |
| Durchmesser: |   | 40,00 |
| Auflage: |   | 50.000 Stück |
1 x 1 Unze (oz) Silber 1$ Australien "Jahr des Ochsen 2021"
 (diff.besteuert nach §25a UStG)
Die neue Lunar Serie wurde von der Royal Australien Mint geprägt und ist dem Jahr der Ratte 2020 gewidmet.
Die Ratte war das erste von insgesamt 12 Tieren im chinesischen Tierkreiszeichenkalender.
Das Motiv zeigt in 2021 den Ochsen vor einem Lychee-Zweig sowie das chinesische Schriftzeichen für "Ox".
Die Rückseite zeigt das Mondkalender-Rad mit allen 12 Tieren und in der Mitte das Jody-Clark-Porträt Ihrer Majestät Königin Elizabeth II.
Royal Australian Mint has released a new Lunar coin for 2021, celebrating the Lunar Year of the Ox. There is a limited mintage of 50,000 only, and each coin comes in an individual capsule.

Coin Highlights:
Limited mintage of 50,000 coins.
Contains 1 oz of .999 fine Silver.
Each coin comes in an individual capsule, and multiples of 10 are shrink-wrapped.
Obverse: Features the lunar calendar wheel, with the ox at the top of the wheel, and the Jody Clark effigy of Her Majesty Queen Elizabeth II.
Reverse: Features the ox, surrounded by willow branches. Also included is the title "Year of the Ox", along with the metal content and purity.

The Royal Australian Mint has released their second release of a Silver investment bullion coin for the Lunar series, celebrating the start of the new Lunar calendar with the 2021 Year of the Ox. Add this magnificent 2021 1 oz Silver Lunar Year of the Ox BU coin to your cart today!

Lunar Year of the Ox
The ox is the second sign of the twelve-year lunar calendar. People born under this sign are known for being patient and humble. The traditional story of the zodiac race also describes the Ox's patient nature. According to legend, the Jade Emperor invited animals to race across a swift river, to determine their position in the zodiac. Though the ox was likely to win, the clever Rat hitched a ride with the ox, jumping into first place. With this, the ox became the second in the zodiac.
Die Lieferung mit einer limitierten Auflage über 50.000 Exemplare erfolgt in einer Kapsel.
Technische Daten
Gewicht

31.103

Material

Silber

Jahreszahl

2021

Preis-Addition

7.8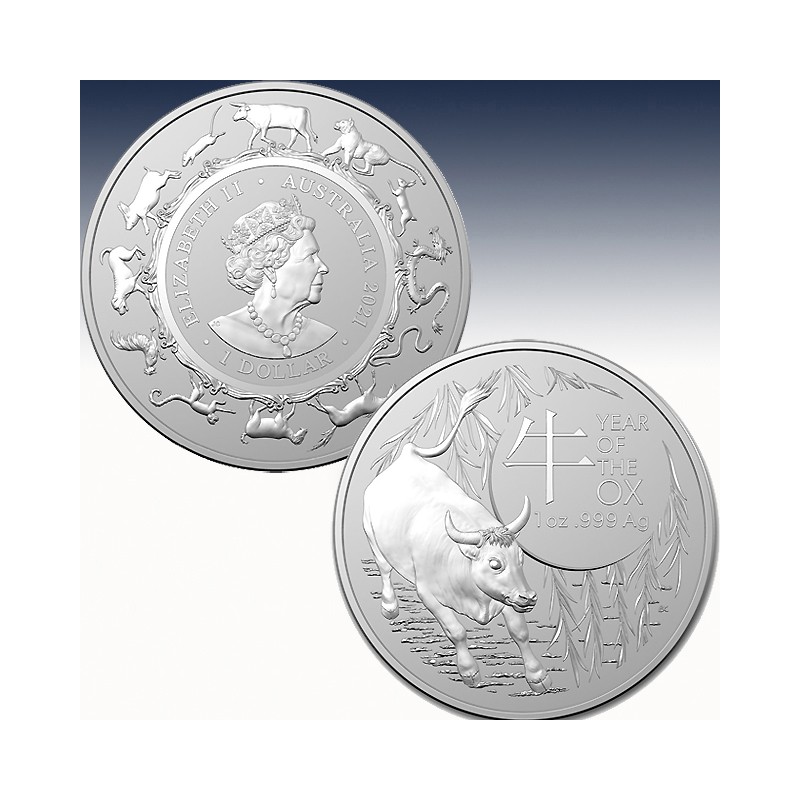 | | | |
| --- | --- | --- |
| Hersteller: |   | Royal Australian Mint |
| Nennwert: |   | 1 AUD |
| Prägung: |   | Stempelglanz |
| Stückelung: |   | 1 x 1 Unze |
| Material: |   | Silber |
| Feinheit: |   | 999/1000 |
| Gewicht: |   | 31,103 Gramm |
| Durchmesser: |   | 40,00 |
| Auflage: |   | 50.000 Stück |