Gold 1.759,19 Eur
Silber 21,35 Eur
Platin 923,01 Eur
Palladium 1.487,39 Eur
(49) 2935 - 3 390 375
Europaweite Lieferung
Europaweite Lieferung
Gold 1.759,19 Eur
Silber 21,35 Eur
Platin 923,01 Eur
Palladium 1.487,39 Eur
SILBER 15,39 EUR
PLATIN 853,48 EUR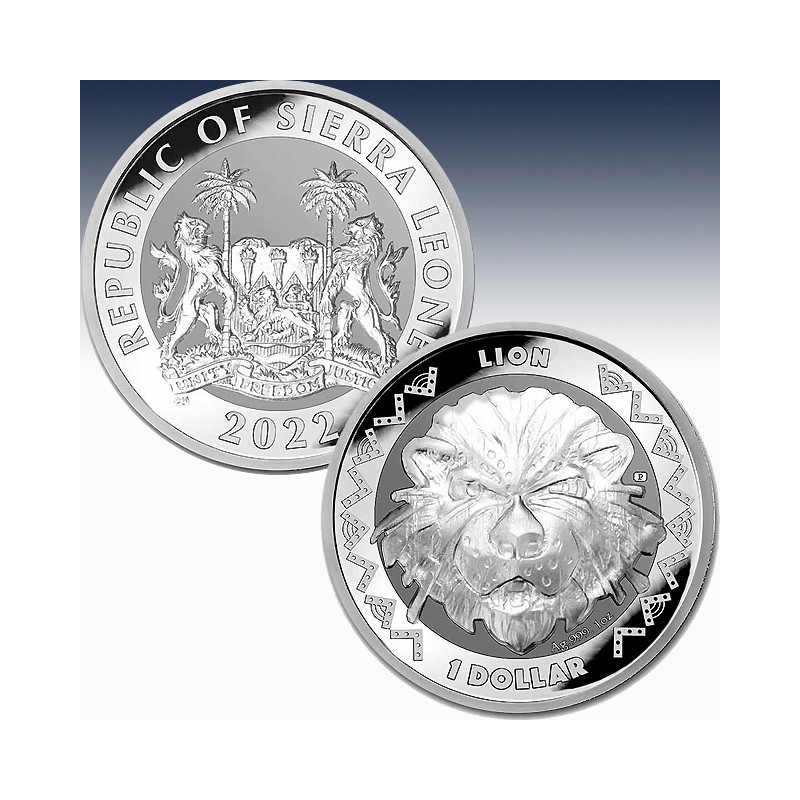  
1 x 1 Oz Silbermünze 1$ Rep. of Sierra Leone "Big Five - Lion 2022" -BU-*
| | | |
| --- | --- | --- |
| Hersteller: |   | PopJoy Mint |
| Nennwert: |   | 1$ |
| Prägung: |   | Stempelglanz |
| Stückelung: |   | 1 x 1 Unze |
| Material: |   | Silber |
| Feinheit: |   | 999/1000 |
| Gewicht: |   | 31,103 Gramm |
| Durchmesser: |   | 38,60 |
| Auflage: |   | 5.000 Stück |
1 x 1 Unze (oz) Silbermünze 1$ Rep. of Sierra Leon
"Big Five - 1# Lion 2022"
Pobjoy Mint is delighted to announce the release of the of a stunning new series of coins featuring the Big Five African Animals.
The first coin in the collection features the African Lion.

Coin Highlights:
Mintage of 5000 coins worldwide.
Contains 1 oz of .999 fine Silver.
Coins arrive in protective packaging.
Obverse: Features the Sierra Leone Coat of Arms.
Reverse: Features the head of an Lion styled as though it is an African mask. The special incused rim features an African pattern to continue the theme.

Ein wahres und begehrtes Sammlerstück.
Diese Silbermünze wird "gekapselt" geliefert, mit der Auflage von nur 5.000 Stück weltweit!
Technische Daten
Gewicht

31.103

Material

Silber

Jahreszahl

2022

Preis-Addition

16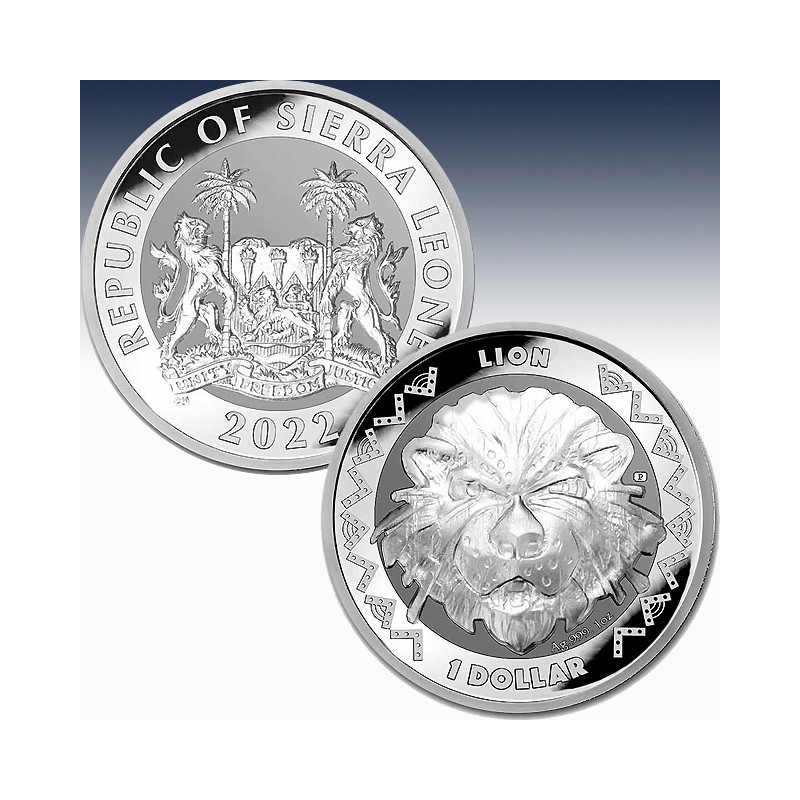 | | | |
| --- | --- | --- |
| Hersteller: |   | PopJoy Mint |
| Nennwert: |   | 1$ |
| Prägung: |   | Stempelglanz |
| Stückelung: |   | 1 x 1 Unze |
| Material: |   | Silber |
| Feinheit: |   | 999/1000 |
| Gewicht: |   | 31,103 Gramm |
| Durchmesser: |   | 38,60 |
| Auflage: |   | 5.000 Stück |