Gold 1.863,05 Eur
Silber 21,38 Eur
Platin 855,59 Eur
Palladium 879,72 Eur
(49) 2935 - 3 390 375
Europaweite Lieferung
Europaweite Lieferung
Gold 1.863,05 Eur
Silber 21,38 Eur
Platin 855,59 Eur
Palladium 879,72 Eur
SILBER 15,39 EUR
PLATIN 853,48 EUR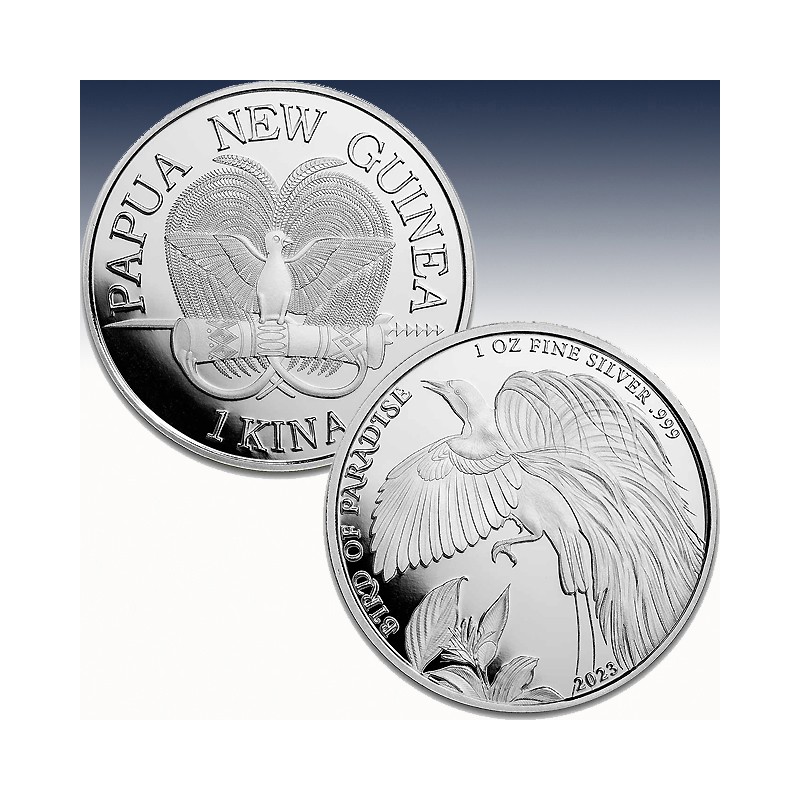  
1 x 1 oz Silbermünze 1Kina Papua New Guinea "Birds of Paradise 2023" -BU-*
| | | |
| --- | --- | --- |
| Herkunft: |   | New Guinea |
| Nennwert: |   | 1 Kina |
| Prägung: |   | Stempelglanz |
| Stückelung: |   | 1 x 1 Unze |
| Material: |   | Silber |
| Feinheit: |   | 999,9/1000 |
| Gewicht: |   | 31,135 Gramm |
| Verpackung: |   | gekapselt |
| Durchmesser: |   | 39 mm |
| Auflage: |   | 10.000 Stück |
1 x 1 Unze (oz) Silbermünze 1 Kina Papua New Guinea
"2# Birds of Paradise 2023"
This Coin has a limited mintage of 10.000 coins. This bullion Silver coin, issued by the country of Papua New Guinea, features a modern version of a classic coin.
Coin Highlights:

Contains 1 oz of .999 fine Silver.
Mintage of only 10,000 coins worldwide.
Single coins are in plastic capsules. Multiples of 20 coins come in heat-sealed rolls.
Obverse: Features the national emblem of Papua New Guinea and the face value.
Reverse: Depicts a modern design of a bird of paradise about to land on a flowering plant. Included is the name of the coin, purity, weight and year of issue.
Sovereign coin backed by the Papua New Guinea government.

Bird of Paradise
The original coin was minted in Berlin in 1895 for the German colony of New Guinea and has become one of the most highly prized coins in the numismatic world. The bird of paradise is the national emblem for Papua New Guinea and the image of the bird is also included on the flag.

MDM Mint
MDM Mint bring you these beautiful Papua New Guinea Bird of Paradise coins. MDM, short for Münzhandelsgesellschaft mbH & Co. KG German Coin, is one of the largest international mints and is also a member of the Richard Borek Group. Founded in 1893, this group is an internationally active coin trading company that is one of the world market leaders for Precious Metal collectibles.
Jede einzelne dieser wunderschönen Silbermünze enthält 999,9/1000 Feinsilber und wurde im wunderschönem Brilliant uncirculated geprägt.
Technische Daten
Gewicht

31.103

Material

Silber

Jahreszahl

2023

Preis-Addition

6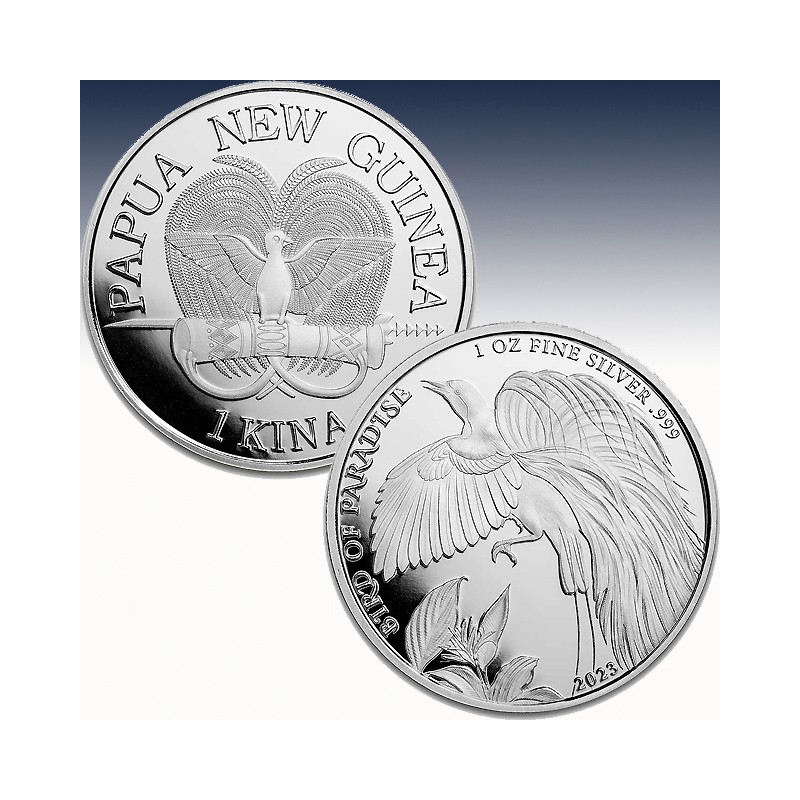 | | | |
| --- | --- | --- |
| Herkunft: |   | New Guinea |
| Nennwert: |   | 1 Kina |
| Prägung: |   | Stempelglanz |
| Stückelung: |   | 1 x 1 Unze |
| Material: |   | Silber |
| Feinheit: |   | 999,9/1000 |
| Gewicht: |   | 31,135 Gramm |
| Verpackung: |   | gekapselt |
| Durchmesser: |   | 39 mm |
| Auflage: |   | 10.000 Stück |