Gold 1.863,05 Eur
Silber 21,38 Eur
Platin 855,59 Eur
Palladium 879,72 Eur
(49) 2935 - 3 390 375
Europaweite Lieferung
Europaweite Lieferung
Gold 1.863,05 Eur
Silber 21,38 Eur
Platin 855,59 Eur
Palladium 879,72 Eur
SILBER 15,39 EUR
PLATIN 853,48 EUR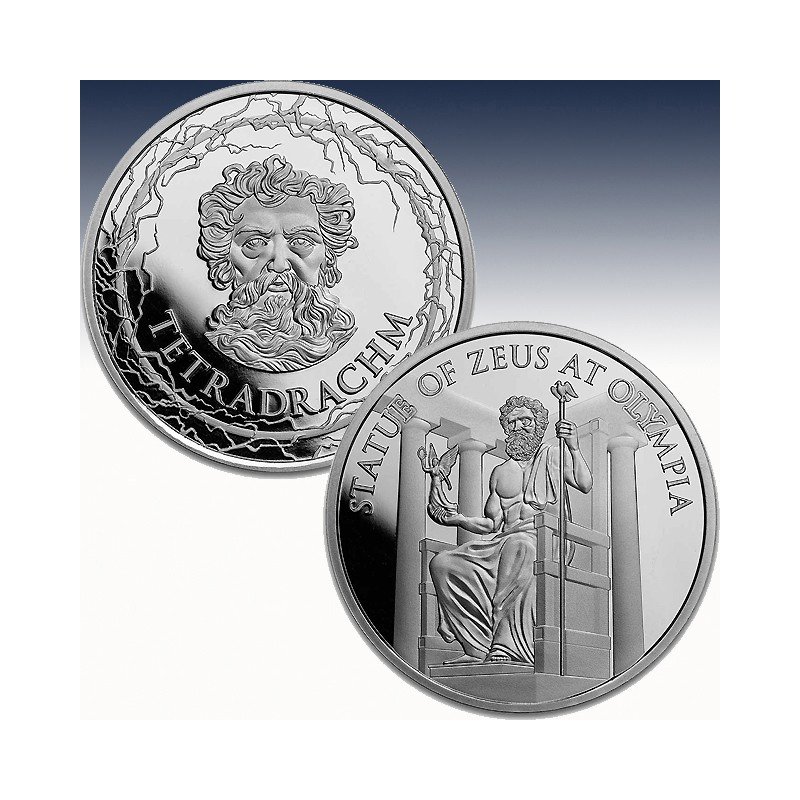  
1 x 1 Oz Silver Round Tetradrachm "7 Wonders of the Ancient World - Statue of Zeus at Olympia 2023" -BU-
| | | |
| --- | --- | --- |
| Hersteller: |   | 9Fine Mint |
| Steuersatz: |   | 19% |
| Prägung: |   | Stempelglanz |
| Stückelung: |   | 1 x 1 Unze |
| Material: |   | Silber |
| Feinheit: |   | 999/1000 |
| Gewicht: |   | 31,103 Gramm |
| Durchmesser: |   | 39,00 mm |
| Auflage:: |   |  7.777 Stück |
1 x 1 Unze (oz) Silver Round Tetradrachm
"7 Wonders of the Ancient World - 6# Statue of Zeus at Olympia"
The Seven Wonders of the Ancient World are among the most famous landmarks in human history. The APMEXclusive® series highlights each wonder with a limited mintage release of Gold and Silver rounds, each displaying a landmark, effigy and denomination.

Round Highlights:

Contains 1 oz of .999 fine Silver.
Limited mintage of 7,777 rounds.
Rounds come in capsules. Multiples of 20 are packaged in a heat-sealed roll.
Features edge mark with weight and purity, unique for a bullion round.
Obverse: Features the Statue of Zeus at Olympia, an enormous dedication to the king of the gods. Zeus sits on a throne holding a small statue of crowned Nike, goddess of victory, in his right hand and jewel-adorned scepter in his left.
Reverse: Displays an effigy of the mighty Zeus, with a surrounding border of lightning bolts. The round carries a denomination of 1 Tetradrachm.
The Statue of Zeus at Olympia
The Statue of Zeus was an iconic Greek sculpture and one of the most iconic wonders of the ancient world. Created by the renowned sculptor Phidias, it was erected in the Temple of Zeus in Olympia, Greece around 435 BCE. The statue depicted Zeus, king of the gods in Green mythology, seated on a magnificent throne. It was crafted primarily from ivory panels mounded to a wooden core, with Gold and other precious materials adorning the statue.

The statue stood at an impressive height of around 42 feet and was a symbol for the power and grandeur that was often associated with Zeus. It served as a focal point of worship and a testament to the Greeks' devotion to their gods. Sadly, the statue was lost in a fire in the 5th century CE. Today, only its descriptions and depictions on ancient coins and artworks remain, reminding us of the greatness and splendor of this extraordinary ancient wonder.
Jede dieser wunderschönen Silvercoin enthält 999/1000 Feinsilber und wurde im wunderschönem "Brilliant uncirculated" geprägt.
Technische Daten
Gewicht

31.103

Material

Silber

Jahreszahl

2023

Preis-Addition

9.5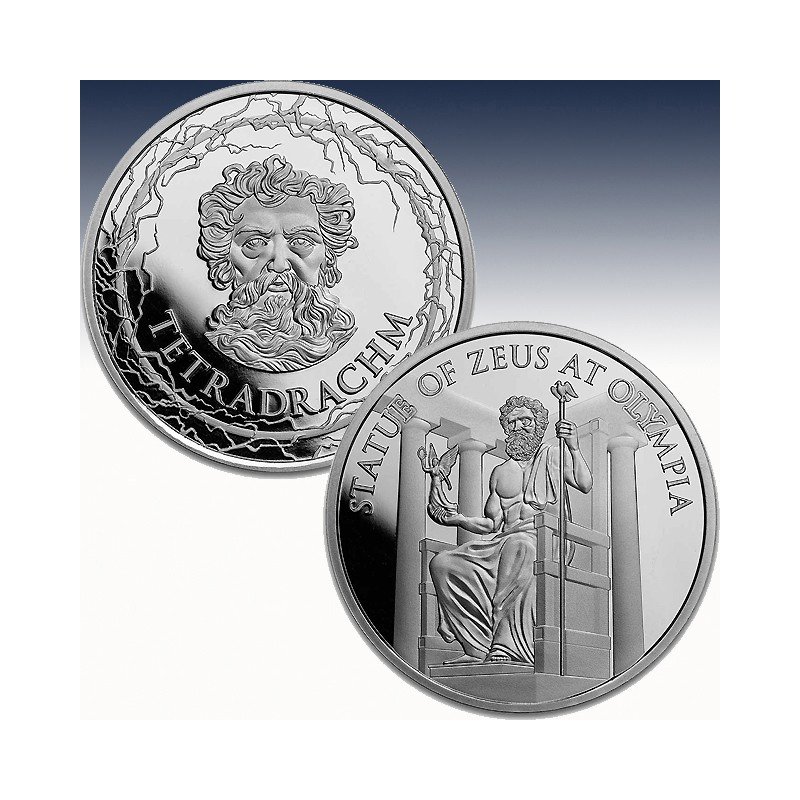 | | | |
| --- | --- | --- |
| Hersteller: |   | 9Fine Mint |
| Steuersatz: |   | 19% |
| Prägung: |   | Stempelglanz |
| Stückelung: |   | 1 x 1 Unze |
| Material: |   | Silber |
| Feinheit: |   | 999/1000 |
| Gewicht: |   | 31,103 Gramm |
| Durchmesser: |   | 39,00 mm |
| Auflage:: |   |  7.777 Stück |