Gold 1.748,00 Eur
Silber 20,61 Eur
Platin 907,24 Eur
Palladium 1.864,50 Eur
(49) 2935 - 3 390 375
Europaweite Lieferung
Europaweite Lieferung
Gold 1.748,00 Eur
Silber 20,61 Eur
Platin 907,24 Eur
Palladium 1.864,50 Eur
SILBER 15,39 EUR
PLATIN 853,48 EUR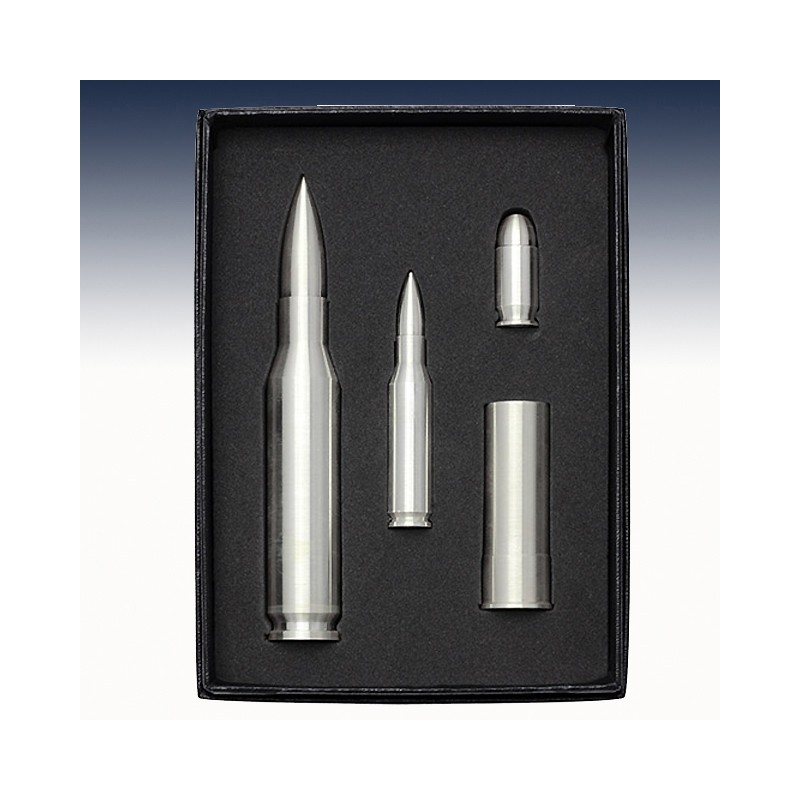  
1 x 18 Oz Silver "Silver Bullet Multi Pack" (BU)
| | | |
| --- | --- | --- |
| Hersteller: |   | SilverTowne |
| Steuersatz: |   | 19% |
| Prägung: |   | Stempelglanz |
| Stückelung: |   | 1 x 18 Unze |
| Material: |   | Silber |
| Feinheit: |   | 999/1000 |
| Gewicht: |   | 560,34 Gramm |
| Länge: |   | div. mm |
| Durchmesser: |   | div. mm |
1 x 18 Unze (oz) Silver " Silver Bullet Multi Pack"
One of the more unique options available to those buying Silver is the silver bullet. You wont bring down a werewolf with these things, but for gun enthusiasts, military veterans, and historians, silver bullets are a great way to purchase something distinctive when compared to coins, rounds, and bars. Right now, Silver Bullet Multi Packs are available to purchase online from JM Bullion.
Product Highlights:
Arrives inside of a protective black display box!
Includes a total of four different silver bullets!
Each bullet contains .999 pure silver content.
Individual bullets shaped to the exact specifications of actual rounds.
SilverTowne mint logo on the base of each bullet.
Each of the Silver Bullet Multi Packs you can purchase here today feature a total of four different silver bullets crafted in the exact shape as actual ammunition. The set houses a .45 caliber round, .308 caliber round, a shotgun shell, and the famed .50 caliber round. The silver bullets are individually housed in their own slots within the black protective box for perfect presentation and protection.
Included in this set are the most common silver bullets you can purchase today. The .45 caliber bullet mimics the appearance of the most popular handgun round of the last century. The .45 caliber silver bullet features 1 Troy oz of silver content.
Also featured in the set is the 2 Troy oz .308 caliber rifle round popular with hunters in North America. There is a 5 oz shotgun round and a 10 Troy oz .50 caliber round available in the four-bullet silver set.
Each individual bullet is crafted in the exact shape as the actual live ammunition, even though these silver bullets are not suitable for use with actual firearms. The bullets all have smooth finishes and the only inscriptions are found on the base of each bullet denoting the weight and metal purity. You will also find the SilverTowne pick ax logo on the base of the silver bullets.
SilverTowne opened in the 1940s as a small coin shop and has grown into one of the most respected private mints in the United States today. Leon Hendrickson founded the coin shop in 1949 and by the 1970s SilverTowne was producing silver bullion to the Highest Quality Standards in the industry.
Technische Daten
Gewicht

560,34

Material

Silber

Preis-Addition

205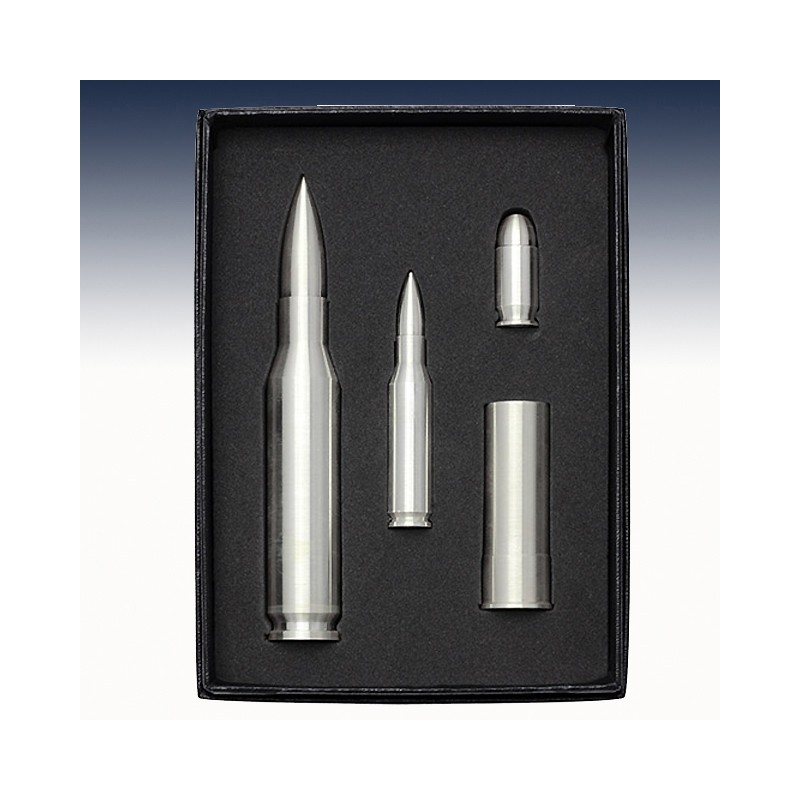 | | | |
| --- | --- | --- |
| Hersteller: |   | SilverTowne |
| Steuersatz: |   | 19% |
| Prägung: |   | Stempelglanz |
| Stückelung: |   | 1 x 18 Unze |
| Material: |   | Silber |
| Feinheit: |   | 999/1000 |
| Gewicht: |   | 560,34 Gramm |
| Länge: |   | div. mm |
| Durchmesser: |   | div. mm |