Gold 1.491,41 Eur
Silber 21,77 Eur
Platin 879,30 Eur
Palladium 2.099,48 Eur
(49) 2935 - 3 390 375
Europaweite Lieferung
Europaweite Lieferung
Gold 1.491,41 Eur
Silber 21,77 Eur
Platin 879,30 Eur
Palladium 2.099,48 Eur
SILBER 15,39 EUR
PLATIN 853,48 EUR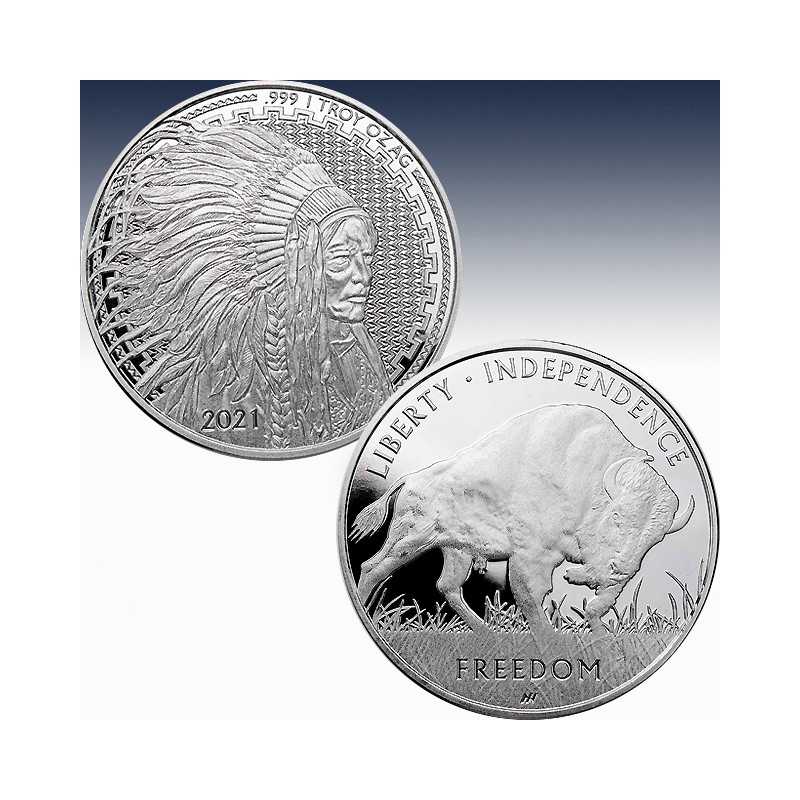  
1 x 1 Oz Silverround USA "Liberty Trade Buffalo 2021" -BU-
| | | |
| --- | --- | --- |
| Herkunft: |   | USA |
| Steuersatz: |   | 19 % |
| Prägung: |   | Stempelglanz |
| Stückelung: |   | 1 x 1 Unze |
| Material: |   | Silber |
| Feinheit: |   | 999/1000 |
| Gewicht: |   | 31,103 Gramm |
| Verpackung: |   | zip-Tüte |
| Durchmesser: |   | 39,2x2.9 mm |
| Auflage: |   | -.- Stück |
1 x 1 Unze (oz) Silverround USA "Liberty Trade Buffalo 2021"
This 1 oz Silver Buffalo Round is a modern take on a classic favorite. James Earle Fraser's design for the 1913 Buffalo Nickel has inspired both images featured on this round, while both obverse and reverse show a new take on the timeless classic.

Round Highlights:
Contains 1 oz of .999 fine Silver.
Individual rounds come in protective packaging. Multiples of 20 come in plastic tubes and boxes contain multiples of 500.
Obverse: Depicts a Native American with date, weight, and purity.
Reverse: A buffalo in an aggressive stance, outlined by the words Liberty, Independence, and Freedom.


Buffalo Rounds
James Earle Fraser's Indian Head nickel design is regarded among the best designs of any U.S. coin. This round boasts a new take on the famous design with a listed .999 purity. The Silvwer round is among one of the most popular ways to invest in Silver.
1 oz Silver round can be an ideal way to purchase Silver at a great price point for any investor, and the size allows for anything from an entry level investment to a bulk investment.

Important Note
The design of these rounds is based on the original coin issued by the U.S. Mint. These rounds carry no actual face value.
Einzigartig in ihrer Art und bereits jetzt schon Kult in den Vereinigten Staaten.
Jede dieser wunderschönen Silverround enthält 999/1000 Feinsilber und wurde im feinsten "Brilliant uncirculated" geprägt.
Technische Daten
Gewicht

31.103

Material

Silber

Jahreszahl

2021

Preis-Addition

7.5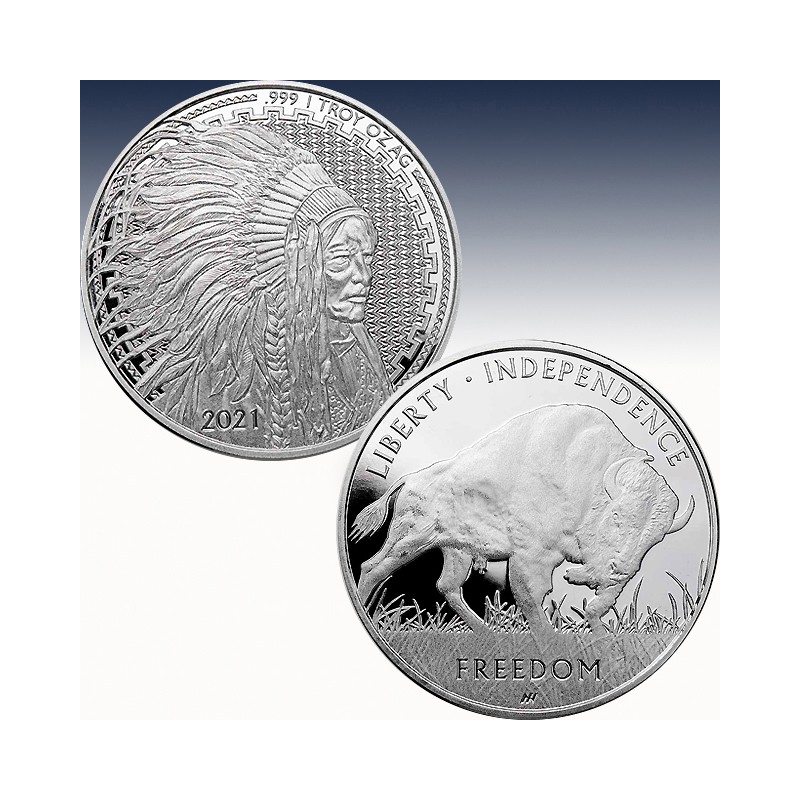 | | | |
| --- | --- | --- |
| Herkunft: |   | USA |
| Steuersatz: |   | 19 % |
| Prägung: |   | Stempelglanz |
| Stückelung: |   | 1 x 1 Unze |
| Material: |   | Silber |
| Feinheit: |   | 999/1000 |
| Gewicht: |   | 31,103 Gramm |
| Verpackung: |   | zip-Tüte |
| Durchmesser: |   | 39,2x2.9 mm |
| Auflage: |   | -.- Stück |